Oman Air STOPOVER PAID BY CARRIER (STPC)
Oman air runs a transit package for those passengers with long transit times – commonly known as a Stopover Paid by Carrier or STPC. In fact, some notable airlines also have an STPC policy such as Qatar Airways, Royal Jordanian, Asiana Airlines, Turkish Airlines also have their own STPC policies.

While the rules vary by airline, and the rules are space for Oman Air, the general rule ist that is that there must be a transit time of 8 hours or longer – but no more than 24 hours.

Unlike Qatar Airways STPC, the eligibility rules for STPC are that well defined. This guide hopefully will hopefully fill in any blanks and clarify the matter.

To be clear, to be able to make use of Oman Air's STPC the transit must be because there are no shorter scheduled flights for your route (i.e. Because you are forced to), not because you want to sit in the lounge for an absorbent amount of time.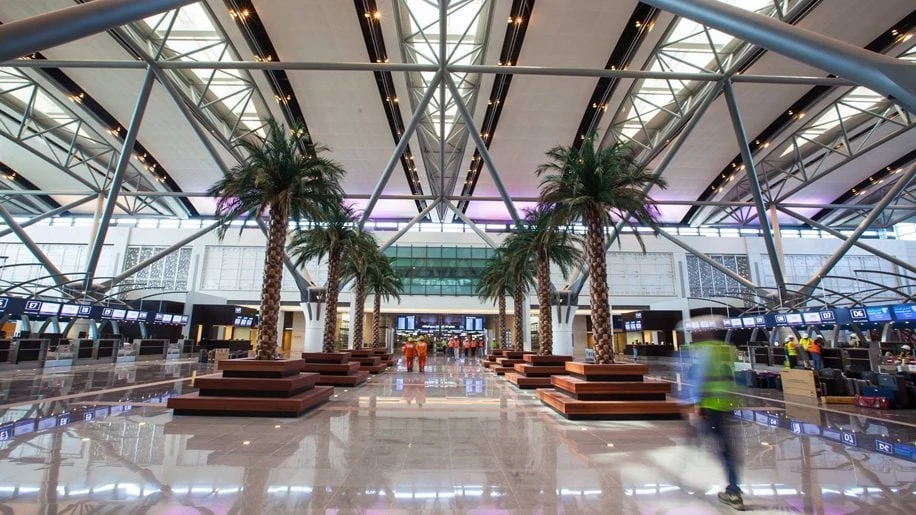 SO LONG AS YOU MEET THE MINIMUM REQUIREMENTS, ROYAL JORDANIAN MAY PROVIDE HOTEL ACCOMMODATION, MEAL AND GROUND TRANSPORTATION FROM/TO AIRPORT
An Important Distinction between Oman Air Stopover & Layover
At this point, it is important to make the distinction between a stopover and layover as Oman Air is a bit vague on the difference. Oman Air has two different programs targetting transit passengers. One of the programs is aimed at passengers who have around 8-24 hours of layover in Muscat. While the other is aimed at passengers, who wish to spend a few days (3 max) in Muscat before continuing onto their journey. In short, they are two similar but different concepts and apply to two different groups of travellers of circumstance.
Stopover
A stopover, as discussed in another article, focuses on what it says on the tin – a stopover in Muscat. Oman Airs program specifically allows you to visit Muscat for up to 3 days where the airline will pay for one of the days you stay so you can explore the city for just that bit longer. This, of course, is heavily advertised as a key feature when flying with Oman Air.

This works in many ways, for timid would-be adventurers who fear long-haul flights, the Oman Air Stopover in Muscat program is the perfect way to break up the trip. For seasoned travellers, it offers a way to bolt-on an additional location while also boosting the local tourism economy.

Importantly, unlike a forced layover, aside from the hotel and with exception to the visa fees you bear the cost of travel around the city, and cost of travel between the airport and hotel.
Layover
A forced extended layover, as discussed in this article, which also technically known as a Stopover Paid-by Carrier (or STPC for short) is when you are forced to transit for an extended period of time due to an organic layover, as opposed to voluntary layover. In other words, what this effectively means is that you are forced to transit because of the airlines routing rather than because you have chosen to stay at the airport for an extended period.

In Oman Air's case, if you have an organic layover of more than 8 hours, the airline will provide a few amenities to tide the time over.
BASIC RULES OF
Oman Air STPC
Due to the benefit of this offer, Oman Air naturally wants to stamp out any possible form of abuse.

This is why the airline takes a very firm view, outlining the rules and taking a "you qualify or not" approach to the STPC program.

Your only recourse for getting an STPC by Oman Air is to meet all the airline's requirements.

The rules are not very clear and you will find no website outlining this online – only a twitter reply confirming its existence.
MAIN ELIGIBILITY REQUIREMENTS
Luckily there is a document issued by the airline which does shed some light on what is offered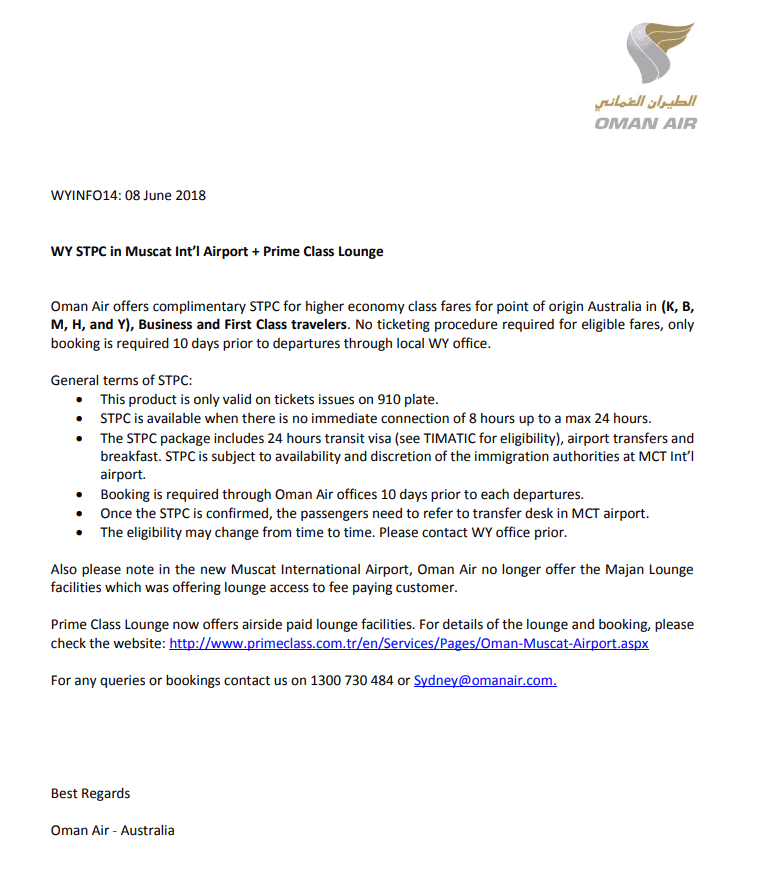 FARE ELIGIBILITY
First class
P | F

Business class
J | C | D | R

Economy Class
Y | B | H | M | K
First class
None

Business class
None

Economy Class
I | L | N | O | Q | T |U