Emirates runs a transit package called Dubai Connect, its also affectionately known in the industry as a Stopover Paid by Carrier or STPC.
The purpose of the programme is to assist passengers with a transit connection of over 10 hours but under 24 hours.
The eligibility rules for the transit pass are somewhat complex as Emirates are extremely strict on the rules to stop people abusing the system – but at the same time they are quite opaque.
This guide hopefully will hopefully fill in any blanks and clarify the matter.
Just to make it absolutely clear, Emirates Dubai Stopover is a separate program to the Dubai Connect transit programme
In some cases, Emirates will arrange accommodation, entry visas, airport transfers and meals for passengers facing extended transit times in Dubai.
A Brief History Of Emirates STPC
The Emirates Dubai Connect STPC programme was developed as a solution to a self-made problem arising from their fleet scheduling in that some passengers may be left waiting in transit for an extensive period of time due to how flights to middle eastern transit hubs operate.
As Dubai international airport has developed into an international hub and the carrier aims to compete in the premium market it must offer a compelling reason why you would want to do a stopover instead of flying direct. Especially if you are impacted badly by its scheduling.
For those who are unfamiliar, if you look at Emirates flight schedule (or even Qatar or Etihad for that matter) you will see that at a certain time of day a majority of flights will all arrive and then all depart shortly after. By virtue of how runways work, only 1 flight can land at a time meaning that all these flights are staggered in an intense and choreographed motion to minimise transit times for as many people as possible, getting these wrong costs the airline money and is bad for passengers as we really don't want to be in transit for more than they need to be. All of this happens two times a day.
What you will see is that flights from the east will arrive first followed by flights from the west, flights going eastbound will then depart and then finally flights going west will depart.
While flights going east-to-west should have little issue in terms of transit, you can see that in some cases flighting west-to-east will face problems especially if you do not have enough time to transit or your flight from the west arrives after your flight to the east has departed.
Thus, Emirates has in place an STPC program for these exact instances where you have to wait for the next rotation of flights to depart to get to your destination.
Basic Rules Of Emirates STPC
Due to the benefit of this offer, Emirates naturally wants to stamp out any possible form of its Dubai Connect programme.
This is why the airline takes a very firm view, outlining the rules and taking a "you qualify or not" approach to the Dubai Connect STPC programme.
Your only recourse to getting an STPC with Emirates to meet all the airline's requirements.
10 To 24 Hour Rule
Dubai Connect Services are available to passengers with a connecting stopover time of 10 to 24 hours. This applies to all cabin classes.
This rule is enforced to the minute and if you are out, even by one minute, you will not be eligible for the programme.
These terms have up been updated with the re-introduction of the Dubai Connect service from 1 December 2020. previously the minimum required connection time for Premium cabins was is 6 hours and 8 hours is for economy.
No Alternative Flights
To qualify for the offer, you must be booked on the best available connection, that being the one with the shortest transit time in Dubai, between the inbound flight into Dubai and the outbound flight from Dubai.
Emirates takes into consideration the fastest route as well as the class of travel – where there is a shorter flight, but all business class tickets are sold out, and your only option for business class on the later flight – then this will be eligible for Dubai Connect.
If your connecting flight departs after another, earlier connecting flight to your destination, then unfortunately your booking won't qualify for Dubai Connect as you purposely choose a later flight that day
Other Requirements
Transit Location: You must have the transit take place in Dubai (DXB)
There must be a transit: separate tickets (such as one ticket into Dubai and one leaving Dubai) do not qualify for STPC;
Age Requirements: This service is only available for passengers 18 years or older as of the date of departure on the inbound flight to Dubai, if travelling alone.
Max Children per Adult: Up to two children (being passengers under 18 years as of the date of departure) may be accommodated when travelling with one adult.
Single Booking requirement: The itinerary must be a single booking and ticketed on one ticket.
Booking Requirements: Applications for the Dubai Connect STPC can be made 361 days in advance but no later than 24 hours prior to departure.
Ticket stock: The ticket must be on "EK 176 Stock" or "QF 081 stock" meaning the ticket must be issued by Emirates or Qantas and start with 157-XXXX or 81-XXXX to be eligible;
Reward Redemption: If on a reward/award booking, this must be booked through Emirates and not through any other partner airline.
Visa Eligibility: you must be able to enter the UAE on either a visa-free or visa-on arrival process – if you are required to get a visa prior to arrival then you will not be eligible for the hotel portion of Dubai Connect
Fare class: Not all fare class tickets are eligible for STPC
Fare Eligibility
Fare eligibility can be split into two types Revenue (paid) tickets and Award (redemption) tickets
These terms have up been updated with the re-introduction of the Dubai Connect service from 1 December 2020. There used to be a minimum spend element which seems to have been replaced by the fare class policy. However, this part is very opaque as it was never / still not is mentioned on the website or terms and conditions.
Revenue Fares
Premium Cabin (First & Business)
All Premium cabin fares are eligible for Dubai Connect STPC
Economy Cabin
Eligible Fares – U, B, N, M, E, W, R, Y are eligible provided all other eligibility requirements are met.
Ineligible Fares – H, X, V, T, L, Q, K are not eligible for Dubai Connect STPC
Award Fares
All Skywards redemption tickets except Saver Economy (i.e. Ticket must be 100% Flex fares) are eligible for STPC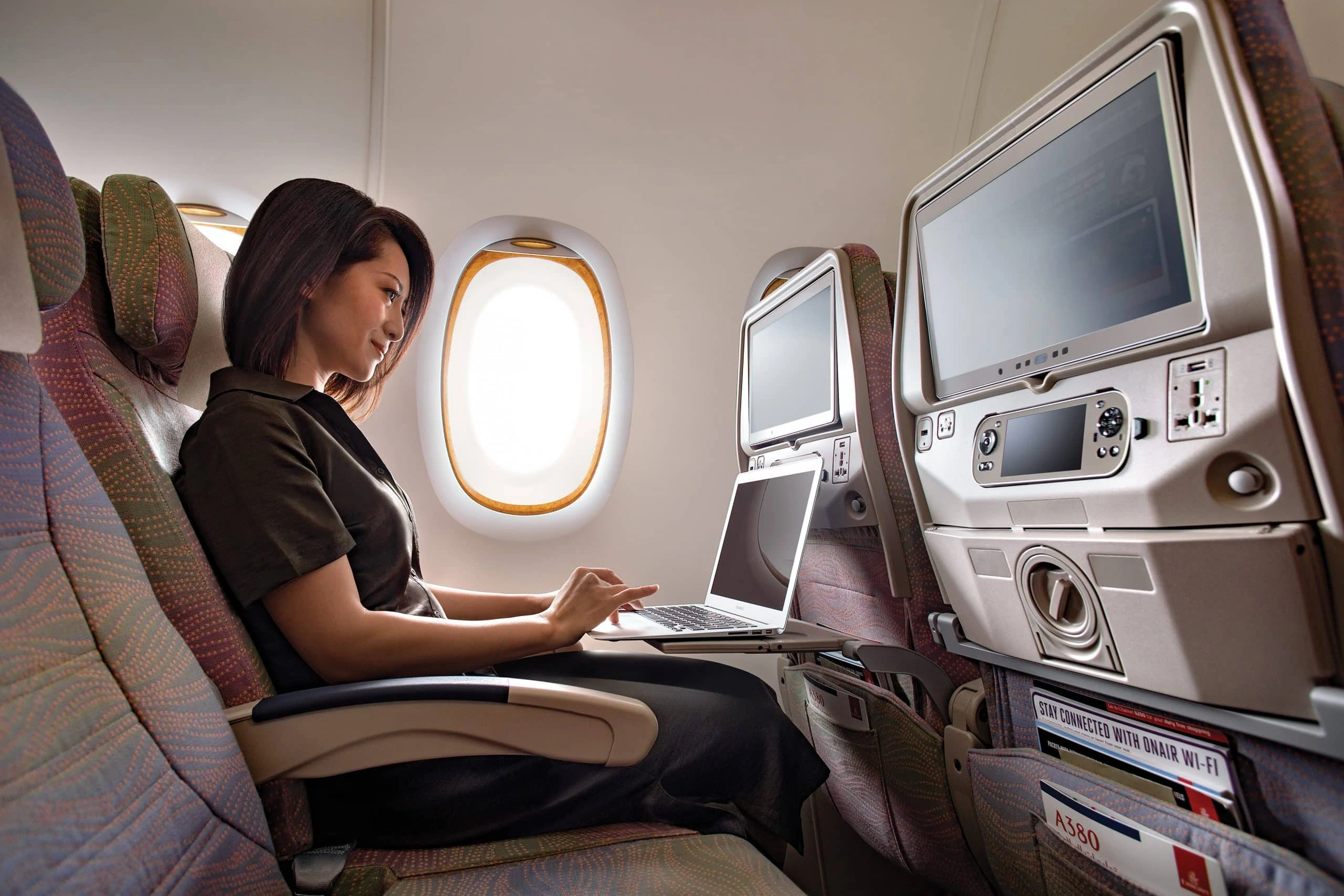 Ticket Types
Operating Carrier
Both your inbound and outbound flights to and from Dubai must be an Emirates flight (marketed by Qantas or Emirates) or a Qantas flight (marketed by Emirates or Qantas).
Codeshare flights are not eligible other than EK5000 and QF8000 flights.
The offer is not available on flights with other airlines and/or where Emirates is the marketing carrier only.
Group bookings
Bookings for Groups (that contain more than nine passengers) in First Class and Business Class will not automatically qualify for 'Dubai Connect'. It is up to the discretion of Emirates whether 'Dubai Connect' is also extended to such group bookings.
Bookings for Groups (that contain more than nine passengers) in Economy Class will automatically qualify for 'Dubai Connect' provided that all the mentioned minimum requirements for each Economy Class passenger are met.
What's Included In A Dubai Connect STPC
Qatar Airways Stopover Paid by Carrier includes:
A hotel room for the duration of your stay;
A temporary entry visa into Dubai;
A transfer to and from the hotel;
A meal voucher
Access to the Dubai Connect lounge at Dubai International Airport
Hotel Accommodation
The accommodation provided will be either the Copthorne Hotel Dubai or the Le Méridien Airport Hotel Dubai depending on the class of travel
Another alternative hotel may be provided at the discretion of Emirates if the hotels are full.
Where you are booked in Economy Class (as per your Flight booking/PNR) 24 hours prior to flight departure, but hold a Business Class or First Class ticket (as a result of an upgrade) you will still be provided with a room at a hotel allocated for Economy Class passengers.
Where you are booked in Business Class or First Class, (as per your Flight booking/PNR), but are involuntarily down‑graded at the time of check‑in, due to aircraft change or denied boarding, you will be provided rooms in the hotel allocated for Business Class and First Class passengers.
You may need to show a credit card at check‑in just to secure any extras like mini‑bar snacks, spa treatments or dining expenses that aren't included in the Dubai Connect service.
You may travel into other parts of Dubai during your layover stay should you wish, but Emirates will not cover any costs beyond getting you to your hotel room and the meals onsite in the hotel. If you take any taxis and tours beyond this, it's at your own cost and your responsibility to be back at the hotel in time to connect for your next flight.
Landside Airports
Le Meridien Airport Hotel Dubai
(Premium Cabin Passengers)
The Le Meridien is definitely the nicer of the two properties. The hotel is a massive property with almost 600 guest rooms, 4 swimming pools, many on-site restaurants and an extensive spa menu.
Even the most basic of rooms here are over 300 sq ft
Copthorne Hotel Dubai
(Economy Passengers)
While not as fancy, the Copthorne is still a great hotel to get a free night in. It's a 10-minute drive from the airport and within walking distance of the Deira Shopping Mall. It also features a pool and 2 on-site restaurants
If You Do Not Qualify To Leave The Airport
Economy Travelers
The Dubai Connect program has a terminal-side lounge that eligible travellers can get access to instead. The lounge has comfy chairs, snacks, drinks, outlets for charging devices, bathrooms, etc.
Business and First Class Travelers
Premium class passengers that need to stay inside the terminal have the option of visiting the Dubai Connect lounge, but may also qualify to stay at the 'Dubai International Hotel', which is inside the terminal.
Meal Vouchers
You will be provided with one meal by the hotel in which you will be staying, the meal will be allocated based on the time of check-in. Meals will be served at the applicable time of day for breakfast, lunch and dinner.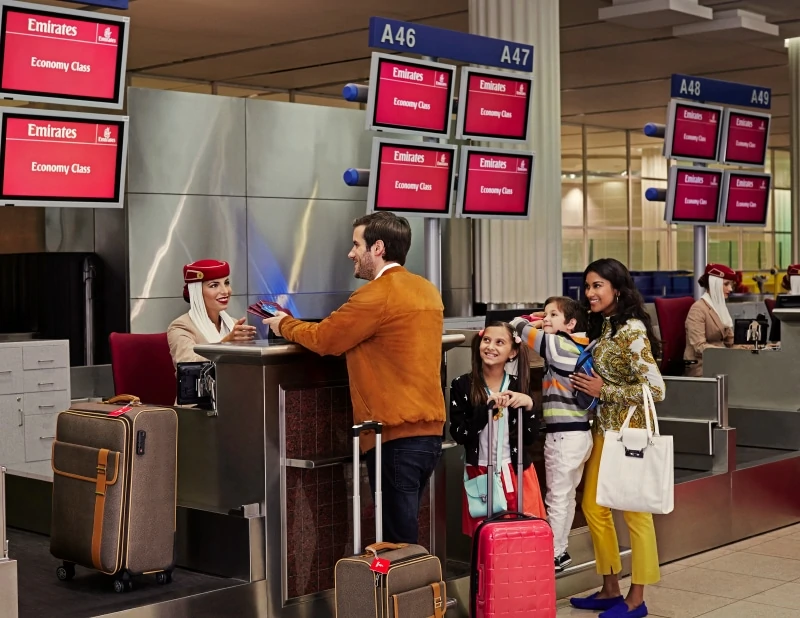 The Process Of Booking A Dubai Connect STPC
There is no hard and fast rule – but hopefully, the below gives an indication of what to expect
Booking Your Ticket
Pre Booking: Generally after choosing your flights, on the next page (where it confirms your itinerary) near where it lists benefits, such as chauffeur, it will normally appear there.
Post Booking: If you qualify and when booking through the EK website, the option will automatically be offered to you, there is nothing extra you need to do apart from accepting and 'reserving' the room when you book the flights.
Once you have filled everything out – it will show as the assigned passenger at the bottom with a room number – this is all the confirmation you will get confirming the STPC
At The Airport
When you check in at your point of origin you'll be handed three copies of Dubai Connect vouchers that look a bit like boarding passes.
On Arrival
On arrival in Dubai, just before immigration at T3, to the right, there's a Dubai Connect desk where you present your passport and the three vouchers. Two vouchers and your passport are returned to you, and you're presented with a slip to show at immigration.
Immigration will use the slip as a visa of sorts, which you have to keep for exit; you'll then be let into the UAE.
If you're in First or Business, there will be a chauffeur drive to your hotel, and back to the airport. You'll hand the third voucher to the hotel.
Things To Note
Your bags are checked through to the destination meaning if you want to use Dubai Connect, you will not be able to collect your bags during transit.
Time Limits for Booking Dubai Connect STPC is only available to passengers who pre-book the product. The product is not available on a 'go-show' basis. Bookings made within 24 hours to departure will not be processed for economy class. First and Business class bookings can be requested up to Zero hours of departure.