Quick Overview of Oman Air & Sindbad
Oman Air is the flagship carrier of not surprisingly Oman. It was founded in 1993 with its hub firmly in the capital of Muscat. Its routes include Bangkok, Kuala Lumpur, Manila, Jakarta in the east and London, Milan, Frankfurt, Paris and Zurich in the west.

While not part of an Airline Alliance, it holds code-share agreements with major players such as Lufthansa, Qatar Airways, Turkish Airlines, KLM, Thai Airways and Malaysia Airlines to name a few.

In 2006 Oman Air launched Sindbad, its new frequent flyer program. Its a 3 tier program comprising of Blue, silver and Gold tiers (in the original press release the entry-level tier was green). Accordingly, over its 15+ year span, it has been updated slightly since then, notably back in 2019 when it adjusted the tier threshold levels.
Oman Air Sindbad Frequent Flyer Basics
Sindbad
The Airline's Frequent Flyer Program
In every Frequent Flyer program, there are two currencies which members collect simultaneously:

1. Status Points which determines your elite status level and cannot be spent;
2. Reward Currencies which can be exchanged for airline benefits and rewards.
Tier Miles
The Currency used by Oman Air's Status Points System
The number of Tier Miles held is used to calculate your elite status tier in a given membership year. In general, the more Tier Miles you accrue the higher your elite status tier will be.

A Membership year is defined as 1 calendar year from the date you reach or renew your elite status tier.
Sindbad Miles
Oman Air's Reward Currency
Sindbad Miles is the name of the Reward Currency used by Oman Air. A points-based reward scheme used by the airline were you can exchange accrued miles for reward seat redemptions, flight upgrades and other travel-based experiences.
No Alliance
Sindbad is not part of any major airline alliance meaning your status does not carry over to any other partner airline.

Etihad is the only partner airline and you can credit Oman Air flights to Etihad's frequent flyer program, however, your elite status benefits are not applicable when flying on Etihad.
Only 12 Months
Sindbad members have their elite status for only 12 months.

If you qualify for a higher tier in your current membership period, your tier miles will reset and you will be given the higher tier for one year.

excess tier miles will not carry over into the following year (in accordance to clause 3.1.5)
no Soft Landing
If you do not reach the required Tier Miles required to re-qualify in the following year you will soft land to the next lowest tier.
Benefits of Sindbad Gold Status
An overview of the key benefits of having Oman Air Sindbad Gold Status
Extra Bonus Miles
When travelling on eligible Oman Air marked flight, you will earn 50% more sindbad miles.
Priority Check In
Members have access to use Business Class check-in desks when flying internationally or domestically on either Oman Air.

However, at Muscat Airport, Gold members can use the dedicated Business Class Check-in area where silver members are not able to.
Complementary Upgrade Vouchers
As a qualified Gold member, Oman air wants you to have a taste of the good life and every year you qualify for gold you will receive 2 free upgrade vouchers which you can use for yourself or a friend to upgrade from Economy to Business class.
Extra Luggage Allowance
Gold members will be entitled to the following baggage allowance:

Business and First Class: 3 bags, up to a total weight of 70 kg.

Economy Class: 2 bags up to a total weight of 50kg.

Gold members booked on SuperSaver are eligible for 50% discount on excess baggage purchased online
Guaranteed Economy Seat
As a Sindbad Gold Member , you can purchase a revenue economy seat for yourself on any fully booked WY flight.

Guaranteed bookings must be made in full-fare fare-class economy class at least 3 days prior to your desired date of departure. you have to call the Oman Air call center as bookings cannot be actioned online.
Lounge Access
Sindbad Gold members (plus one companion) on international flights may access the Airport lounge at Muscat International Airport up to three hours before their scheduled Oman Air flight.

If you wish to use the lounge for longer, there is a charge.

When travelling on domestic routes within Oman. Gold members travelling in Economy Class on domestic routes will not be able to access the lounge.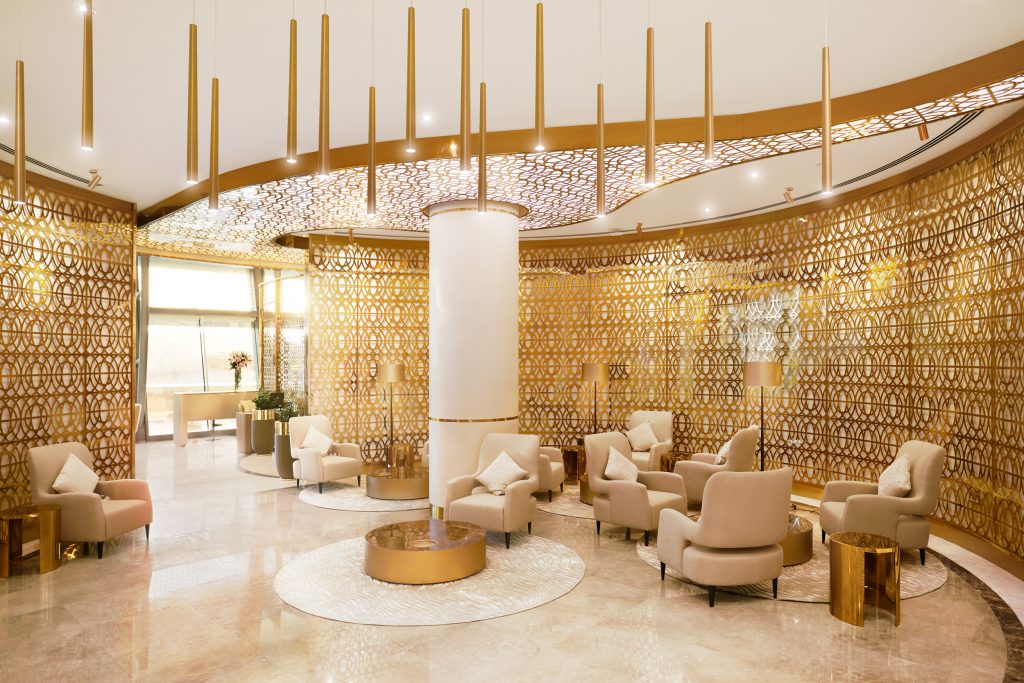 There is no other use for Status Points other than setting your elite status; they cannot be spent.
How to Earn Sindbad Tier Miles
When you travel on Oman Air – excluding codeshare flights where the operating carrier is not Oman Air – you earn Tier Miles with which you can use to achieve higher levels of elite status and unlock different rewards as you do.

The Oman Air Blue is the most basic and is available to everyone as it does not come with any benefits except the ability to earn Status Points and Reward Currencies. Silver and Gold status are earned annually and come with a varying degree of benefits.

Moving up the ladder within the Sindbad frequent flyer program is completely dependent on the number of Tier Miles accrued within a given year, and like Sindbad Miles, expire after a set time – in this case, Tier Miles expire at the end of your membership year.

Tier Miles can only be earnt by actually flying, not by signing up to credit card deals. There is no other use for Tier Miles other than setting your elite status; they cannot be spent or redeemed in any way. The general rule is that they are usually based on the distance of the flight and the fare class you are travelling in.

Oman Air's Sindbad program works a little differently than to other frequent flyer programs. differences include:
Routes to Earn Sindbad Gold Status
There are two ways to reach Sindbad Gold Status.
With Miles
To achieve Sindbad Gold status with miles, you need to earn 40,000 Tier Miles in a membership year.
With Sectors
To achieve Sindbad Gold status with miles, you need to earn 30 Qualifying Sectors in a membership year.
Calculating the Number of Tier Miles Earned
Oman Air calculates Sindbad Miles based on the number of miles travelled between airports. The number of miles actually accrued is based on 2 factors, the route and the class of travel.

You will earn 1 Tier mile for every mile flown on Economy Class, 2 Tier miles for every mile flown on Business Class and 3 Tier miles for every mile flown when travelling in First Class.

Tier Miles are only earned for your activities on Oman Air. Partner activities do not earn any Tier miles.

The simplest and best tool for finding out how many Tier Miles you'll earn on any flight is to use Tier Miles Calculator.
Sindbad Miles Overview
Sindbad Miles are valid for a minimum period of three years from the date of the transaction (ie. when they were earned not when it shows in your account). The validity of miles cannot be extended.

You can buy up to 20,000 Sindbad Miles in increments of 1,000 miles in each calendar year. Sindbad Miles – up to a maximum of 50,00 miles – can be transferred and pooled with a nominal charge of USD 0.020 per mile transferred.

The miles earned for a given route will depend on the type of fare you have purchased. The table shows the miles earned for each fare type.
| | |
| --- | --- |
| Fare Brand | Sindbad miles |
| First Prime | 300% of flown miles |
| First | 250% of flown miles |
| Business Prime | 200% of flown miles |
| Business | 150% of flown miles |
| Business Lite | 150% of flown miles |
| Economy Prime | 100% of flown miles |
| Economy | 50% of flown miles |
| Economy Lite | 25% of flown miles |
| Super Saver | 10% of flown miles |
Oman Air Sindbad Frequent Flyer Cards