Whats a Turkish Airlines Stopover
If you're flying Turkish Airlines internationally from basically anywhere on their network, you're pretty much guaranteed to be flying through Turkey en route to your final destination, and that probably means a stop at Turkish Airlines hub in Istanbul. It's an awesome city and to encourage people to actually explore Turkey, rather than just flying through it, The flag carrier has implemented a free stopover service.
This is not a new concept and variants of this concept exist within the industry, take Singapore Airlines Stopover Program for instance.
An Important Distinction between Turkish Airlines Stopover & Layover
At this point, it is important to make the distinction between a stopover and layover as Turkish Airlines use the phrase "stopover" interchangeably which causes confusion (a quick Google about it shows that people have mashed the two concepts up passing them off as interchangeable). Turkish Airlines has two different programs targeting transit passengers. One of the programs is aimed at passengers who have around 6-24 hours of layover in Istanbul. While the other is aimed at passengers, who wish to spend a day or two in Istanbul before continuing onto their journey. In short, they are two similar but different concepts and apply to two different groups of travellers of circumstance.
Stopover
A stopover, as discussed in this article, focuses on what it says on the tin – a stopover in Istanbul. As will be explained, it allows you to visit Istanbul for up to 48 hours depending on travel class with a complimentary hotel so you can explore the city. This, of course, is heavily advertised as a key feature when flying with Turkish Airlines.
This works in many ways, for timid would-be adventurers who fear long-haul flights, the Turkish Airline Stopover in Istanbul program is the perfect way to break up the trip. For seasoned travellers, it offers a way to bolt-on an additional location while also boosting the local tourism economy.
Importantly, unlike a forced layover, aside from the hotel and with exception to the visa fees you bear the cost of travel around the city and the cost of travel between the airport and hotel.
Layover
A forced extended layover, which also technically known as a Stopover Paid-by Carrier (or STPC for short) is when you are forced to transit for an extended period of time due to an organic layover, as opposed to voluntary layover. In other words, what this effectively means is that you are forced to transit because of the airlines routing rather than because you have chosen to stay at the airport for an extended period.
In Turkish Airlines case, if you have an organic layover of more than 6 or 12 hours, the airline will provide either a city tour or a hotel and transit between free of charge – this, of course, is buried and never advertised. I discuss this in another article further.
Summary of Turkish Airlines Stopover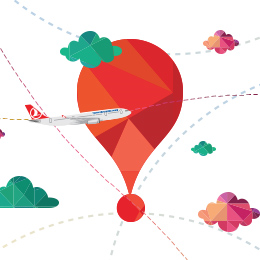 What is the Stopover In Istanbul?
Turkish Airlines offers a stopover program in Istanbul for free on almost every ticket fare class and city-pairs. So long as you meet the requirements, this package is perfect for travellers who like to be a little spontaneous in their journey and build in a day or two in Istanbul.
It is important to remember that while the hotel is complimentary, the visa is not and you will need to make sure you have a visa upon arrival.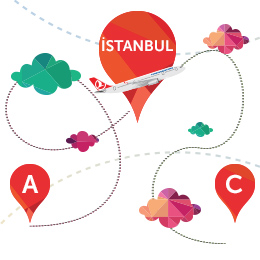 How does a stopover work In İstanbul?
If you find great Turkish Airlines flight deals on Google Flights or Turkish Airlines, you can book a multi-city journey for the same price as a standard round trip, as long as Istanbul is the city in the middle.
Economy class passengers can avail a free one night stay at a four-star hotel whereas business class passengers can avail a free two nights stay at a five-star hotel.
Free accommodation
The catch is you can't just rock up expecting to have it.
To make use of the program you have to send an email to the mail address designated according to your departure point stating your name & surname, reservation code (PNR) or ticket number, date range for the anticipated accommodation, preferred room type (single, double or triple), telephone and e-mail address at least 72 hours before your first flight.
Once You've Got A Booking
Email Turkish Airlines
Once you've made a booking with Turkish, you simply email the local Turkish stopover office, no later than 72 hours prior to the flight.

When you email, include your name, your record locator/confirmation number and which date(s) you'd like to stay in Istanbul. You can also note if you prefer double beds, etc. Add in your email and telephone number.
Then they will get back to you with a list of hotels that you can choose from.

You can even send an email or call them on the number provided if you have any doubts about the stopover program before and after booking your flights.
Get A Visa
Turkey requires visas for citizens of many countries and to ensure the easiest entry process, it's best to get one well in advance although some countries can get it on arrival. You can read up on everything you need to apply online at the Turkey e-visa website, from past experience it takes 5-10 mins tops.
Possible hotels with the Turkish Airlines Stopover
The FlyerTalk thread on this does highlight some common hotels and by the looks of things they aren't your cheap budget end hotels.
Business Class Hotels
Economy Class Hotels
Turkish Airlines Stopover Terms and Conditions
These are the main rules that need to be adhered to for the stopover to apply – I have bolded the main ones for emphasis
Turkish Airlines Stopover Eligible City Pairs
| | | | |
| --- | --- | --- | --- |
| Departure points | Arrival points | E-mail | Telephone |
| Algeria | America Region, Asia-Far East, Middle East | [email protected] | +21 366 907 8308 |
| Australia | Balkans, Europe, Middle East, Turkey domestic routes | [email protected] | +61 2 9255 9900 |
| Azerbaijan | America Region (USA, Canada, Mexico, Colombia, Venezuela, Panama, Cuba, Argentina and Brazil), Asia & Far East, Africa, Russia, Ukraine, Saudi Arabia, United Arab Emirates, Israel, London, Norway, Sweden, Denmark, Finland, Frankfurt, Barcelona, ​​Estonia, Latvia, Lithuania | [email protected] | +994 12 404 10 51 |
| Belarus | Asia-Far East, Middle East, North Africa, Sub-Saharan Africa, Southern Europe, America Region | [email protected] | +375 17 3272555 |
| China (PVG, XIY, CAN, PEK) | America Region (USA, Canada, Argentina, Brazil, Colombia, Panama, Cuba, Venezuela, Mexico), Europe, Africa, Middle East | [email protected] | +86 10 6465 1867 |
| Denmark | America Region, Asia-Far East, Africa, Middle East, Eastern Europe, Balkans | [email protected] | +45 33 38 0849 |
| Estonia | Asia & Far East and Eastern Africa, Southern Europe, America Region, Middle East, Eastern Europe | [email protected] | +372 623 1111 |
| Ethiopia | USA, Canada, Amsterdam, Moscow, Geneva, Stockholm | [email protected] | +251 11 662 7781 |
| Finland | America Region, Asia-Far East, Africa, Middle East, Eastern Europe, Balkans | [email protected] | +358 9 774 518 15 |
| Ghana | Europe, America Region, Asia-Far East, Beirut, Israel | [email protected] | +233 302 73 45 60 |
| Greece | Middle East, Asia-Far East, Eastern Europe, Balkans, North Europe, America Region (USA, Canada, Argentina, Brazil, Colombia, Panama, Cuba, Venezuela, Mexico), United Kingdom, North Africa, Sub-Saharan Africa | [email protected] | +30 210 985 00 76 |
| Ireland | Asia, Far East, Africa, Middle East | [email protected] | +353 1 844 79 20 |
| India | America Region (USA, Canada, Argentina, Brazil, Colombia, Panama, Cuba, Venezuela, Mexico), Europe and Middle East | [email protected] | + 91 124 4193000 |
| Iran | America Region, Asia-Far East, Eastern Europe, North Europe, Balkans, United Kingdom, Africa, Austria, France, Germany, Hungary, Italy, Netherlands, Spain | [email protected] | +98 21 235 46 |
| Italy | America Region, China, Malaysia, India, Thailand, Japan, Russia, United Arab Emirates, Israel, Egypt, Oman, Lebanon, Sri Lanka, South Africa, Jordan, South Korea | [email protected] | +39 02 36563813 |
| Ivory Coast | Europe, America Region, Asia-Far East, Beirut, Israel, Medina | [email protected] | +225 88 37 31 08 |
| Japan | Europe, Middle East, Africa | [email protected] | +81 3 3435 0421 |
| Kazakhstan | America Region, South Africa, Bulgaria, Montenegro, Georgia, Azerbaijan, Moscow, St. Petersburg, Belarus, Turkmenistan, Egypt, Greece, Kiev, Thailand, Hong Kong, India, United Kingdom, Ireland, Schengen Countries, Tel Aviv, Dubai, Doha, Bahrain | [email protected] | +7727 250 6219 |
| Kuwait | America Region (USA, Canada, Argentina, Brazil, Colombia, Panama, Cuba, Venezuela, Mexico), Europe, Balkans, Asia Far East, Africa, Middle East, Cyprus | [email protected] | +965 18 849 18 |
| Latvia | Asia & Far East, Middle East, Africa, America Region (USA, Canada, Colombia, Venezuela, Panama, Cuba, Argentina, Brazil, Mexico) and South Europe, Eastern Europe, Balkans | [email protected] | +371 673 59441 |
| Lithuania | Asia & Far East, Middle East and America Region (USA, Canada, Colombia, Venezuela, Panama, Cuba, Argentina, Brazil, Mexico), South Europe, Africa, Georgia | [email protected] | +370 521 90 725 |
| Malaysia | Europe, Middle East, Africa, America Region | [email protected] | +60 3 2164 0849 |
| Morocco | Middle East & Cyprus, Saudi Arabia (Hajj & Umrah), Asia & Far East, Eastern Europe and the Balkans, Sub-Saharan Africa, Sudan, Egypt, Greece, France, Malta, Belarus, Russia, Switzerland, Czech Republic, Hungary, Austria, Sweden, Norway and Cuba | [email protected] | +212 522 640 507 |
| Nigeria | Asia-Far East, Middle East, America Region | [email protected] | +234 1 277 22 30-32 |
| Norway | America Region, Asia-Far East, Africa, Middle East, Eastern Europe, Balkans | [email protected] | + 47 930 85 235 |
| Oman | America Region (USA, Canada, Argentina, Brazil, Colombia, Panama, Cuba, Venezuela, Mexico), United Kingdom, Ireland, North Africa, Europe, Balkans, Jordan, Lebanon, Tanzania, Ethiopia, Kenya, Georgia, Azerbaijan, Russia | [email protected] | +968 2476 5074 |
| Pakistan | USA, United Kingdom, Ireland, Schengen countries, Canada, Saudi Arabia (Hajj, Umrah), Azerbaijan | [email protected] | +92 21 384 02 333 |
| Portugal | Asia-Far East, Middle East, Africa, Europe, Balkans | [email protected] | +351 213163121 |
| Qatar | Europe, Balkans, North Africa, America Region (USA, Canada, Argentina, Brazil, Colombia, Panama, Cuba, Venezuela, Mexico), Cyprus, Mauritania, Ghana and Ethiopia | [email protected] | +974 3030 4712 |
| Russia | America Region (USA, Canada, Argentina, Brazil, Colombia, Panama, Cuba, Venezuela, Mexico), Asia-Far East, Africa, Spain, Italy, France, Germany, Portugal, Greece, Lebanon, United Arab Emirates, Georgia, Malta, Israel, Prague, Vienna, Belgrade, Baku, Bucharest, Jordan, Croatia, Iran, Saudi Arabia, Bulgaria, Hungary, Central Europe, Middle East, Northern Europe, Balkans | [email protected] | +7495 980 5207 |
| Serbia | Brazil, Argentina, Cuba, USA, Canada, Russia, Ukraine, Portugal, United Arab Emirates, Iran, India, Israel, Oman, Uzbekistan, Nepal, Sri Lanka, Maldives, Thailand, Egypt, Algeria, Tunisia, Morocco, Tanzania, Mauritius, Seychelles | [email protected] | +381 11 209 72 25 |
| South Africa | Asia-Far East, America Region, United Kingdom, Ireland, Europe, Saudi Arabia (Hajj, Umrah), Middle East, North Africa | [email protected] | +27 21 936 3448 |
| Spain | Middle East, Asia-Far East, Eastern Europe, Balkans, North Europe, Sub-Saharan Africa, America Region (USA, Canada, Argentina, Brazil, Colombia, Panama, Cuba, Venezuela, Mexico), United Kingdom, North Africa, Greece | [email protected] | +34 91 758 23 35 |
| Sweden | America Region, Asia-Far East, Africa, Middle East, Eastern Europe, Balkans | [email protected] | +46 8 120 95 115 |
| Tanzania | Asia-Far East, Middle Europe, North Europe, America Region, Lebanon, United Arab Emirates, Tehran, Najaf, Oman, Paris, Lyon, Israel, Saudi Arabia, United Kingdom | [email protected] | +255 754 933 000 |
| Thailand | Europe, Middle East, Africa, America Region | [email protected] | +662 091 0300 |
| Tunisia | America Region, United Kingdom, Africa, Asia-Far East, Middle East, Sweden, Finland, Norway, Russia, Ukraine, Belarus, Poland, Romania, Greece, France | [email protected] | +216 71 960 999 |
| United Kingdom | Asia, Far East, Africa, Middle East | [email protected] | +44 207 471 6640 |
| Ukraine | America Region, Europe, United Kingdom, Ireland, Seychelles, Mauritius, Georgia , Azerbaijan, Thailand, Israel, China, Maldives, Dubai, Morocco, Russia, Egypt, Indonesia, Japan, Kazakhstan, Turkmenistan, Kyrgyzstan, Uzbekistan, Tajikistan, Hong Kong, Mexico, Singapore, India, Vietnam, Malaysia, United Arab Emirates | [email protected] | +38 044 289 44 00 |
| USA | Africa, Eastern Europe, Balkans, Southern Europe, Pakistan, India, Bangladesh, Russia, Iran, Kazakhstan, Lebanon, Jordan, Afghanistan, Nepal | [email protected] | +1 703 992 0476 |