---
Oman Air is set to join the global OneWorld Alliance in 2024, placing it among the likes of Qantas, American Airlines, Cathay Pacific and more, after making its intentions known last September.
The OneWorld alliance has seen a substantial amount of growth of late with Royal Air Maroc joining in 2020, Alaska Airlines joining in 2021, and now Oman Air in 2024. The gulf airline will be the 3rd carrier to join 5 years and the 14th airline to join OneWorld overall – albeit losing LATAM during the process.
The news was announced at IATA's 78th Annual General Meeting in Doha, with OneWorld member Qatar Airways acting as a sponsor for the carrier's entry into the alliance.
Unsurprisingly Qatar Airways and Oman Air have been cooperating pretty closely as of late, seeing each other as partners rather than rivals. In fact, Qatar Airways is even currently leasing planes from Oman Air, given Qatar Airways' aircraft shortage due to the A350 grounding.
Oman Air has a classy operation and is a worthy addition to the alliance. The carrier sits firmly as a winning "boutique" airline and doesn't compete on the global scale that Emirates and Qatar Airways do, winning awards the likes of Skytrax's Best Airline staff in the Middle East.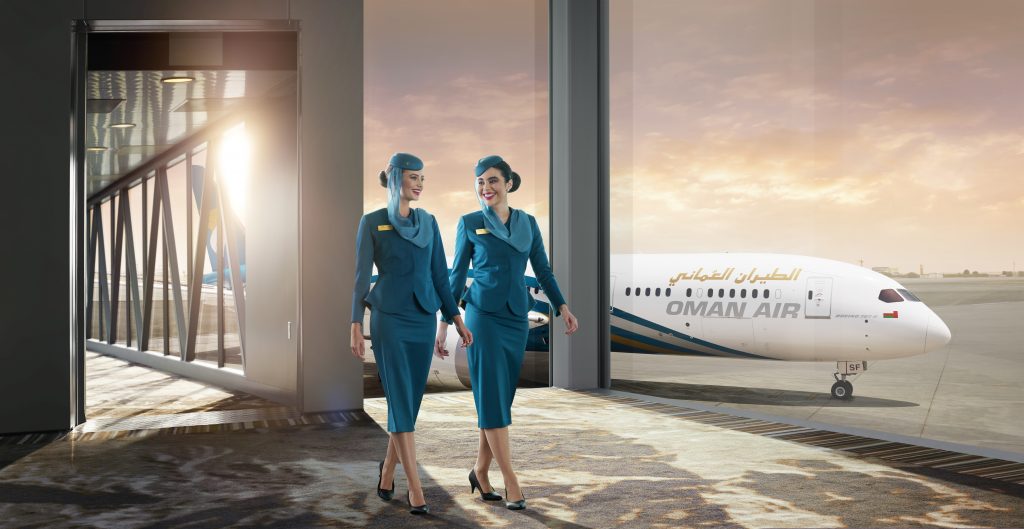 Who Are Oman Air
Founded in 1993, the flag carrier of the Sultanate of Oman, calls Muscat home. The carrier currently operates a fleet of over 40 aircraft, serving 41 destinations, both short and long-haul destinations.
What was once a domestic airline servicing the Sultanate, since then, the airline has expanded and now serves as far west as London Heathrow and east as Manila. It's Boeing 737s generally appear on shorter hops, particularly within the Middle East. Airbus A330s and Boeing 787 Dreamliners serve on those longer services.
The carrier has existing codeshare agreements with Malaysia Airlines, Qatar Airways, Royal Jordanian and SriLankan Airlines. In fact, the carrier already flies to five OneWorld Alliance hubs, including Amman (Royal Jordanian's base), Colombo (SriLankan base), Doha (Qatar Airways' base), Kuala Lumpur (Malaysia Airlines' base) and London Heathrow (British Airways' base).
Sinbad Loyalty Programme
We won't know until 2024 exactly what will happen to the Sinbad programme as it begins to mould into a working OneWorld Programme. What we do know is that the programme will grow by one status level – as did Royal Air Marc when it joined the alliance. While it is a given that Sindbad Gold and Sindbad Silver will remain – it will be for the airline to choose whether they want to go for Sinbad Bronze or Platinum to fill up the 3 elite tiers
One of the bigger changes though will likely be in the partnerships the airline holds – like Etihad for miles earning or (more specifically) their non-alliance members like Delta, Guarda, Air Canada and KLM for example.
Oman Air Seats
By overhauling its fleet and inflight products, Oman Air has become more established in recent years, becoming regarded as a world-class airline.
On board, the airline offers some of the most advanced inflight products, including First Class Private Suites that rival those of larger Middle Eastern airlines.
Oman Air Business Class
Oman Air has an incredible business class product — on the airlines Dreamliner's, the carrier has the coveted Apex Suites, mirroring the design of Japan Airlines' Sky Suites and Korean Air's better Prestige Class cabins.
Oman Air First Class
Along with Business Class and Economy Class, some Airbus A330 and Boeing 787 flights also offer First Class. In that prestige cabin, Oman Air offers private suites with closing doors, not unlike many of its Middle Eastern counterparts.
What This Mean For OneWorld Members
Once Oman Air joins OneWorld in 2024, members of all OneWorld frequent flyer programs would be able to earn and spend points or miles aboard Oman Air flights.
OneWorld Sapphire and Emerald members would gain lounge access and fast-track perks like priority check-in and boarding when travelling with Oman Air, benefiting all elite cardholders. Arguably the bigger winners are Oman Air's Sindbad frequent flyers will be entitled to member benefits on hundreds more routes than they currently do.
The airline has lounges in Muscat, Salalah and Bangkok which will now become available to OneWorld Members.
While not the most impressive, Oman Air will add just 3 locations to the alliance's network including Duqm and Khasab in Oman and Chittagong in Bangladesh. While this is a slight increase in connecting destinations, it increases consumer options nonetheless.
Furthermore, as a member of OneWorld, Oman Air flights could also be included when planning a round-the-world trip with OneWorld: whether using cash, or as part of a multi-city award booking.
OneWorld Cements Itself As A Major Player In Middle East And North Africa
The alliance will also benefit by cementing themselves as the alliance of choice in the Middle East and North Africa region.
Qatar Airways is one of the 'ME3' airlines, alongside Emirates and Etihad, who are super-connectors offering passengers the ability to travel across an array of destinations globally with one-stop connections. With the addition of Oman Air, OneWorld will now have four members in the MENA region – the others being Royal Jordanian and Royal Air Maroc.
It leaves Star Alliance and SkyTeam looking a little exposed, Star Alliance has only one 'real' MENA airline in Egyptair, you could throw in Turkish Airlines and Ethiopian Airlines into the mix as they are nearby while Skyteam has only Saudia.
Emirates is unlikely to join an alliance any time soon due to their global dominance and popularity while Etihad may look towards an alliance as a method to improve connectivity as they transition to become a 'boutique airline'.
In a world where bigger often means better, OneWorld will now have the biggest network within the Middle East and North Africa.