BA Executive Club Bronze is one of four tiers that make up British Airways Executive Club frequent flyer membership scheme.
Bronze status is the lowest of the elite statuses that you can achieve. British Airways is part of the Oneworld alliance meaning that if you hold BA Executive Club Bronze Status, it is equivalent to Oneworld Ruby status and offers similar benefits on flights with Oneworld Airlines.
It is important to highlight that BA Executive Club is a zone based program (meaning that your earnings are grouped into Zones – mainly dictated by the 2,000 mile rule) where airlines such as American Airlines are Revenue Based (as you are required spend with the airline before you can earn status). There are no one is better than the other distinctions, but it is good to know at the onset.
History of BA Executive Club Bronze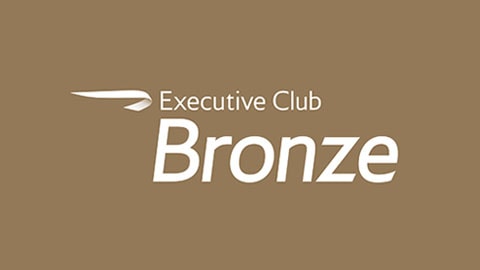 British Airways Executive club has been a new entry for the airline in its history. According to Executive Traveller, BA only introduced its Bronze status back in 2011 when it revamped its Elite Status program.
What this meant was that prior to the change over, if you were, say Qantas Silver which is their equivalent to Oneworld Ruby, you were not afforded the same benefits of Oneworld Ruby when flying with the British Airways as the status level did not exist.
Another benefit of the Executive Club, as reported by The Points Guy back in 2011 as well, was that British Airways changed their membership program so that your Tier points do not reset when you hit a new status level – Airlines like Cathay Pacific still do this. What this therefore means is that you can effectively go from Blue to Gold in one 12 month membership, ultimately, allowing you to move through the tiers faster.
What do you get with BA Executive Club Bronze?
It depends on which side of the looking glass you compare it with, if you compare with BA Executive Club blue, it is a stepping stone up from what you had but conversely, if you compare it with BA Executive Club Silver you don't get very much.
The official list can be found here : BA Executive Club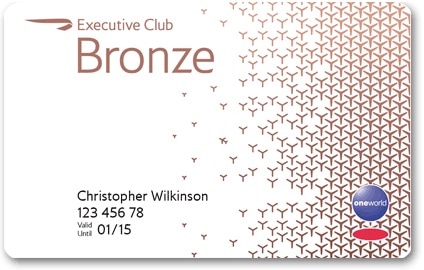 A Shiny Card
Where BA Executive Club Blue members are only offered a digital membership card, Bronze, Silver and Gold members are awarded tangible cards (as I am told, some airlines still like to see the physical card) and two luggage tags.
BA Policy has changed meaning that you no longer get them automatically upon renewal but have to request them through the BA.com Website.
25% bonus Avios when flying
Members get an extra 25% Avios when flying on either British Airways, Iberia, American Airlines and Japan Airlines.
Nice to have as it help you get reward flights faster but ultimately not that special.
Free seat selection up to seven days before departure
One of the most attractive benefits of holding Executive Club Bronze status is the free seat selection up to 7 days in advance (which is for everyone in your itinerary) – which is up from 24 hours with Executive Club Blue and non-members. Ultimately, British Airways is a bit of an oddity as it one of a very few airlines which still charges for a seat selection in Premium Economy / World Traveler Plus and Club World / Business Class.
This is potentially quite beneficial as the cost of seat selection is dependent on you're the number of passengers, class of travel, destination and whether you choose a seat with extra legroom. Ultimately, the savings can be quite substantial as a Club Would (long haul business class) seat would cost £62/€74/$93 in one direction to select, then you have to multiply by two for the return leg and multiplied again if you are travelling with anyone else.
What this means is a saving of £248 ($372) when flying from London to New York with 2 people in business class. But your mileage may vary as if you mainly do economy euro traveller returns, the saving of £14 (£22) is not as impressive.
And unlike with American Airlines basic economy fares, with British Airways basic economy fares your status still counts, and you will be able to choose a seat as if you had booked a regular economy ticket.
Club World, Club Europe or oneworld equivalent business class check in desks
This one is good especially if you fly long haul often and get to the check in desk when its rammed at international airports (what do you mean it's a full A380 with only 3 check in desks for economy) or having to run through the rows trying to find the which letter is the check in counter for your flight at Heathrow Terminal 5 (yes – its all BA and letter A to I are all economy check in counters). As you can tell I have a thing about this.
With BA Executive Club Bronze, you can now skip the queue and use the business class line skipping potentially 50+ people and wait behind 1 or 2 people regardless of flight cabin.
Priority boarding
All one world member airlines have priority boarding and as a BA Executive Club Bronze member you will board before Blue and other Non-member.
With BA you will board in Group 3 (where 1 & 2 are for BA Executive Club Gold and Silver) but can also be boarding with passengers in Premium Economy (where First and Business class board in Group 1 or 2 respectively).
It's a little different with other Oneworld member. For instance, with American Airlines, you board in Group 4 which is the same for people who paid for Priority Boarding and with Cathay Pacific, you board with Premium Economy passengers as they do not operate a Group Boarding System rather board by class of travel.
How do you Get BA Executive Club Bronze
When you travel with British Airways, you earn Tier Points, with which you can achieve elite status with. Blue membership is the most basic and is available to everyone and does not come with benefits except the ability to earn Avios and tier points. Bronze, Silver and Gold are earned and hold varying levels of perks.
Your elite status is dependent on the number of Tier Points you earn during your membership year and, unlike Avios, your tier points reset on the anniversary of your membership.
There is no other use to tier points other than setting your elite status; they cannot be spent.
To achieve British Airways Bronze status, you need either
300 Tier Points and 2 eligible flights flown in one membership year or
25 eligible flights flown in one membership year
In this case, an eligible flight is
any British Airways operated flight, no matter the flight number (for example BA69)
a flight with a British Airways flight code but operated by another airline
an Iberia operated flight with an Iberia flight code (for example IB2147)
Reward or redemption flights (using Avios) are NOT treated as eligible flights.
How to Collect the Tier Points
To actually earn the miles, when you are on the booking page with a Oneworld member airline, you simply enter you BA Executive Club membership number.
Oneworld airline include like Cathay Pacific, Qantas, Qatar, Iberia, American, Japan Airlines, Malaysia Airlines, Finnair and more.
How to Calculate how Many Tier Points you will Earn?
Tier points range from a mere 5 points a pop one way on short haul economy, to 210 one way on long haul first class. The simplest and best tool for finding out how many tier points you'll earn on any flight you take is a tool from British Airways Tier Point Calculator.
Remember flights are calculated per flight not by route so if your flight has a stop over, you will need to calculate for 2 flights and double it for the return.