The Air France Youth Pass on paper looks like a good deal but when you really drill down, it is somewhat of a mixed bag.
For one the Youth Pass programme rests between other Discount Passes, like the weekend pass, and on the other hand a full-on student discount programme.
While the pass has been around for some time, it's interesting to see how it has developed over time especially when France has cracked down on banning short-haul travel.
What is the Air France Youth Pass?
The non-refundable €49-a-year pass enables young persons (naturally) aged between 12 and 24 years to travel at a discount price across France and parts of Europe
The pass allows for select benefits when travelling on Air France (and in one case, Air Corsica) namely:
Up to 30% (was 35%) discount on standard fares
Flexible tickets as standard – No change fee. Refund fee: €20
Lowest prices (even below promo fares); and
One checked bag.
Importantly, don't get caught out like this flyer on Flyertalk – the Air France website only prompts you of the requirement to have a Youth Pass when selecting "Youth" tickets for flights departing France. On flights departing from other destinations, the prompt is surprisingly missing considering.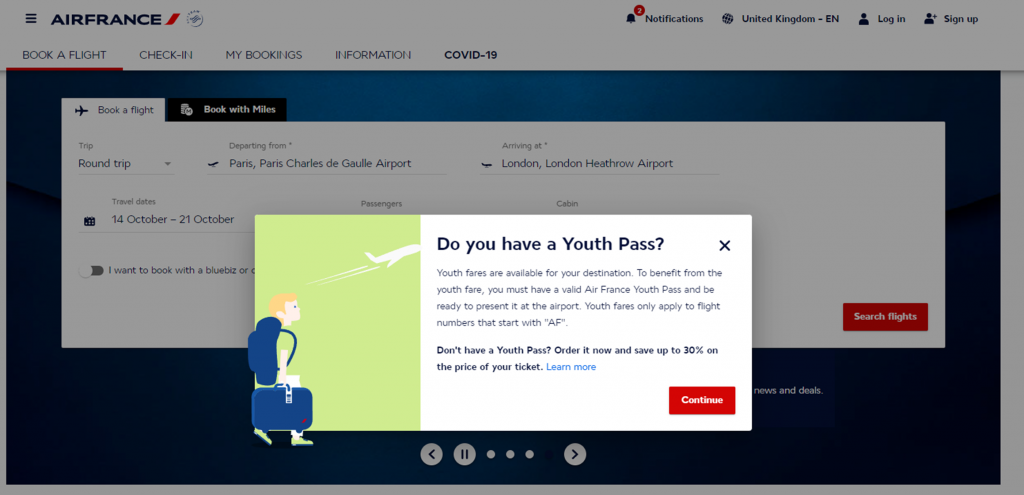 Youth Pass Validity
The Pass is valid for travel within Air France's complete metropolitan domestic network (except the Caribbean) as well as flights operated by Air Corsica between Paris and Corsica and AF flight number.
The pass also allows certain regional routes to Germany, Norway, Sweden, Finland, Denmark, Italy, Greece, Turkey, Spain, Portugal, Algeria, Morocco, Tunisia, UK, Ireland, Russia, Armenia, Ukraine, Austria, Switzerland, Hungary, Romania, Croatia, Bulgaria, Poland, Czech Republic, Netherlands (Amsterdam only), Serbia and Slovenia
One of the key drawbacks though is that all flights MUST originate from Metropolitan France.
Bits For Parents
While the pass does sound interesting, for parents there a few extra bits to know.
If you are a parent getting this for your kids, it is important to remember the pass is not valid for solo travel across Europe for youngsters aged between 12 and 14.
If you wish to travel with a child who holds a youth pass, you will not be able to make the booking online and a call to the call centre is required – +33 (0)9 69 39 36 54 (toll-free number) Monday through Friday, 8 am to 10 pm (excluding public holidays).