Air Canada is offering eligible international students around the world discounts when they fly with the airline to study in Canada.
In fact, Air Canada is unique in the sense it has two programs (depending on your departing country) designed for students.
The Student Offer' is designed for students beginning their journey outside of Canada and moving to Canada to study. While the 'Student Flight Pass' is a more focused scheme targeting only a select few countries (such as Hong Kong) and is geared as a multi-travel voucher.
I actually discuss Air Canada's Flight Pass in another article.
Needless to say, unlike other airlines (like Singapore Airlines or KLM) that offer a similar program, Air Canada's is designed exclusively for students studying in Canada.
Eligibility Criteria
There are some basic requirements to take advantage of the student offer, to be eligible:
you must be in possession of a valid study permit for Canada.
Furthermore, you must be able to travel (ie. Your outbound flight to Canada) between 25th June and 30th September. There are no limitations on your return leg if you choose one.
You must also have an Aeroplan membership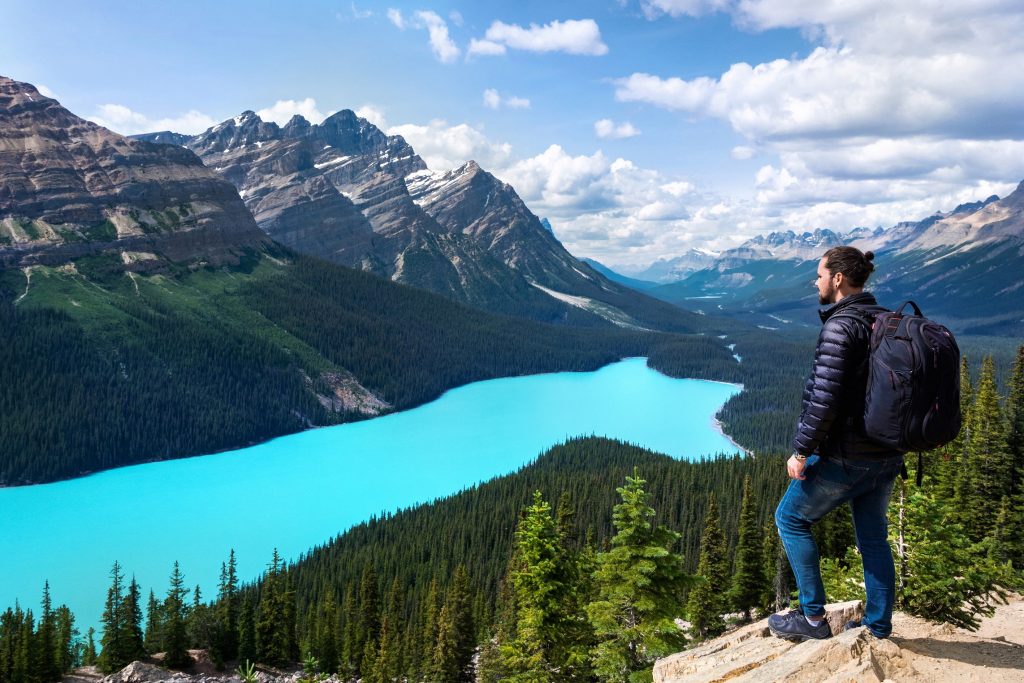 What Is On Offer
The offers you see/get are wholly dependant on the country you depart from. For example, departing from Hong Kong will allow for additional complimentary baggage, while departing from the UK or France does not yield this benefit.
For Air Canada there are 4 main areas students get discounts with the program (if you are eligible):
Student Discount to Canada
Student Discount travelling in Canada
Extra Luggage
No Change Fee
Complementary Wi-Fi
You can find more information out here (should there be any changes in the future)
Discounted Fares While In Canada
As an Aeroplan Member travelling as a student, you'll save 50% on select base fares to explore Canada. Naturally, this is a nice benefit but a bit of a pain to get working.
You will need to apply for a one-time discount code in advance to which you will be sent a one time code within 15 days later to use.
The 50% discount is only applied on the base published fare. Discounts will not be applied to surcharges (which are also included in the air transportation charges), applicable taxes, fees and charges
They are somewhat restrictive, but not if you are a student:
Discounts are only applicable in Economy, defined as Economy Standard, Economy Flex, and Economy Comfort
Not valid on codeshare and interline flights
Travel must be within term time (the latest revision is 1st Sep to 30th May)
Fights must be operated by Air Canada (including Air Canada Express and Air Canada Rouge), wholly within Canada, Not valid on codeshare and interline flights.
Blackout dates apply around the festive periods
No Change Fee If Booked In Economy ONLY
Economy is defined as Economy Standard, Economy Flex, and Premium Economy Lowest fares. So if you are flying business this perk does not apply.
No change fees before and after departure. Not applicable in case of no-show. Subject to availability, otherwise a fare difference may apply.
Tickets are refundable prior to departure with a fee, or after departure with a fee. Non-refundable in case of no-show. Fully refundable in case of a schedule change.
All other fare rules apply based on the fare type selected.
Eligible Students may cancel and refund without penalty within 24 hours of booking.
Complementary Checked Luggage with Air Canada
If you're eligible, you will receive one additional free checked bag above the regular allowance as permitted by the Eligible Fare type selected. This allowance will display on your itinerary receipt after completing the booking.
Eligible students will have the checked baggage allowance outlined below:
Economy Class: 3pcs, 23kg/pc, Maximum linear dimensions 158cm/pc
Premium Economy: 3pcs, 23kg/pc, Maximum linear dimensions 158cm/pc
Business Class: 3pcs, 32kg/pc, Maximum linear dimensions 158cm/pc
Complementary Wi-Fi
So long as you are an Aeroplan member BEFORE booking your flight you will receive a complimentary Wi-Fi voucher for your flight to Canada.
No more than 15 days after booking your flight you will be given a 1-time access code for their 'Surf Package'
There is another period where this is applicable, so it is worth double-checking.