Open Jaw Tickets 101
An open jaw flight, often referred to as an open jaw ticket, is when a passenger at one end of their trip arrives and departs from a different city or airport.The name is derived from the way it looks when drawn on a map.
What is an Open Jaw
The rule of thumb for an open jaw to be considered an open jaw is that the distance between the two points where the opening exists must be shorter than the distance from the both the departure and arrival destinations.
For example, the below route would be considered an open jaw as an itinerary would be purchased for the London Heathrow (LHR) to Hong Kong (HKG) and Bangkok (BKK) back to London Heathrow (LHR); a second one way ticket would be purchased from Hong Kong (HKG) to Bangkok.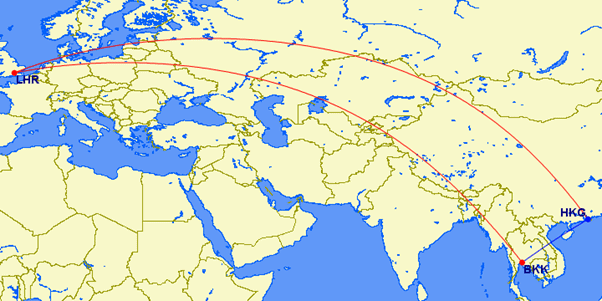 What is Not an Open Jaw
Too Great of a Distance
This would not be classed as an open jaw as the distance between Perth (PER) and Auckland (AKL) is of a greater distance than the Singapore (SIN) to Perth (PER) leg of the journey.
Only Going in One Direction
Additionally an open jaw cannot be one which travels in only one direction. As such you cannot have an open jaw from San Francisco (SFO) to Hong Kong (HKG) to London (LHR) and back to San Francisco. In reality this would be considered an Around the World ticket.
Why Not Two One Way Tickets?
Booking two separates one way tickets is not the same as an open jaw. The principle works when doing a normal round trip and booking two one-way tickets for that trip (nearly always you will see it more expensive). The reason is the fare class the airlines will sell you the ticket in.
The rational airlines take these days is that if you need a one-way ticket you do not know when you will be flying back and therefore you need a less restrictive ticket. Where as if you book a round trip, or an open jaw ticket, you know when you will be flying back so there isn't a need to sell a such a flexible ticket and may in fact work against the airline.
Reason you would use an Open Jaw Flight?
There are many reasons why people may wish to purchase open jaw tickets – on one hand the need is done for necessity while on the other hand it is done to reduce the cost of the ticket or to improve mileage earning rates.
In short, the savings are that:
Saves time by not having to back track on yourself
Saves Money by potentially starting in a cheaper origin than your home base
You get to explore more because you have more time to travel
Note: Open jaw tickets are good ways to use your award tickets as they let you see more of everything
There is a common view that booking open jaw ticket has a disproportionately higher chance to create error fares (a fare which is super cheap due to a glitch in the fare construction). But, finding an error fare in such a way is not easy and a very rare occurrence. The reason for this is that your fare construction must be extremely complex – something along the lines of a double open jaw (explained below), split over 3 continents, with 4 sectors (flights) and booking a ticket in a fare class which competes with the other (such as not allowing any layovers). As such, you are more likely to find an error fare due to someone entering the data incorrectly than a glitch in the system these days.
Variable Travel Locations with an Open Jaw Ticket
Because of Necessity
You could be forced to do an open jaw if you were on a cruise and you depart from Tokyo, Japan but you arrived in Singapore. There would be little point of going back to Japan first, so flying home from Singapore makes sense.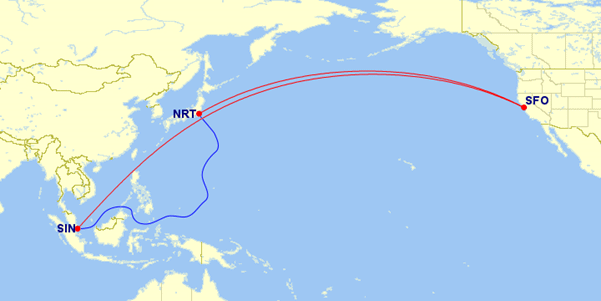 Out of a Desire to See a Country
The need for an open jaw would arise, if for instance, you wanted to go explore and in doing so your arrival and departure points are in different parts of the country. For example, if you departed from London, you could arrive in Bangkok but depart from Phuket this means you can spend more time enjoying the scenery instead of having to travel back to your arrival airport
See Many Different Countries
Alternatively, you may want to explore different countries, think Interrail across Europe. You could depart from New York and land in Paris but depart from Poland. Travelling back from Poland to catch a flight back to New York could easily take a whole day to do so reduces the total time you have on holiday.
Because you Want to do a Stopover.
Open jaws are not limited by land or sea, you could buy an open jaw ticket with Lufthansa where you landed in Colombo in Sri Lanka, do a stop over, buy a seperate ticket to Hong Kong, enjoy the main part of your holiday and depart back to Frankfurt on Lufthansa.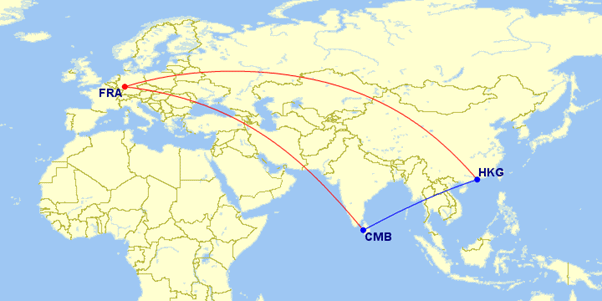 Multi-City With an Open Jaw
You could even bake in a trip with multiple destinations where only your first and last destination (and therefore your longest sectors) are covered in the open jaw (red) and the segments between (green, blue and purple) are on separate tickets but can be changed or rebooked without having to potentially pay heavy penalties to change the whole booking if it was all on one itinerary.
Financial Savings with an Open Jaw Ticket
Sometime, doing an open jaw can be financially beneficial. Take the below example, there is a saving of £684 when comparing a trip from London to Hong Kong and a trip from London > Oslo > Hong Kong > London. However the trade off of a significantly cheaper ticket is the time it will take to get from point A to B and that ultimately is the question in many cases.
In terms of the fare paid, contrary to popular belief, they are not two one way tickets. Depending on the complexity of the open jaw ticket, fares can be calculated in any which way. But for basic open jaw constructions usually a fare is calculated by taking two return tickets, halving the cost, and merging them together. For instance, . a return from Hong Kong to Oslo on the 14th November and Hong Kong to London on the 28th November is calculated, the sum is then halved to account for a one way ticket in each direction, and then added together to get the final sum of £1,345.
Savings that are Worth an Open Jaw Ticket
The below example shows how using an open jaw ticket can save you some money if you are willing to wait the layover.
Flight 1
—–
London > Oslo > Doha > Hong Kong > Doha > London
—
Total: £1,544 (£199 + £1,345)

Flight 2
—–
London > Doha > Hong Kong > Doha > London
—
Total: £2,228

Savings that are NOT worth an Open Jaw Ticket
An interesting (depending on your view of interesting) is that depending on where the airlines base of operations is, you could end up flying back to your point of origin and having a layover at your home airport. Take the below example with British Airways where the flight from Stuttgart, Germany saves you a bit of money but the trip ultimately takes you back to London Heathrow with the cost of a flight out to Stuttgart would wipe any potential savings from starting your Journey (not to mention the time it would take to get there, the flight back and the 6 hour layover).
Flight 1
Stuttgart > London > Hong Kong > London
Flight 2
London > Hong Kong > London

Types of Open Jaw Tickets
Destination Open Jaw
A destination open jaw is when a passenger flies to one city but returns from another.
It is the most commonly used open jaw method due to its simplicity.
Origin Open Jaw
A direct opposite of the Destination Open Jaw is the Origin Open Jaw – where the passenger departure city is different to the one where they will return to.
It has its specific uses but is limited in its execution and its use is usually geared towards having a financial impact on a journey. Take the UK's tax on Air Passenger Duty. It is common for passengers to depart from the Scottish Highlands or Dublin to avoid the need to pay Air Passenger Duty (a sum of circa £150 per passenger) and then fly back to London.
Double Open Jaw
This form of Open Jaw is where the passenger's arrival and departure airports differ in both directions.
The most uncommon type of open jaw ticket, its use is very limited due to the complexity in finding a routing which meets a fare criterion which in itself is not prohibitively expensive.
But once found there can be significant savings, take for instance Cathay Pacific's Oneworld partner award chart, which allows up to 5 stopovers, 2 transits, and two open-jaws on a single award ticket. There are some pretty strict guidelines to follow, but if you can piece an itinerary together there can be tremendous value.
How to book an Open Jaw
As mentioned above, open-jaw itineraries aren't just two one-way tickets stitched together. Airlines still considered them "round trip" itineraries even though it might not seem to be in the traditional sense.
To book a ticket, you simply need to book the two longest legs as a round trip and book the connecting ticket separately.
Book an Open Jaw with Google Flights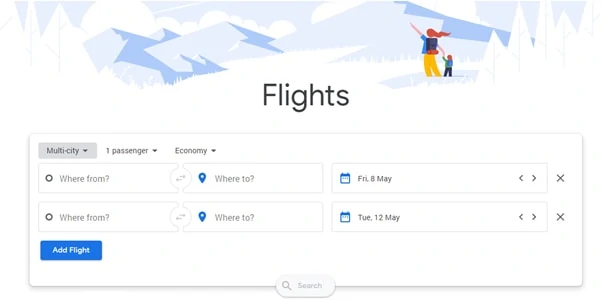 With Google Flights, the calendar of lowest fares only works for one way and round trip flights so if you are flexible have a quick look to see what flights are cheap around the time you are flying Dont forget to select the airline you want to fly with otherwise you may get skewed results.
Once your ready and have an idea of your dates (or if your dates aren't flexible), you're ready to check out open jaw flights.
Select the Multi-city from the dropdown menu and punch in your search critera and off you go.
Book an Open Jaw with Skyscanner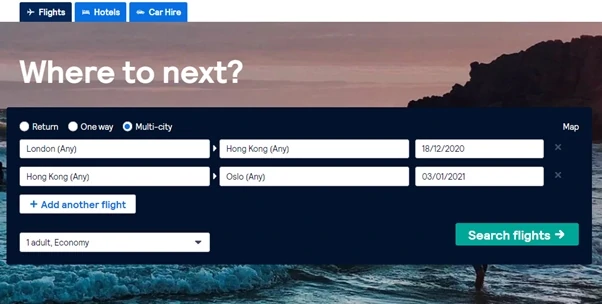 Skyscanner is similar to Google Flights in that the functionality is near identical. However, just like Google Flights, there are limitations and with Skyscanner its their anywhere tool. Skyscanners anywhere tool does not work in multi-city mode so you will need to know where you want to go and how much it will cost (if you are price sensitive).
Same as before, once you are ready, you will be able to see your flights, add and amend as necessary.
Book an Open Jaw with Kayak
Book an Open Jaw with Trip.com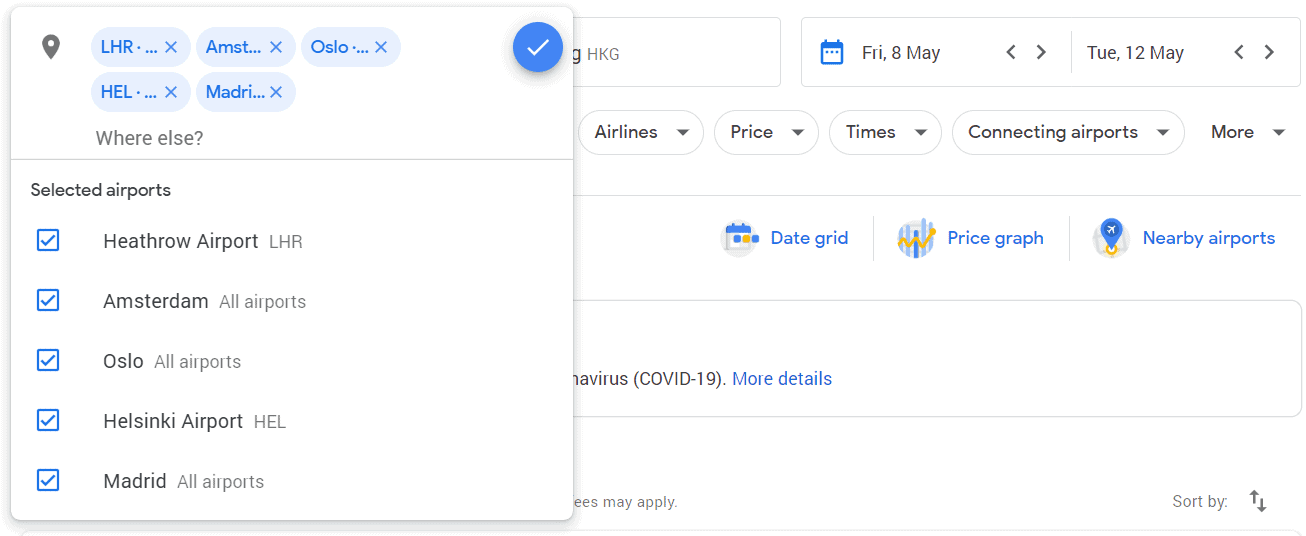 Conclusion
While open jaws are often a great tool to reduce travel time and costs, you may often get results with some higher prices or you may save as I did with lower prices. The key is to be patient and test out different travel dates or airports to see which results will pull up the best price comparisons and use a trial and error approach. You may in the end decide to pay a higher price to be able to see more of the world, the open jaw ticket is a flexible tool for a multitude of things.