Skyscanner is a popular travel fare aggregator website, not to dissimilar to Google Flights or Kayak, which is easy to use and will help you score cheap flight tickets you want.
While Skyscanner's interface is intuitive enough that you should have no trouble using it, there are a few often overlooked features that you should know about if you really want to bring your ticket prices down.
---
Other Reviews
---
Cheapest Month
One of the standout features of Skyscanner compared to its competitors is the search by cheapest month feature. The search results will show you what the price would be for every day in that month, allowing you to pick the most affordable one that fits your schedule.
Two options are available – cheapest month in the year or cheapest date in a month.
Search Everywhere
Another Tip that isn't as easily available on other sites is the search "everywhere" feature. Unlike Google Flights where you have to go into Maps view or search by a continent or country, Skyscanner lets you search everywhere – for those free-spirited and are open to new ideas.
While the results aren't as accurate as when you input a specific destination—the "Everywhere" results are estimated values from the last two weeks, it does give you some idea what is out there
Although this feature does come with 2 limitations:
You cannot filter – so if you wanted to filter out some destinations ie locations you have already been to or simply by price, you are somewhat out of luck; and
Everywhere is everywhere by country and not by city, so if a cheap flight to the United States is £200 due to a flight to New York, Las Vegas can rock up further down the last at £600 skewing the data
Price Alert
If you don't want to book yet, but have a destination in mind, you can subscribe for price alerts. A price alert will notify you when there's a change in flight prices.
In order to use this feature, type in your departure city and destination. Then, apply your specified dates and search. Once you find what you are looking for – set a price alert and when the price changes, you get an email.
Price Chart
The price chart is a fairly simple tool to get your head around so I won't say too much on it.
But what I will say on it is that it doesn't work as well as Google Flights. Where Google will give you 2 months on the graph and if you are searching a bit further out give you more results (where I the image Skyscanner does lag behind)
Skyscanner, to its credit, will show both the outbound and the return together so as to show the impact of one change on the other.
But will only give 1 and if you are searching a bit further out, Google will quickly run the results and archive them
Force a Stopover
While not 100% a travel hack in any way, the ability to force a stopover is a notable mention. While you will ask why would you want to do a layover? The answer is quite simply to see more places than you would have normally seen if you had flown direct.
Take for instance a flight from London Heathrow to Hong Kong. Sticking with the OneWorld Alliance, you can fly direct on both Cathay Pacific or British airways or you could do a stopover at Helsinki with Finnair, Doha with Qatar Airways, Kuala Lumpur with Malaysian Airways. But the real gems come from places you wouldn't expect like Zurich with Cathay and British Airways for only a small fraction more.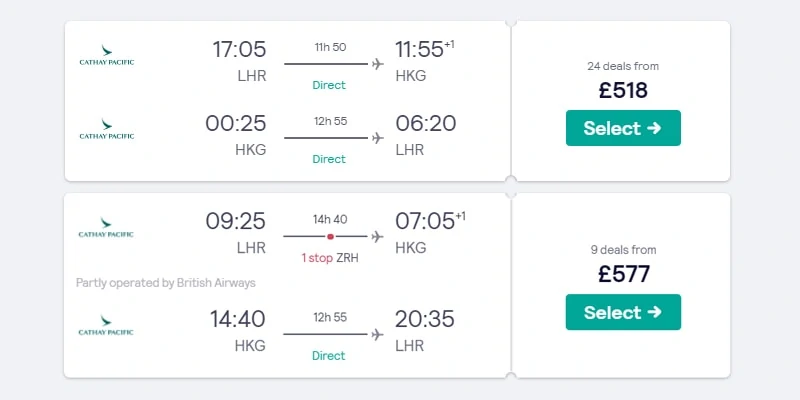 Map View
Another option of searching for a destination by flight tickets price is to search on the map. While a map view is a map view, Skyscanner take it up a notch by adding different colour dots to the mix.
Green dots mean that the tickets to this destination are cheaper than usual. Reds dots mean that tickets are more expensive than usual.
To get to this page, fill out where you will depart from and instead of pressing search press the "Map" button in the top right corner. You will see a map showing the ticket prices to different destinations.
Sky Scanner Deals
A little bit out of the way and little less known is the Skyscanner Deals blog/deals page. It's an aggregator what's cheap out there and is updated daily.
Unfortunately, though, its flight deals everywhere and as such, isn't customable to you specifically but it is a good option when you compare the ability to find the cheapest flights TO a destination
Book with Skyscanner
One of the features I do like with Skyscanner is that you are able to book through the site as if they act on behalf of the travel agent. And while you may have never heard of a Fly Sharp, the fact that you can book through Skyscanner may psychologically give you some reassurance to that cheap flight.