For seasoned globetrotters and casual travellers alike, Google Flights has evolved into a primary resource for flight bookings and fare research. It's a powerful tool offering a blend of intuitive design, customizability, and a wealth of flight information. Whether you're strategizing for an award trip or hunting for the cheapest cash fares, Google Flights provides a wealth of data at your fingertips.
Below are the top tricks to get the most out of Google Flights.
Exploiting Multi-search and Metropolitan Area Codes
Google Flights' multi-search feature gives you the capacity to probe multiple departure and arrival locations simultaneously, facilitating the creation of an itinerary tailored to your unique needs. For instance, you could compare flight costs between various combinations of departure and destination airports, or simultaneously evaluate fares to multiple potential destinations.
Complementing the multi-search functionality are Metropolitan Area codes. These "city codes", used by the IATA, FAA, and search engines alike, represent several airports serving a metropolitan area. Rather than inputting individual airport codes, you can type in a city code, such as "LON" for London, to streamline your search.
The Voyager Wiki has a strong list of Metropolitan Area Codes.
Searching by Map View
Google Flights' map view function is more than just a tool for open-ended adventure planning. It can become a strategic tool for meticulous travel planning when used correctly. For instance, if you have a departure airport and specific date in mind but no fixed destination, the map view can provide a panorama of the cheapest flight options at your disposal.
You can take the customization a notch higher with Google's price slider. Adjusting the slider lets you explore flight choices within your budget. What if you want to stick to your favourite airline alliance, or you're trying to rack up miles with a specific alliance? You can filter your search results based on alliance and travel class. This filter is particularly useful when planning mileage runs, as you can quickly identify the cheapest flights within your preferred alliance.
Moreover, Google Flights allows you to search on a regional basis rather than a specific city. For example, if you're planning a trip to Europe but haven't decided on a specific country or city, just type "Europe" in the destination airport field. Google Flights will display the fares to various cities within Europe, providing a broad perspective on available options.
Remember, the map view also allows you to set preferences for non-stop flights. This ensures that your search results only include flights that match your preference, streamlining the process and making it easy to find the perfect flight.
The Date Picker: Simple Yet Revolutionary
At first glance, Google Flights' date picker might seem like a basic feature, but its efficiency and flexibility are what truly sets it apart. The tool swiftly lets you skim through different dates to find the most cost-effective options for your journey, making your flight search hassle-free and time-efficient.
For instance, if you're planning a city break to Athens and are flexible with your travel dates, you can use the date picker to quickly browse through several weekends to determine which offers the best value.
Furthermore, if you have a preferred airline, the date picker becomes even more valuable. Many airline websites don't provide as much flexibility when it comes to displaying varying dates and prices. In contrast, Google Flights' date picker allows you to quickly assess the best travel dates and prices on your airline of choice before finalizing the booking on the airline's website. This combination of flexibility and speed transforms your flight booking experience, especially when your dates are flexible.
Booking Wisdom: Together or Separate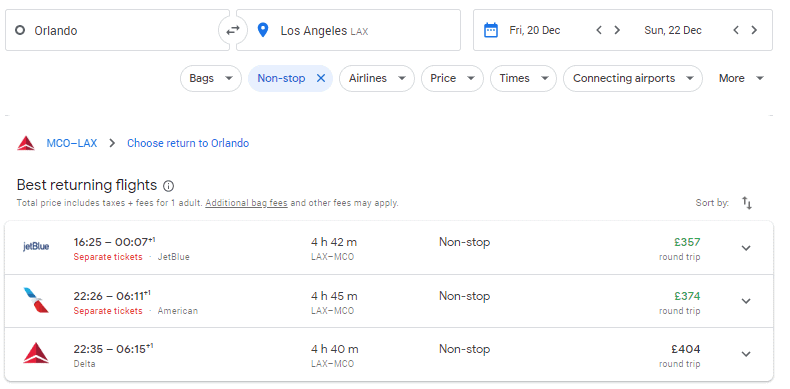 Google Flights goes a step beyond standard fare searches by suggesting if booking two single tickets might be cheaper than a round trip. This feature can lead to substantial savings and eliminate the guesswork from your booking process.
Unveiling the Date Grid
The date grid is a compelling visual tool that offers a panoramic view of airfares across a range of dates. It provides a comparative perspective on ticket prices, helping you understand how fares fluctuate and when they are likely to increase. This insight can inform your decision about the length of your trip, potentially saving you from booking just before fares rise significantly.
Harnessing the Price Graph
The Price Graph feature on Google Flights provides a visual representation of the cost fluctuations between your chosen destinations over a specified period, usually around two months. It offers an efficient, at-a-glance way to assess the most economical time to travel.
The graph displays dates along the x-axis and prices along the y-axis. The lowest prices are represented by the dips in the graph, which you can hover over to see the exact dates and prices. This tool can help you spot patterns in price changes, allowing you to potentially capitalize on the most cost-effective times to book your flights.
While the Price Graph may seem like a lesser-known feature compared to the Date Grid, it can be a powerful tool when planning your trip, especially when your travel dates are flexible. By analyzing the Price Graph, you can potentially save significantly on your flight expenses and better budget for your trip.
Price Overview: Know Your Deal
Google Flights provides a unique Price Overview feature that leverages historical data to help travellers assess the value of a deal. This tool compares the price of the flight you're currently viewing to average prices for the same route during similar times of the year.
For each flight, Google will categorize the price as either "low," "average," or "high." This feature can be incredibly helpful in determining if the price you're seeing is a good deal compared to what other travellers have paid in the past. It can also help predict future price trends, giving you an advantage when booking flights.
Remember that the price assessment is based on historical trends, and while it's a good indication, prices can still fluctuate based on a variety of factors, including changes in demand, oil prices, and airline operations.
The Price Overview feature adds an additional layer of information that can enhance your decision-making process when booking flights. It empowers you to make more informed decisions, potentially saving you money and ensuring you feel confident in your purchase.
Google Flight Guarantee: Assuring Your Best Deal
If you are lucky, Google will even guarantee the price and pay you back if the price drops any further.
Google reintroduced the Flight Price Guarantee in 2023, a feature that demonstrates their confidence in providing the lowest available prices for certain flights. If the price drops after you've booked your flight through Google, they monitor the fare and automatically refund the difference, as long as the price drop is more than £5.
To avail of this feature, there are certain prerequisites:
Your country/region must be set to US and your currency must be in USD to see guaranteed flights.
The price guarantee only applies to one-way and round-trip flights that depart from the United States.
You must use a US billing address and US phone number on the Book on Google page.
You must be signed in to your Google Account.
Fare Price Alert: Your Personal Fare Watchdog
The Fare Price Alert feature offers you peace of mind by automatically tracking the price changes for your selected flights or routes. You can view a trend graph to understand how the fare has changed over time, helping you anticipate future price movements. However, remember that to enable this function, you'll need a Google account.