If you're planning a trip with Singapore Airlines and have a layover in Singapore, you might consider taking advantage of a Singapore Airlines Stopover Holiday package. These packages allow you to explore Singapore's rich culture, diverse cuisine, and beautiful attractions.
According to a FlyerTalk article, it's possible to see that the Singapore Airlines stopover package has been around since at least 2005 in some form or another.
Singapore Airlines isn't even the only airline offering such a programme, many carriers also have similar programmes to their home countries.
Understanding the Different Stopover Holiday Packages
Singapore Airlines offers three Stopover Holiday packages, each with a range of hotels and benefits:
Basic Singapore Stopover Holiday (BSSH): Starting at S$63 per person, this package covers a one-night hotel stay, a one-way transfer from the airport to your hotel, and deals on dining and shopping.
Singapore Stopover Holiday (SSH): In addition to the BSSH benefits, this package provides complimentary access to over 20 attractions.
Singapore Stopover Holiday Plus (SSP): The SSP package includes all SSH benefits, along with unlimited rides on the SIA Hop-on Bus, an SGD20 Changi Dollar Voucher for airport spending, and access to the attractions in the Singapore Explorer Pass.
These options cater to a variety of traveller preferences, ensuring a suitable package for your Singapore adventure.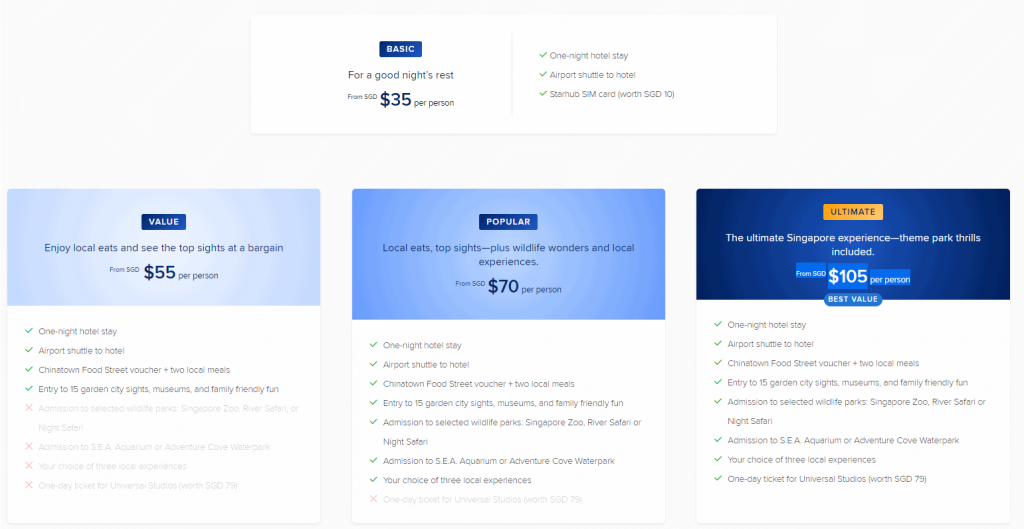 Complimentary City Tours for Transiting Passengers
If a stopover package isn't for you, Singapore also offers complimentary city tours for transiting passengers. These tours are open to all passengers travelling through Changi Airport, not just Singapore Airlines passengers. All you need is a layover of at least 5 and a half hours to be eligible for this fantastic way to explore the city during a layover.
Hotel types available
To help you better understand the options for your accommodation during your Singapore stopover, the Singapore Stopover Holiday and Singapore Stopover Holiday Plus Rate Table provides a breakdown of the hotel categories and the corresponding rates. Each hotel category includes a range of hotels with varying levels of luxury, amenities, and price points. By selecting a hotel category, you can choose a hotel that fits within your budget and preferences.
For example, Category A hotels offer more budget-friendly options, such as the Ibis Singapore on Bencoolen or the Village Hotel Bugis. On the other hand, Category H hotels include luxury options like the Ritz-Carlton Millenia Singapore or the Fullerton Hotel Singapore. By understanding the different hotel categories, you can make an informed decision on which Stopover Holiday package best suits your needs.
Please note that the direct link to the list of hotels on the Singapore Airlines website is currently broken. However, you can refer to an old quick booking guide for examples of hotels available in each category. Keep in mind that this guide may not be up-to-date, and the actual list of hotels may have changed.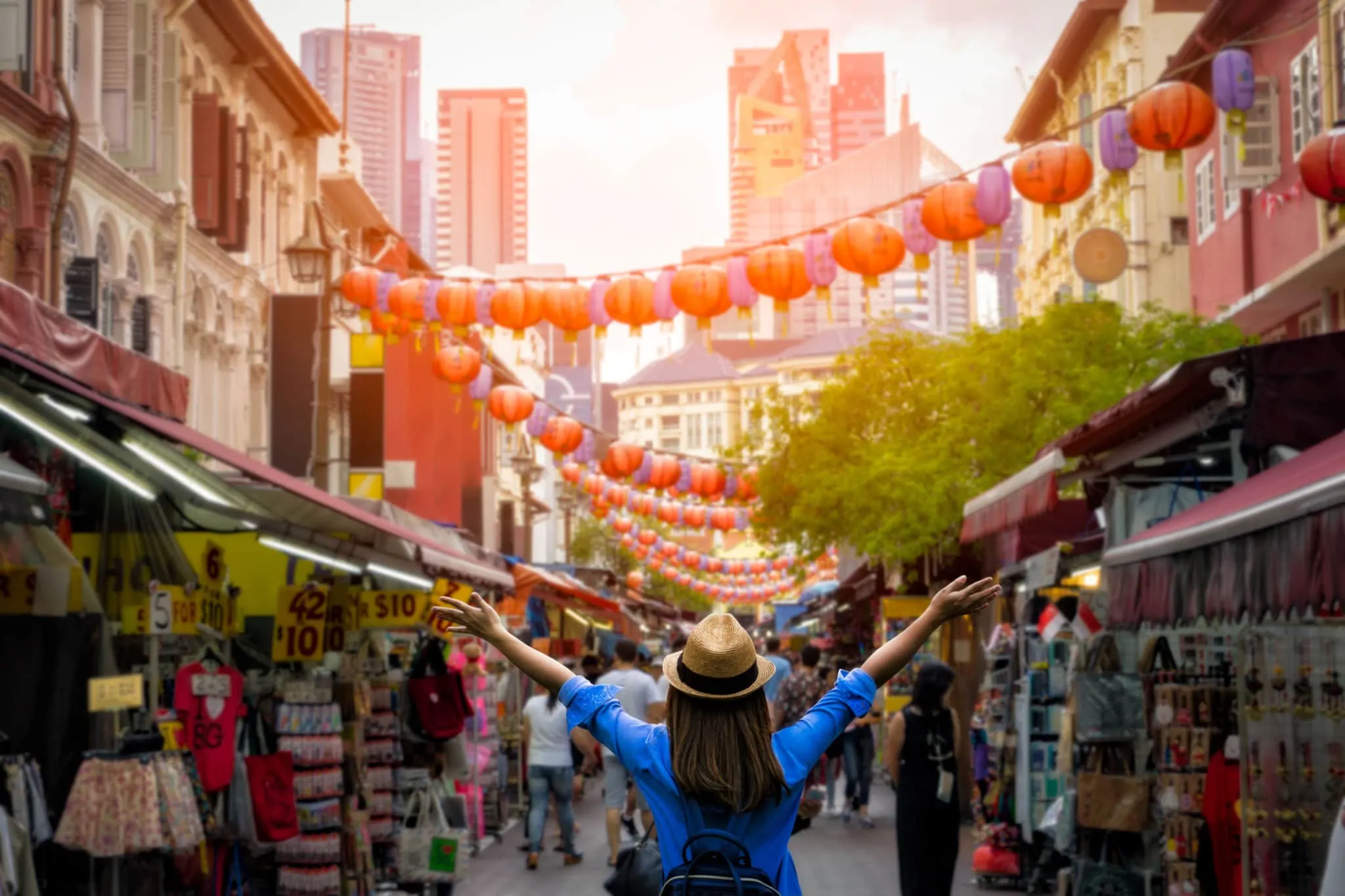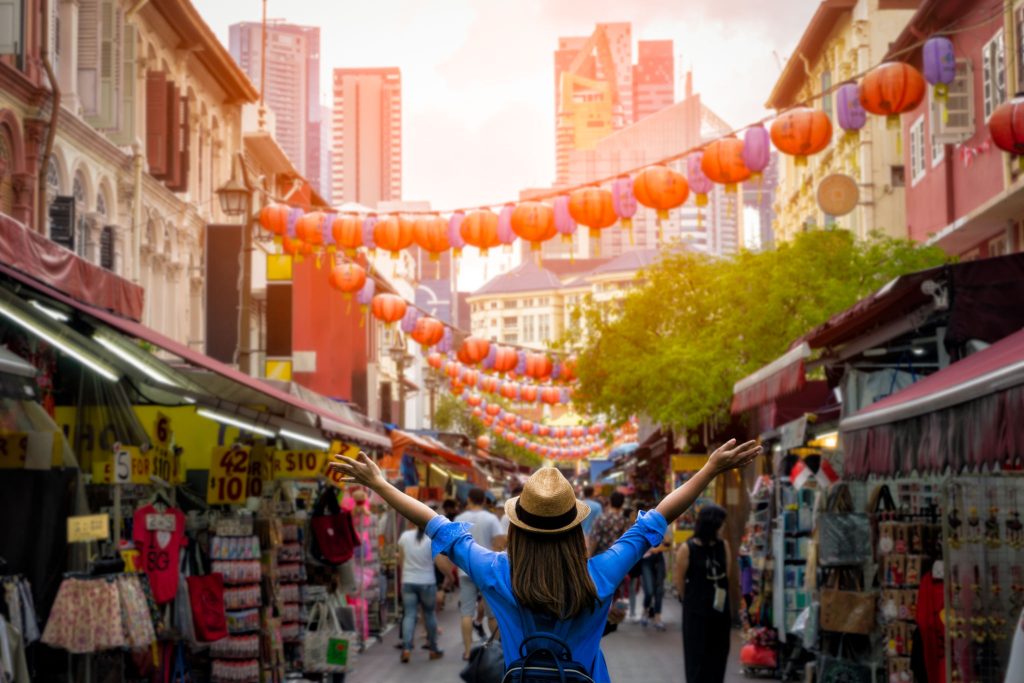 Key Terms and Eligibility
There are effectively two bits to be aware of, the flight and the hotel.
Flight Eligibility
The eligibility criteria for Singapore Stopover Holiday packages have been simplified (but can be found here) for passengers travelling on flights operated by Singapore Airlines (SQ), SilkAir (MI), Scoot (TR), and selected Air New Zealand (NZ) flights. To qualify for a stopover package, passengers must meet one of the following conditions:
Travel on SQ or MI ticketed and operated flights into and out of Singapore. The flight number must begin with SQ or MI. Any 4-digit SQ flight must be operated by MI, and any 4-digit MI flight must be operated by SQ.
Travel on SQ or MI ticketed and operated flights into Singapore, connecting to selected TR operated flights out of Singapore, and vice versa.
Travel on SQ or MI operated flights into Singapore, connecting to selected Air New Zealand (NZ) operated flights out of Singapore, and vice versa: a. Passengers must travel on SQ4281/2 or SQ4283/4, connecting to/from an SQ and/or MI operated flight. b. Passengers must travel on NZ281/2, NZ283/4, NZ3247/8 or NZ3281/2, NZ3285/6, NZ3291/2, or NZ3297/8 connecting to/from a 4-digit NZ flight operated by SQ.
Hotel Eligibility
Before booking a Stopover Holiday package, take note of the following key terms and eligibility requirements:
The maximum number of nights allowed for BSSH / SSH / SSP booking is ten (10).
Hotel rates do not include breakfast. Breakfast may be added to the booking at an additional charge and must be pre-arranged for the entire stay and paid for prior to departure to Singapore.
Bookings must be placed at least 72 hours prior to the hotel check-in date (allowing you to add a hotel after booking if you have built in a stopover).
BSSH, SSH, and SSP packages are not sold in Singapore. Bookings must be made either on singaporeair.com or through your local Singapore Airlines or SilkAir office or travel agent.
Restrictions apply for the sale of BSSH, SSH, and SSP packages in China, Italy, Japan, Korea, Malaysia, Philippines, Taiwan, and Thailand.
For detailed eligibility information, please visit the Singapore Airlines Stopover Holiday booking conditions page.
Changes in Eligibility for Stopover Holiday Packages
Historically, there were certain restrictions on who could take advantage of the Singapore Stopover Holiday packages. Passengers travelling to and from Malaysia or using award tickets were not eligible to participate. However, these restrictions appear to have increased recently.
Currently, the SSH and SSH Plus rates are applicable for passengers travelling from locations excluding Brunei, Cambodia, China, India, Indonesia, Laos, Myanmar, Philippines, Thailand, and Vietnam. This change in eligibility criteria means that fewer passengers can now make the most of their layover in Singapore and explore the city through these enticing packages.
Booking Your Singapore Airlines Stopover Holiday Package
To book your Stopover Holiday package, follow these steps:
Visit the Singapore Airlines Stopover Holiday page. Note that the promotion pages may disappear and reappear, and the webpage URL may change from time to time. If the link is not working, navigate to the Singapore Air website Home > Plan travel > Packages.
Select your preferred package, and follow the booking instructions provided on the website.
Make sure to book your package at least 72 hours before your hotel check-in date. Keep in mind the restrictions that apply to certain countries when purchasing a BSSH, SSH, or SSP package.
After booking your package, you can manage your booking on the Singapore Airlines website or contact their customer service for any assistance needed.
Is There Any Value to the Stopover Holiday Packages?
The value of the Singapore Airlines Stopover Holiday packages may vary depending on your preferences and requirements. According to some users on Flyertalk, there might not be anything too special about this program (source: Flyertalk). However, if you are not particularly concerned about hotel reward programs and are willing to shop around, you can find some savings with these packages.
By following these steps, you can successfully book a Singapore Airlines Stopover Holiday package and enjoy an enriching experience during your layover in Singapore. Explore the city's vibrant culture, taste the diverse cuisine, and visit the numerous attractions that this beautiful city-state has to offer.