Virgin Atlantic has a new aircraft type with an all-new business class cabin and two interesting 'Retreat Suites' at the very front.
Unveiled at a launch event in July 2022 in London, the airline is set to receive up to 16 new Airbus A330-900 neo aircraft, with the first three arriving in September 2022. They are the first U.K. airline to fly this aircraft type.
There's been a shift in business class design in recent years: business class is no longer the domain of just business travellers. Instead, the option has become increasingly popular for couples and families, sparking transformational design in the sector.
While the airline already operates the new Airbus A350-1000 aircraft with cabins in economy, premium economy, and business class, the latest A330 aircraft will feature brand-new seats in all three classes. A considerable step up for Upper Class passengers compared with the outdated and unpopular 'coffin style' seats found on the Boeing 787 Dreamliner and older Airbus A330 still plying some routes.
The carrier is angling technology in this latest refresh with Bluetooth and wireless charging connectivity at every single seat in every cabin.
Upper Class
At the pointy end of the plane, there will be 30 Upper Class seats plus two Retreat Suites.
The new suites are the Thompson Vantage seats, similar to those offered by Delta in business class – which is a hybrid of the Vantage XL and an earlier Vantage model by Thompson Aero. But they aren't off-the-shelf seats. Developed by the Virgin Atlantic in-house Design team in collaboration with Factorydesign there are some familiar features as well as exciting new concepts awaiting Upper Class guests.
The two Retreat Suites are specially designed, individual suites at the front of the aircraft's cabin. Each suite has an ottoman that acts as an extra seat so that up to four passengers can dine or relax in the suites together.
What's more, it's not too unreasonable to book. Virgin Atlantic has committed to offering the seats for an additional £200 surcharge on top of an Upper Class ticket (14 days before departure). This is compared to SWISS, for example, booking their throne seats will set you back CHF199 or about the same as £200 depending on the exchange rate.
That said, Airlines are always tinkering with layouts, and if the retreat suite proves to be a huge hit, Virgin Atlantic could always install more, and that might mean window seats in the future.
The concept is similar to that of Jet Blue Mint Studio and Malaysia Airlines Business Suite – so mini first class or super business depending on how you look at it. But Unlike Qatar Airways' Qsuite product, it's not possible to fully connect the two seats and create a double bed.
The remaining space in the A330neos Upper Class cabin is filled with 30 individual Upper Class suites arranged in a staggered 1-2-1 configuration. The seats are brand new:
All face forward and feature a fully closing door with 'do not disturb' button.
Passenger-controlled mood lighting
A mirror—which is a simple
17.3-inch touchscreen TVs, compared to the 27-inch TVs in The Retreat Suite.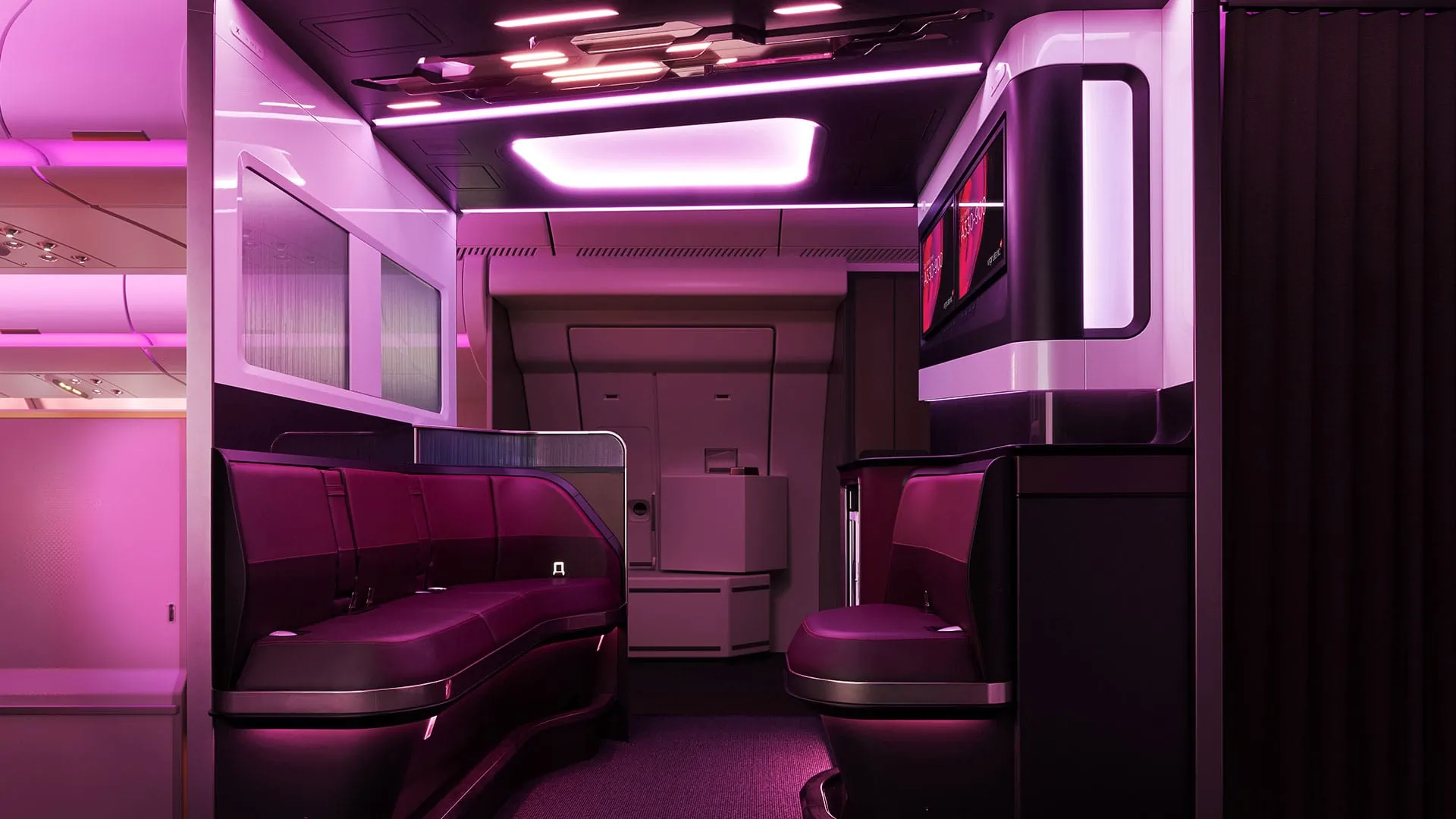 The Loft
Virgin's famed onboard bar has always been a key feature of the brand's Upper Class Space and in the fleet this is no exception. The loft will feature a space for eight people, there will be new self-service fridges and drinks dispensers to help passengers socialise and mingle.
This version of the loft is regarded as an evolution of the social space compared to the Airbus A350 aircraft, this is visible in the height of the seats for instance. Virgin advised that having higher seats allows them to be closer to eye height with those standing around them.
Premium Economy
The new aircraft features a large premium economy cabin with 46 seats in a 2-3-2 configuration featuring 38″ of pitch, as well as 13.3″ touchscreens with Bluetooth audio – so pretty industry standard these days.
Interestingly, Premium customers are also offered wireless charging however pads are shared with one in each set of seats in the 2-3-2 configuration meaning virgin has still managed to find a way to get people fighting for the armrest.
Economy
Economy seats come in a range of options: 156 Economy Classic seats, providing a 31" pitch, and 28 Economy Delight seats, which offer an increased 34" seat pitch.
The A330 is one of the most popular widebody aircraft for passengers travelling in pairs thanks to its 2-4-2 layout meaning couples can snag a window pair with no other passengers next to them. This cannot be done on the wider A350, A380, or Boeing 777 and 787 families in economy as airlines opt for 3 seats between each window and aisle.
All have Virgin's 'largest ever economy screen' at 13.3", with a touchscreen and Bluetooth audio to connect headphones, with customers able to use their phone as a controller. There's also plenty of storage, plus AC power and USB ports to keep gadgets energised.
The Airbus A330neo will commence passenger services between London (LHR) and Boston (BOS) in early October, with seats on sale later this month. Other routes are yet to be finalised, though they will be to the United States, Virgin's most popular market.