Turkish Airlines runs a transit package for those passengers with long transit times – commonly known as a Stopover Paid by Carrier or STPC. In fact, some notable airlines also have an STPC policy such as Qatar Airways, Royal Jordanian, and Asiana Airlines also have their own STPC policies.
Unlike Qatar Airways' STPC, the eligibility rules for Turkish Airlines STPC isn't that well defined.
To be able to make use of Turkish Airlines STPC the transit must be because there are no shorter scheduled flights for your route (i.e. Because you are forced to), not because you want to sit in the lounge for an absorbent amount of time.
Just to make it absolutely clear, Turkish Airlines STPC is a separate program to the Visit Turkey Stopover programme – The latter offers a free layover in Istanbul to visit the city.
SO LONG AS YOU MEET THE MINIMUM REQUIREMENTS, Turkish Airlines MAY PROVIDE HOTEL ACCOMMODATION, MEAL AND GROUND TRANSPORTATION FROM/TO AIRPORT
BASIC RULES OF Turkish AIRLINES STPC
Due to the benefit of this offer, Turkish Airlines naturally wants to stamp out any possible form of abuse.
This is why the airline takes a very firm view, outlining the rules and taking a "you qualify or not" approach to the STPC program.
Your only recourse for getting an STPC by Turkish Airlines is to meet all the airline's requirements.
The rules are not very clear but you will find the one single reference page you can refer to on their website.
The Terms
The rules, while simple to understand, are vague compared to other airlines.
Economy Class passengers must have a connection time of 12 hours or longer
Business Class passengers must have a connection time of 9 hours or longer
Transit flights with a connection time shorter than allowed will not be able to benefit from a complimentary STPC – even in instances where the transit flight with a shorter connection time is full.
The layover period is calculated taking the landing time of the first flight and departure time of the second flight as a basis.
A maximum of two nights' accommodation will be offered.
Passengers holding tickets that qualify them a complementary STPC will no longer be eligible for it if changes to their tickets are made.
Turkish Airlines will select the hotel accommodating passengers.
The accommodation service is available to international passengers travelling from outside Turkey who have a connecting flight to their final destination outside Turkey which departs from Istanbul Airport.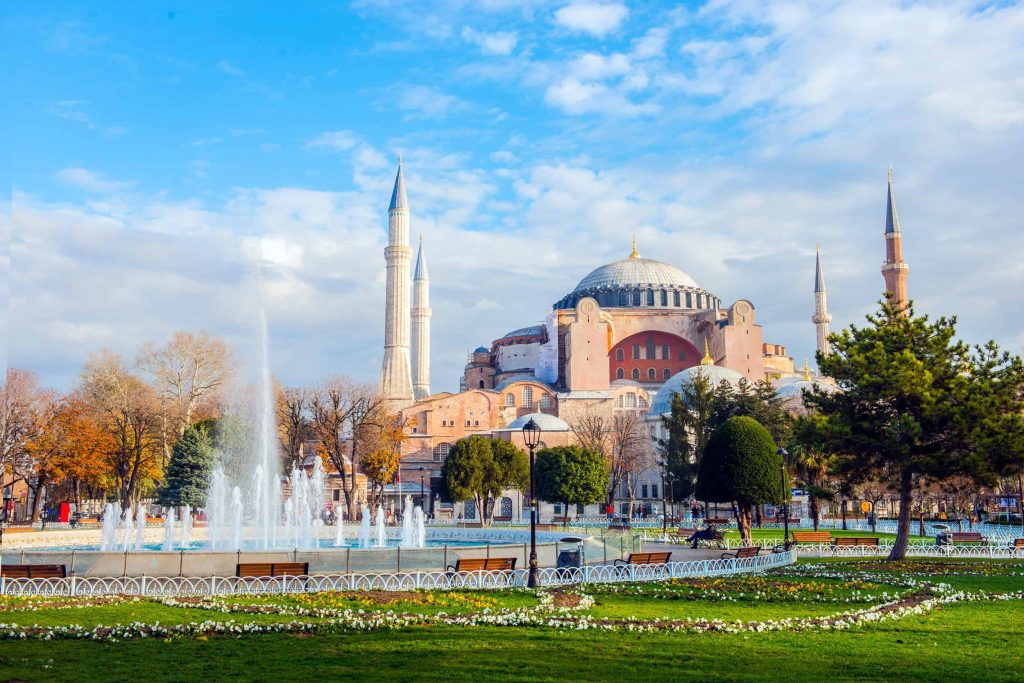 City Tour Or Hotel?
If you qualify for a complimentary hotel you will also qualify for a free city tour, HOWEVER, you are unable to have both a complimentary city tour and hotel.
To qualify for a city tour, you must have a connecting international flight in Istanbul with a layover between 6-24 hours, you can make use of our free Touristanbul service to discover Istanbul.
A Cautionary Tale
The Tale of the missing Hotel Desk
I had to reference this article after the fact as it does serve as a good cautionary tale. Sand-n-spice, unfortunately, had the misfortune of going to the wrong desk only to find out when getting to their hotel and ended up being duped out a few hundred dollars.
In short – the Turkish Airlines Hotel Desk is at the very end of a long line of Airport and Hotel transfer desks – without realising the author ended up at the wrong desk.
As such, look for the right desk and the correct signage to avoid any issues – especially if it's your first time at Istanbul's new airport.