Airlines around the world have been upping their game when it comes to in-flight dining, with some taking the concept of "flying restaurants" to new heights by offering flying chefs on board. These airlines aim to provide a memorable and sophisticated culinary experience for their passengers. In this article, we'll take a look at some of the airlines that feature flying chefs on board, offering a unique and interactive dining experience at 30,000 feet.
---
---
What Do Flying Chefs Do?
Flying chefs are trained culinary professionals who work on board aircraft to enhance the in-flight dining experience. Their responsibilities typically include:
Personalizing meal options according to passengers' preferences
Preparing and plating dishes using fresh ingredients
Ensuring that meals are presented in a visually appealing manner
Providing a higher level of service compared to standard in-flight catering
Adhering to food safety and hygiene standards
It's worth noting that, despite the term 'Flying Chef', onboard chefs are not cooking from scratch in the galley. Much of what they do could be considered a marketing stunt, as cabin crew can perform many of the same tasks. There isn't a full-fledged kitchen with open flames on the plane; most meals are simply reheated, with a few exceptions, like freshly prepared eggs.
That being said, the presence of flying chefs still has its benefits. These chefs often bring specialized culinary expertise, enhance the presentation of the meals, and ensure a personalized touch to the service. Additionally, having flying chefs on board signals an airline's investment in its soft product, which can create a more memorable experience for passengers.
Airlines with Flying Chefs
Austrian Airlines
As we mentioned in a previous article, Austrian Airlines has recently brought back its Flying Chefs program. The airline initially launched the program in 2011 and has now resumed it after a pandemic-induced hiatus. Austrian Airlines' Flying Chefs prepare and plate dishes in front of the passengers, providing a personalized and interactive experience.
The Flying Chefs are responsible for the preparation and presentation of meals onboard, ensuring that the quality of the food served meets the high standards expected by passengers. Despite not cooking from scratch, their presence on the flight signifies the airline's commitment to providing an exceptional in-flight dining experience, elevating the overall customer experience.
Garuda Indonesia
In 2013, Garuda Indonesia revamped its first-class offering, introducing a personalized fine-dining cuisine concept with a Chef-on-Board, as reported by The Design Air and Business Traveller. This move aimed to provide an elevated experience for passengers on their flights.
However, in late 2022, Garuda Indonesia underwent significant changes, scaling back its operations and axing most of its international routes, as well as removing its first-class offerings on many flights. According to Executive Traveller, the airline decided to focus on a more streamlined approach to its services.
Fortunately, Garuda Indonesia's first-class offering with a Chef-on-Board has been retained on the Jakarta to Tokyo route, as stated on the airline's official website. This means that passengers travelling on this specific route can still enjoy the unique dining experience provided by the Chef-on-Board, even as the airline continues to adjust its operations in response to changing market conditions.
Gulf Air
Gulf Air, the national airline of the Kingdom of Bahrain, also offers flying chefs as part of its in-flight experience. Branded as a "Sky Chef", the program was introduced in September 2003, initially serving First Class passengers on predominantly long-haul routes operated by Airbus A340 and A330 aircraft.
The Sky Chefs, who have trained and worked at fine dining establishments worldwide, bring diverse culinary expertise and innovation to the in-flight dining experience. Today, Gulf Air has a team of over 100 Sky Chefs who share a passion for delivering award-winning gourmet food and exceptional personalized service.
Saudia
SAUDIA, the flag carrier of Saudi Arabia and has been providing an elevated in-flight chef service since 2015 when the airline offered exclusive service to First Class passengers on selected routes. Since then, the "Sky Chef" service has been upgraded and expanded to Business Class passengers on flights over four-and-a-half hours to destinations in Europe, the United States
Turkish Airlines
Turkish Airlines is another airline that offers inflight chef services to its passengers. The airline's "Flying Chefs" program adds a touch of luxury to the in-flight experience, as the chefs personally prepare and serve meals to passengers.
The airline announced the return of its in-flight chef service in May 2021, serving passengers on long-distance flights of eight hours or longer. Turkish Airlines takes pride in its gourmet dishes prepared by dedicated Flying Chefs, ensuring that the meals are of restaurant quality even at 30,000 feet.
The Flying Chefs on Turkish Airlines go above and beyond, handling various tasks from welcoming passengers and taking meal orders, to overseeing the preparation and presentation of meals. This personalized service further enhances the dining experience for passengers, making their flights more enjoyable and memorable.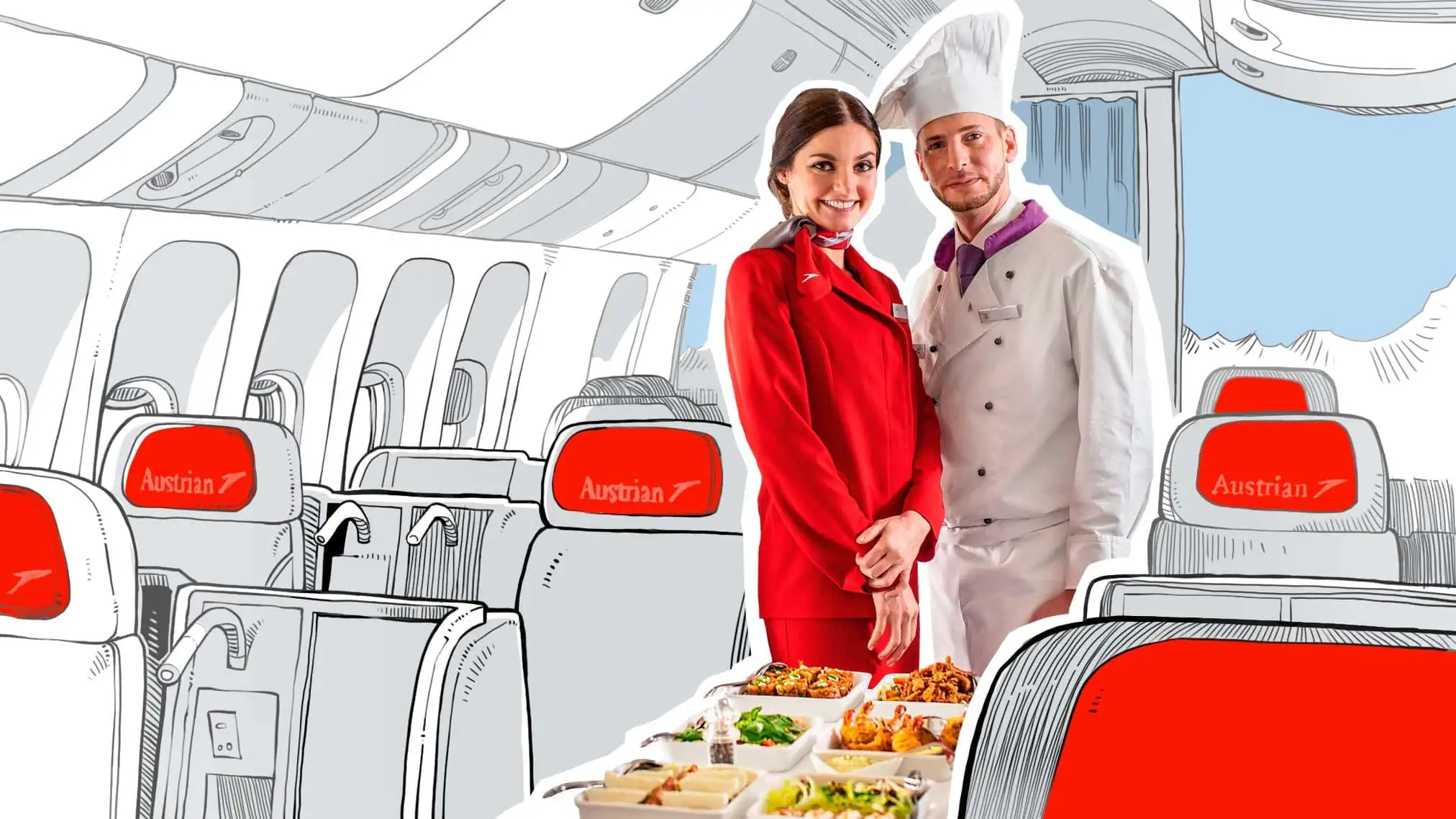 Notable Mentions
Etihad Airways No More
Etihad Airways, based in Abu Dhabi, once aimed to become an ultra-premium airline and introduced inflight chefs and food & beverage managers as part of their strategy. The inflight chefs customized meals for first-class passengers using the ingredients available onboard, while food & beverage managers assisted business class passengers with menu selections and drink pairings.
However, due to the impact of the coronavirus crisis, Etihad made the decision to eliminate the roles of inflight first-class chefs and food & beverage managers in 2020. The airline stated that this move was necessary to streamline inflight crew roles and operate more efficiently amidst the challenging circumstances
Lufthansa First Class Food Trolley
While Lufthansa does not have a dedicated Flying Chef service, the airline still puts significant effort into its First Class dining experience. Lufthansa has introduced a unique food trolley concept that brings a touch of elegance and style to their meal service. The airline's First Class cabin crew are well-trained in the art of fine dining, ensuring that passengers receive personalized and attentive service throughout their flight.
The food trolley service allows Lufthansa's First Class passengers to enjoy a visually appealing and interactive dining experience. The trolley is rolled out and presented to passengers, allowing them to view and choose from a selection of appetizers, main courses, and desserts, all beautifully plated and prepared. This personal touch and attention to detail create a memorable and luxurious dining experience that rivals the offerings of other airlines with inflight chefs.
Singapore Airlines Air Sommeliers
While not exactly flying chefs, Singapore Airlines takes its in-flight dining experience a step further by offering Air Sommeliers on board. These highly trained wine experts are responsible for curating the airline's wine list and providing personalized wine recommendations to passengers. The Air Sommeliers work closely with the airline's culinary team to ensure perfect wine pairings, further enhancing the dining experience for passengers
Conclusion
As the competition for premium passengers continues to grow, airlines are investing in unique in-flight experiences, such as flying chefs, to set themselves apart. While the concept of flying chefs could be seen as a marketing stunt, it does provide an elevated level of service and culinary expertise, making the dining experience at 30,000 feet a memorable one. Whether you're looking to indulge in gourmet cuisine or simply enjoy a personalized touch, these airlines are leading the way in providing exceptional in-flight dining experiences.