Malaysia Airlines MHBiz is, as the name suggests, the corporate travel program of the airline – similar to British Airways On Business program for instance.
It is a very new entry into the corporate travel sphere, replacing the old program in November 2021.
The MHBiz brand is actually quite complex, much of which is self-inflicted. The program forks off into different directions without a clear indication of which is actually the program you want.
There is a whole host of branded terms including MHbiz Travel, MHbiz Leisure, MHbiz Pro, MHbiz Plus, MHbiz Marine and the list goes on.
The program centres around 3 core aspects: corporate discounts, special services, and higher flexibility.
MHbiz Pro & MHbiz Plus
MHbiz Pro is designed for small to medium-sized enterprises and corporates that wish to self-manage their corporate travel, while MHbiz Plus is geared towards larger corporates.
The key selling point of MHbiz Pro is the self-managed booking portal to ensure company procedures are followed before flights are booked. Prospective travellers can lodge a 'travel request' through the system when they're hoping to fly. Then, a manager can review the request, give their approval, and then finalise the ticket: all through the one website.
MHbiz Plus, on the other hand, afforded a dedicated bookings manager.
Neither program has a sign-up fee to join the program and as of 6 February 2021, MHbiz Pro no longer requires corporates to maintain a minimum travel spend annually. However, with MHbiz Plus there is minimum carrier spend – likely to justify having a dedicated account manager assigned to you. Interestingly, the minimum spend requirement is subject to the country of sign up.
While the discounts and offerings aren't published online, they are given at a tiered level depending on the amount of spend committed.
Spend is taken and rewards are earned on business-related trips taken by owners, directors, officers, employees, contractors, consultants, partners, and principals.
Any company enrolled into MHbiz Pro / Plus before 22 September 2021 are no longer entitled to the reward scheme based on travel spend as Corporate Enrich Points replaced the old scheme.
MHbiz Marine
MHbiz Marine is geared If your company is part of the maritime and energy industry, with the view that passengers needed increased flexibility with tickets.
The award chart reflects this with unlimited changes on select tickets and the ability to travel on an earlier flight in the day.
In fact, MHbiz Marine is the only program that has a published rewards chart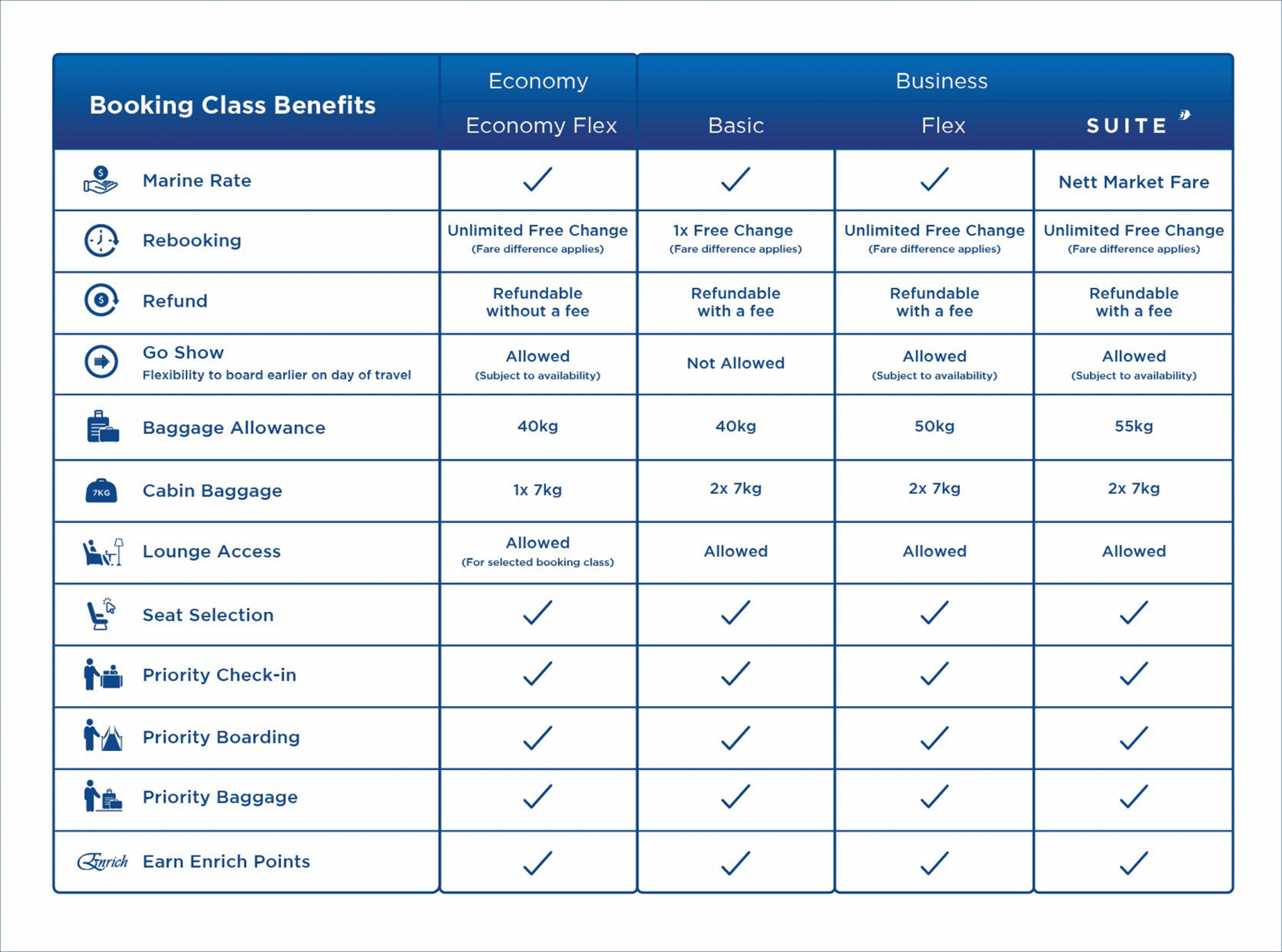 Benefits of Pro and Plus
Pro and Plus members can enjoy discounts from 3% to 10% on Malaysia Airlines airfares: even at the very beginning, straight after joining the free programme.
MHbiz Pro and Plus optimise business travel by providing special discounts on fares and other travel perks, including preferred seat selection, extra baggage (prepaid) and access to Malaysia Airlines Golden Lounge in KL International Airport.
Further benefits include:
Confirm your flight 15 days and up to 2 hours before departure, While waiting for your tickets to be approved, MHbiz Pro will be able to hold the fares within the stipulated time frame.​​​
20% Discount food and beverage options with JustTonite a Malaysian hospitality booking platform by presenting an e-boarding pass upon check-in
Discounts using FunNow Malaysia Airlines lifestyle and booking app
Indirect discounts on Firefly's codeshare fares. If you want direct discounts on Firefly you will need to contact Firefly and sign up to a corporate account
Joining Requirements
Any company wishing to join must have a valid company registration certificate (based on each Country's requirements) and corporate business email.
To sign up for MHbiz pro, go to mhbizpro.malaysiaairlines.com and click on 'New Corporate'. Fill in the required details and click 'Register'. Your application will be processed within seven working days
If you are looking for MHbiz Plus then the link is https://www.malaysiaairlines.com/my/en/commercial-services/mhbiz-travel/mhbiz-plus/sign-up.html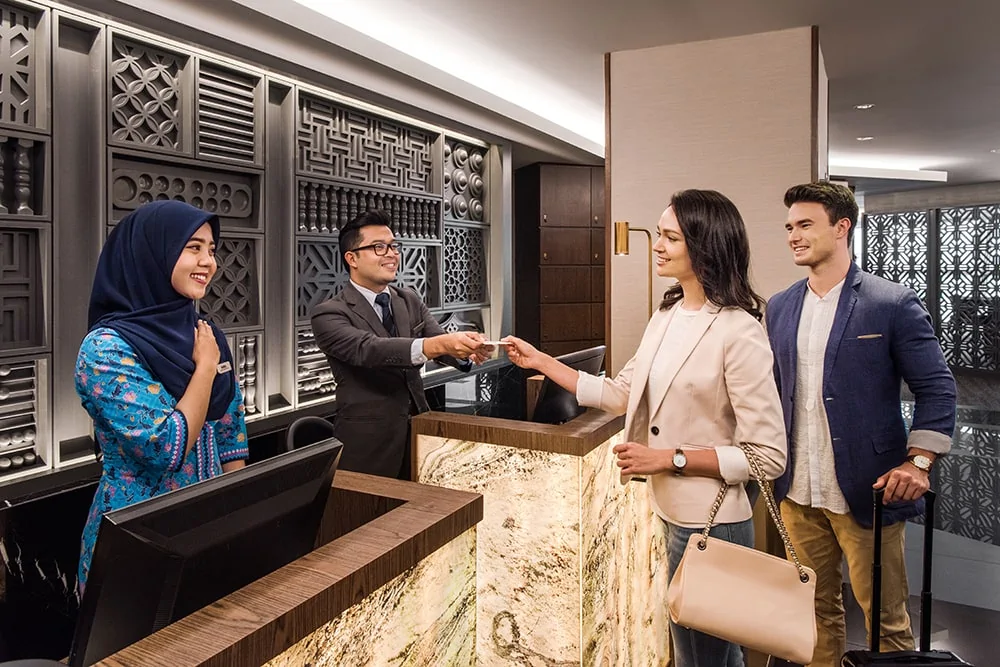 What are Corporate Enrich Points
Enrich is the name of the reward program for individuals flying with the airline. However, to incentivise the brand to stay loyal, companies (as an entity) are given Corporate Enrich points.
Enrich Points cannot be combined or transferred with Corporate Enrich Points or vice versa.
Therefore, companies with an MHbiz account that book eligible flights from the MHbiz Pro portal/account manager earn Corporate Enrich Points simultaneously as the person flying earns enrich points (or any other Oneworld frequent flyer program) as well. This is nothing unique as OnBusiness (British Airways Corporate Program) or Business Extra (American Airlines Corporate Program) do the same.
How are Corporate Enrich Points calculated?
Corporate Enrich Points are calculated based on total Eligible Flight Expenditure which is the final base fare excluding airport taxes, governmental surcharges, and distribution expenses, in Malaysia Ringgit. The point accrual rate is 4 points for every MYR1 spent. Foreign currencies will be converted to MYR before the calculation of point accrual.
illustration of calculating Eligible Flight Expenditure:
| | |
| --- | --- |
| Total Ticket Price | MYR 1,070 |
| Less taxes, fees, & charges | MYR 130 |
| Initial base/air fare | MYR 1,000 |
| Less Corporate Discount | MYR 60 |
| Final base/air fare | MYR 940 |
Illustration of point accrual:
| | |
| --- | --- |
| Eligible expenditure – Final base/air fare | MYR 940 |
| Accrual rate | 4 |
| Calculation | MYR 940 x 4 |
| Corporate Enrich Points accrued | 3,760 |
Eligible Fares
All Business Suite, Business Class, and Economy fare types are eligible for the points accrual.
The following booking class / fare class / fare types are eligible for points :
– Business Suite : F/ A/ P
– Business Class : J/ C/ D/ Z
– Economy Class : Y/ B/ H/ K/ M/ L/ V/ S/ N/ Q/ O (Lite, Basic, Flex)
Validity of Corporate Enrich Points
With the launching of Corporate Enrich Points from 22 September 2021, all earned points are not subject to expiry.
However the airline is set to introduce an expiry date post covid if this FAQ article is anything to go by.