According to the independent, Child Free Zones are becoming a growing movement within the airline industry. Forbes even quoted Richard Branson who suggested he would like to introduce a children's cabin on future Virgin flights but was limited due to regulatory setbacks.
In 2017, Airfarewatchdog's Annual State of Travel Survey reported that 52% of respondents felt that families with young children (age 10 and under) should be required to sit in a separate section of the plane. Though it is a controversial topic, there seems to be a significant number of people who would be willing to pay more if they could sit in a child-free travel zone, just as you would pay extra for an upgraded class or additional legroom.
---
---
Airlines have dabbled in the area of keeping children quiet in the past:
While U.S.-based airlines are more concerned about their bottom dollar rather than about customer service, you are unlikely to see such changes there. Fortunately or unfortunately (depending on how you look at it), very few carriers in the Americas, the African continent, and Europe ever offered such as service
However, it seems to be a very "Asian" thing as there are a number of carriers, particularly in Asia, who are quickly changing their layouts to feature child-free zones.
Outright Bans
while there are not many on this list, there is one specific notable airline which has come to ban children from being in certain cabins.
Malaysia Airlines
The fleet of double-decker Airbus A380s belonging to Malaysia Airlines has carved out a child free zone on the upper deck. The aim is to ensure that travellers under the age of 12 are not present in the 68 economy seats and 64 business class seats upstairs.
However it is only a bit of marketing since the upper deck economy cabin on the A380 aircraft does have 3 bassinets, and the priority on flights would be for families, children and infants if required. Additionally, if the main deck is full, then families with babies or children will be allowed in the upper deck.
Additionally, the airline is also one of the few to have made the decision to ban travellers under 12 from flying first class (now rebranded as Business Suites) in their A380 or 747 fleet. This resulted from many complaints received about flyers spending money on first-class seating but being unable to sleep on account of crying infants. Well, technically, they don't explicitly ban babies in first class, although when booking, a pop-up window notifies the purchaser that no bassinets are available.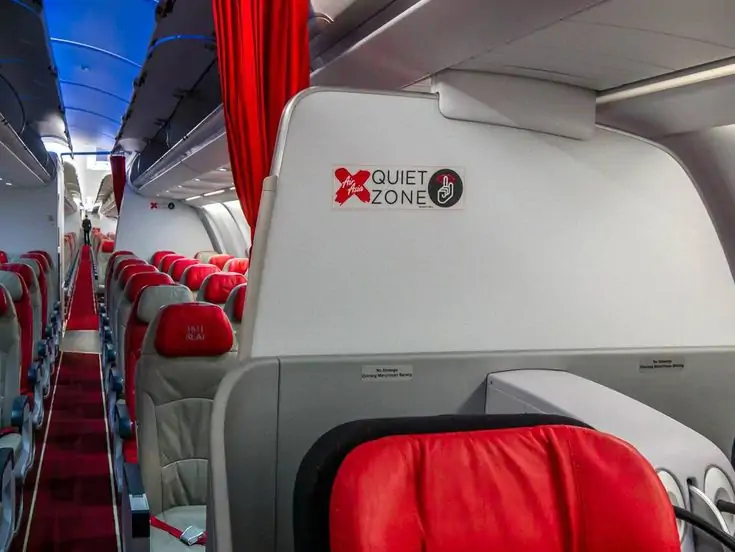 Quite Zones
Some airlines have gone and dedicated specific child free zones on the aircraft (that naturally come as a premium).
Asia Asia X
AirAsia X is the medium-haul, low-cost affiliate of the AirAsia Group. It commenced operations in 2007 and operates an all-wide-body A330-300 fleet. In 2013, Air Asia X introduced a Quiet Zone at the front part of the economy class, where passengers aged 10 and over (used to be 12) can travel away from children and have a more peaceful flight.
The area is located behind the Premium cabin and is separated from the rest of the cabin by the use of dividers, galleys and toilets. Air Asia X's quiet zone seats come at an extra cost if you wish to book one of the 63 seats available in the first 7 rows of economy class.
Indigo
In 2016, One of India's largest airlines IndiGo announced it was creating a "Quiet Zone", blocking travellers under 12 from booking seats in rows 1 to 4 and 11 to 14.
The airline said the zones were "created for business travellers who prefer to use the quiet time to do their work." Although it was pointed out that some of these seats were around rows with emergency exits, where infants are prohibited from seating anyway.
Scoot Airlines
Scoot Airlines, The Singapore Airlines subsidiary, currently offer the opportunity for travellers to be seated away from children under 12. The opt-in fee branded as "ScootinSilence" which is their version of a quiet zone can be found in their 787 Dreamliners.
This 33-seat compartment sits between business and economy and the carrier brands the Child Free Zone as also coming with the benefit of disembarking ahead of economy class seats.
Westjet
Calgary-based airline WestJet scored a big online hit this past weekend when it announced "Kargo Kids," a new program that finally provides the child-free flight's many frequent fliers have been dreaming of for years.
Launched on 1st April 2022, the launch video introduces WestJet's solution for travelling with young ones wherein children get to fly in a "special VIP" area of the plane — the cargo hold.
"This is a win-win situation for guests travelling on these flights," said Richard Bartrem, WestJet, Vice-President, Communications and Community Relations states, the carrier is constantly looking for innovative and fun ways to enhance the guest experience.
Baby Seat Map
Japan Airlines
In 2019, Japan Airlines, the country's flag carrier courted controversy in 2019 by allowing passengers to choose seat selection away from babies under 2 years old.
Dubbed the "baby map", it informs people where young children (between 8 days and 2 years old) are sitting on a plane.
Although not strictly a baby-free cabin, the airline's online booking system shows (Besides where the exit seats are and which seats have more legroom) a smiling baby icon in the seat selection for sensitive travellers to avoid.
Although the airline says it is not a perfect system "it lets other passengers know a child may be sitting there".
Sky Couches For Families
In a move seen as providing a relaxing experience, for children, the concept of a sky couch is an interesting one as it allows parents and young ones to be more relaxed on a flight.
while not exactly a child free zone per see, it could be seen as a way to focus families to a certain part of the aircraft. They offer an interesting concept to allow kids to be able to stretch out, rather than to be confined into a small seat.
Some airlines have offered it to varying degrees. Arguably Air New Zealand SkyCouch seats were the first to market with ANA's SkyCouchii and China Airlines' 'Family Couch' following after.
But not all seats are created equal, Air New Zealand's Skycouch seats are usually at the forward portion of the aircraft, While ANA's SkyCouchii is firmly at the back of the aircraft near the multi-purpose toilets.