Marco Polo Club Silver

Marco Polo Silver is one of four tiers that make up Cathay Pacific's Marco Polo Club frequent flyer membership scheme.

Silver is the 1st of three elite status tiers.

Cathay Pacific is part of the Oneworld Alliance meaning that if you hold Marco Polo Club Silver status, it is equivalent to Oneworld Ruby status and offers similar benefits on flights with Oneworld Airlines.

About Marco Polo
Established in 1946, Cathay Pacific is a founding member of the Oneworld Alliance and has a rich history of connecting the world with its home in Hong Kong. The airline serves more than 90 destinations in some 35 countries across Asia, the Pacific, Europe, North America, the Middle East and Africa.
Cathay Pacific Reward Structure
Cathay Pacific and Cathay Dragon operate a shared loyalty scheme by nature of them being under the same airline group; this is not too dissimilar to IAG's Avios reward scheme which is shared between Iberia, British Airways, Aer Lingus, Vueling and Level.
Club Points
Status Points are used to calculate your elite status level.

In general, the more Status Points you accrue in a given year will determine your Cathay Pacific and Oneworld Status for the current and following year.
Asia Miles
A points-based reward scheme which encompass the main reward currency for the airline.

Asia Miles can be exchanged for reward seats, flight upgrades and travel-based experiences.
Marco Polo Club Silver
Quick points about the club
Oneworld Ruby
Marco Polo Silver is equivalent to Oneworld Sapphire status and you will receive similar benefits when flying with other Oneworld Alliance members.
12 Month Membership
A membership year lasts 12 months from the date of enrollment, renewal, upgrade or downgrade.

Upon renewal, upgrade or downgrade, your club points will automatically be reset to zero and a new membership year begins.

Has Soft Landing
If you do not reach the required Club Points to re-qualify in the following year you will revert to the status below eventually reaching Asia Miles Status.
How to Collect Club Points
When you travel with Cathay Pacific or an Oneworld partner airline, you earn Club Points with which you can achieve elite status.
The Asia Miles membership is the most basic and is available to everyone and does not come with benefits except the ability to earn Club Points and Asia Miles. Green, Silver, Gold and Diamond are earned and come with a varying degree of benefits.
Moving up the ladder within the Marco Polo Club is completely dependent on the number of Club Points accrued within a given year, and like Asia Miles, they expire after a set time – in this case, Club Points expire at the end of your membership year.
There is no other use for Club Points other than setting your elite status; they cannot be spent.
Cathay Pacific Marco Polo Club works a little differently than to other Oneworld members. Some differences include:
Zone Based calculations
Unlike revenue-based reward programs, such as American Airlines, there is no concept of Elite Qualifying Miles to achieve status(the notion that you need to travel a set distance to achieve an elite level).

Additionally, unlike Royal Air Maroc, Cathay Pacific uses a Zone based system to reward Club Points and does not calculate miles based on the distance travelled.
No Straight Route to the Top
Unlike other carriers, there is no straight route to the top. what this means is that every time you reach a new status level, your Club Points automatically reset to zero and you have to build up the balance again.

This is like in contrast to carriers like British Airways where it is in theory possible to reach Oneworld emerald status from scratch in a given year.
No Bonus Miles
Unlike Japan Airlines, Cathay Pacific does not reward bonus Asia Miles when travelling on some other alliance member airlines. Japan Airlines gives bonus miles when travelling with British Airways, American Airlines and Iberia.
Routes to Earn Marco Polo Silver Status
Only 1 Route
The only way to reach Marco Polo Silver is to fly with Cathay Pacific or an Oneworld partner.

There are no alternate routes to earn Silver status – such as building up the number of flights taken in a given membership year like with American Airlines and Royal Air Maroc. Furthermore, there are no minimum flight restrictions.

To achieve Marco Polo Club Silver status, you need 300 Club Points
Benefits of Marco Polo Club Silver
Outline of the Benefits of having Marco Polo Club Silver membership.
Extra Legroom Seats
Cardholder Benefit Only
Marco Polo Silver members are able to book themselves extra legroom seats.

Unfortunately, this does not extend to travelling companions.
Priority Boarding
Everyone connected with the itinerary.
With Marco Polo Gold status, you are able to board before the general boarding group.
Priority Check-in
Business Class Counters
Members can have access to use priority check-in desks – Business Class check-in desks when flying domestically and internationally on either Cathay Pacific Group or other Oneworld carriers.
Business Class Lounge Access
Unique to Marco Polo Club, Silver members can get access to Cathay group departures lounges for themselves when travelling on a flight marked, but not necessarily operated by Cathay Pacific or Dragon.

However, as this effectively equivalent to Oneworld Ruby status, this does not extend across the Oneworld network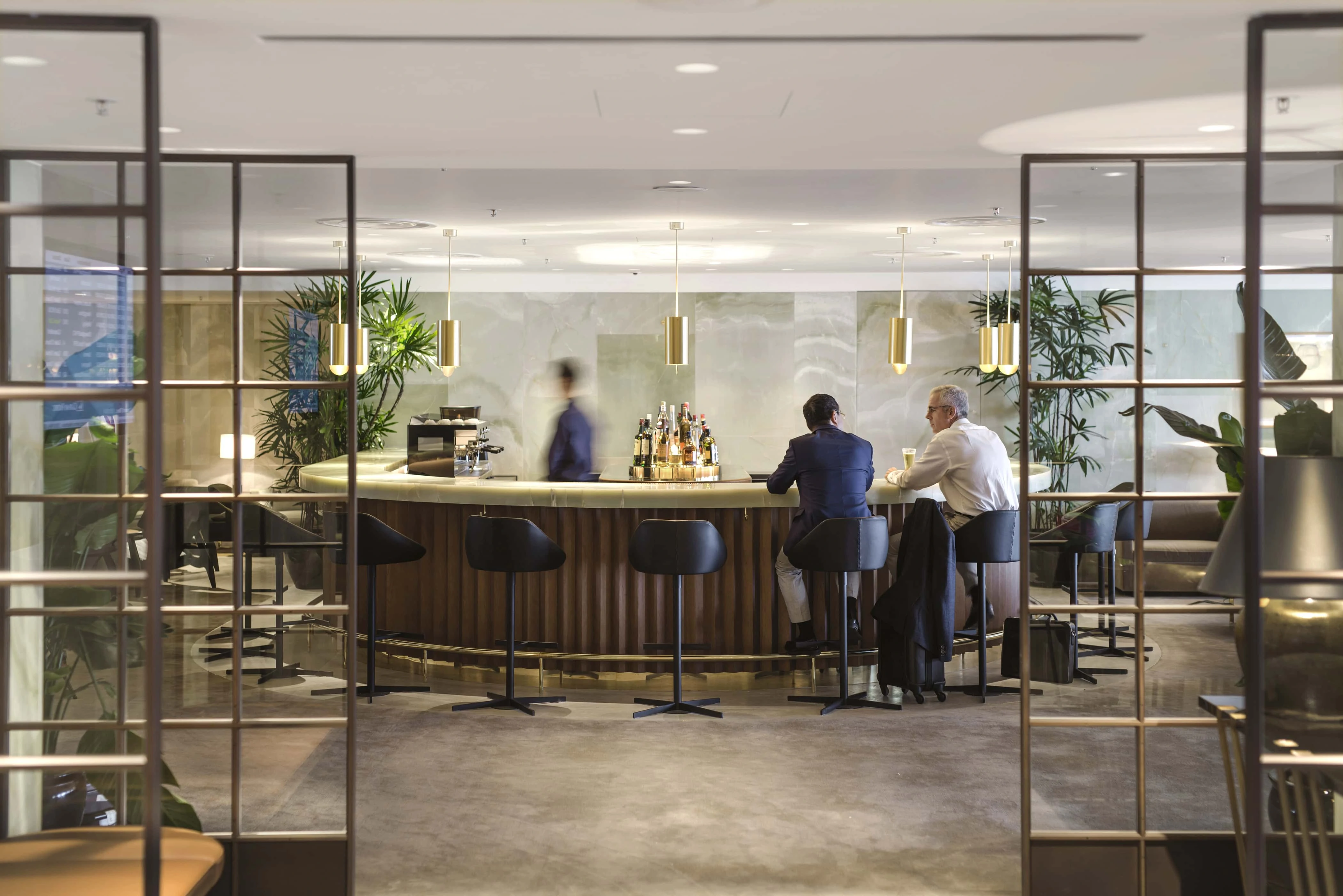 Extra Luggage Allowance
Applies to Cathay Group Flights Only
Up to 2 pieces when travelling in Economy, Premium Economy, or Business Class.
Up to 3 pieces when travelling in First Class.

Excludes journeys with any flight sector to, from or via the Americas, and direct flights to Auckland.

Extra Carry-on Allowance
Applies to Cathay Group Flights Only
When travelling, you are able to bring up to 10Kg.

However, if the cabin baggage allowance in the class you are travelling in is higher, then the special cabin baggage allowance does not apply.
Silver Mid-Tier Benefits
Mid-Tier benefits for when you reach the club points milestones.
450 Club Points
You can claim two Lounge Passes for a travel companion or Redemption Group member to enjoy one-time admittance to any Cathay Pacific or eligible partner Business Class lounge.

Once you claim this mid-tier benefit, a lounge invitation will be included on their boarding pass. This benefit must be claimed online and is not available at airport check-in.
Calculating the Number of Club Points Earned
Cathay Pacific calculates Club Points accrued based on predefined zones (similar to how British Airways has their anecdotal 2,000 miles rule), in Cathay Pacific's case, this is classed as Ultra-short, Short, Medium, Medium long, Long, and Ultra-Long.
As such, the number of Club Points earned is dependant on 3 factors, the Zone reached and the carrier you have flown with, and the class of travel.
For example, making a return trip from Hong Kong (HKG) to London (LHR) in First Class with Cathay Pacific will earn 250 Club Points, however, the same trip with British Airways would only earn 180 Club Points.
Effectively, there is a trade-off. Cathay is one of the only airlines in the alliance which places no minimum requirement to fly a certain number of flights with them to reach Silver status. However, what this means is that you will not be earning the same number of points on other member airlines.
The simplest and best tool for finding out how many Club Points you'll earn on any flight is to use Cathay Pacific Miles Calculator.