After a 19-year hiatus, Japan Airlines (JAL) has finally unveiled its new interior for First, Business Class, Premium Economy and Economy cabins for the Airbus A350-1000. This isn't just a minor upgrade; it's a full-scale revolution aimed at redefining the luxury air travel experience. Set to debut on the high-profile Tokyo to New York route, these new cabins are a game-changer. But that's not all—JAL has also revamped its Premium Economy and Economy classes.
Why is this important
There are several notable reasons why this is an important announcement
A Long-Awaited Update: Japan Airlines hasn't updated the interior of its flagship First Class cabin in 19 years. In an industry where technological and comfort upgrades often occur in much shorter cycles, this is noteworthy.
Industry Benchmarks: The new features, such as wireless charging and the "headphone-free stereo" system, could serve as benchmarks for future cabin designs across the industry. While it's too early to tell if these will become standard features, they do represent a step forward in in-flight technology and comfort.
Competitive Landscape: The Tokyo to New York route is a high-traffic, competitive route frequented by business and leisure travellers alike. The introduction of these new cabins on this particular route indicates that JAL is keen on capturing a larger market share by offering enhanced amenities.
Across-the-Board Upgrades: Traditionally, airlines have focused on upgrading First and Business Class cabins, often leaving Premium Economy and Economy Class less updated. JAL's decision to include features like wireless charging in all classes suggests a shift in this traditional approach, potentially influencing how airlines design their cabins in the future.
What's New
First Class: Elevating the In-Flight Experience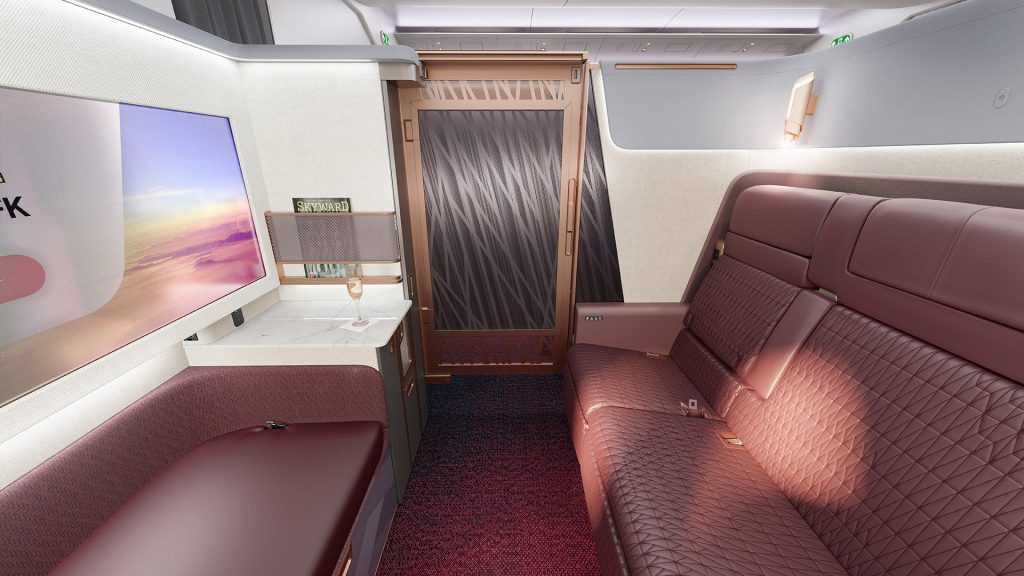 Configuration and Space: Designed by Safran, The new First Class suites are a game-changer, featuring a 1-1-1 configuration that maximizes space and privacy. The privacy door stands at 157 cm, offering seclusion without feeling claustrophobic. The suite transforms into a double bed, a feature that sets a new standard in in-flight luxury.
In-Flight Entertainment: The 43-inch 4K monitors are not just a step but a leap forward, offering unparalleled visual clarity. The headphone-free stereo system with built-in headrest speakers is an industry first, eliminating the need for cumbersome headphones and setting a new benchmark in acoustic experience.
Amenities: The suite comes with a personal wardrobe, a feature that adds a touch of home to the skies. The wireless charging pad and multiple USB options ensure your devices are always ready to go.
Business Class: Where Privacy Meets Innovation
Configuration and Space: The Business Class suites offer closing privacy doors and a 'Do Not Disturb' function, giving passengers their own private space. The suite extends to form a bed that is 198 cm long.
In-Flight Entertainment: The 24-inch 4K high-resolution screen is a standout feature, making it one of the largest in Business Class across airlines. The headphone-free stereo system also features here, offering a unique acoustic experience.
Amenities: The personal wardrobe might seem like overkill to some, but it's a luxury that frequent travellers will appreciate. The wireless charging pad and multiple USB options are also available here.
Premium Economy: A New Standard in Comfort
Configuration and Space: The seats offer an electrically operated recline function, a first in Premium Economy. The seat pitch is approximately 107 cm, offering ample legroom.
In-Flight Entertainment: A 16-inch screen provides entertainment options, and large privacy partitions add an extra layer of comfort.
Amenities: While charging options weren't specified, the motorized leg rest is a unique feature, offering various seating and resting positions.
Economy: More Than Just the Basics
Configuration and Space: The Recaro seats offer a generous pitch of 33-34 inches, making long-haul flights more bearable.
In-Flight Entertainment: A 13-inch screen is provided, which is quite generous for Economy Class.
Amenities: Though not specified, given the tech-forward approach in other classes, it's reasonable to expect at least USB charging options here.
These upgrades across all classes show that JAL isn't just ticking boxes; they're aiming to redefine the in-flight experience.
JAL's New Cabin Features: Striking a Balance Between Innovation and Practicality
In-Flight Amenities: A Mixed Bag of Hits and Misses
Japan Airlines' new interior cabin features have certainly stirred the pot, but let's cut through the hype and examine the practical implications of these changes. The introduction of headrest speakers in First and Business Class is an interesting move, but one that raises eyebrows. With the ambient noise in an aeroplane cabin, the effectiveness of these speakers is questionable. Noise-cancelling headphones or earbuds seem like a more practical choice for an immersive audio experience. On the flip side, the dine-on-demand service, although not explicitly stated, is a significant enhancement, especially for those who prefer to eat according to their own schedule.
The Seat Experience: Comfort vs. Claustrophobia
The new First Class suite is spacious, but more space doesn't necessarily equate to more comfort. Extra-wide seats can sometimes be uncomfortable without proper side support, like additional pillows. This is something that passengers will need to experience to judge effectively. On the other hand, the high walls and privacy doors in Business Class are designed to offer an unparalleled sense of privacy. However, there's a fine line between privacy and feeling boxed in, especially on long-haul flights.
Tech Features: Convenience or Overkill?
JAL's decision to introduce 4K monitors, especially a whopping 43-inch screen in First Class, is eye-catching. However, similar to when Qatar introduced their 4K monitor, the question that arises is, how will the aircraft power these high-resolution screens without affecting other onboard services? It's a significant power draw that could potentially impact the aircraft's overall electrical system. Wireless charging is becoming a standard feature in premium cabins, but JAL's decision to include only one wireless charger for two seats in some configurations could lead to a 'charging war' between seatmates – a point noted when Virgin Atlantic announced their wireless chargers in premium economy.
Comparing Configurations: JAL vs. the Competition
JAL's 1-1-1 configuration in First Class is similar to Cathay Pacific's approach, offering each passenger direct aisle access but potentially sacrificing cabin space. This is in contrast to Swiss, which opts for a 1-2-1 configuration, providing a balance between privacy and space. The reduction in First Class seats by 25% will likely make award seats even scarcer, while the increase in Business Class seats by six could potentially improve award availability.
Final Thoughts: Striking the Right Balance
Japan Airlines' new cabin interior features are a mix of industry-standard amenities and unique offerings. While some features like dine-on-demand and 4K monitors are noteworthy, they also raise questions about their practicality and impact on passenger comfort. The airline seems to be walking a tightrope between innovation and gimmickry, and only time—and passenger feedback—will tell which side they'll land on.