So originally this article was meant to be a review about SWISS and their highly rated 'throne seats' but due to a last-minute COVID disruption, I now found myself involuntarily rerouted onto Cathay Pacific and reviewing their A350-1000 in Business Class. 
This isn't the worst thing in the world, Cathay is a 5-star Skytrax awarded airline that we're still offering a full-service experience on their flights, it just wasn't the review I was anticipating. Heck, it beats the sandwich out of a cardboard box that British Airways was offering. 
KEY DETAILS
Airline: Cathay Pacific
Plane: Airbus A350-1000
Class: Business
Route: CX252
London Heathrow (LHR) > Hong Kong (HKG)
Configuration: 3 Class
Business, Prem. Econ | Econ | 78J
Plane Reg: B-LXL
Age: 1 Year Old

PREBOARDING EXPERIENCE
N/A
Heathrow is the UK's largest airport but due to the pandemic the airport has pretty much been crippled by the fall in air travel, once with four terminals operating at 99% capacity, it now finds itself operating with just two.
Where Cathay would normally depart from Terminal 3, today, I find myself at Terminal 2. This very recognisable Oneworld carrier now finds itself housed in the terminal reserved for Star Alliance.
What does this mean… well, no lounge access for a start.
In fact, there is not much to do at an airport these days. Shops are closed, the departure board was blank and the only things open are one or two coffee shops spread out at either end of the terminal. Heathrow had defiantly seen better days and with nobody at the airport, the only positive was that security was a breeze.
Although this was pretty much short lived as while the airport was mainly empty due to COVID, I unfortunately found myself wedged at the check-in counter on what was a 300 passenger strong plane.
With no lounge access and nothing to do, I grabbed a coffee and ventured across the terminal to the gate to await boarding.
THE SEAT
6/10 Points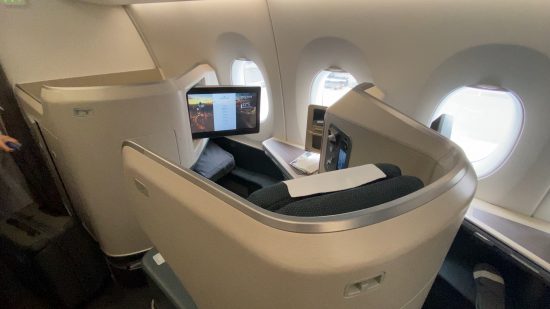 Fun fact, Cathay actually starts numbering their business seats from row 11 solely reserving single digits for their first class cabin.
For this 12 hour flight I will be sat in seat 12K which is a priority seat (not in the way you may thing).
What you should know is that if you find yourself on this 1-2-1 configured aircraft remember Seat 12A and 12K are actually priority seats and are for passengers who need the bassinet for infants. Cathay will warn you on online seat selection – but just be warned you could be reallocated at the airport if you choose these seats.
That said, Cathay has elected to use the highly popular Zodiac Cirrus seat on this A350 which you can also find on Air France, KLM, and Finnair for example.
The seat itself is comfortable, affords direct isle access, and has a large enough monitor at arms reach for those who want a more tactile experience.
You also get slippers, a bottle of water, headphones, and an amenity kit when you arrive at your seat – as I flew during COVID, there was also a complementary mask and antibacterial wipe
In the seating area, there is one small cubby hole which can be used to store a backpack and a small bag.
As to the tray table, unlike on other business seats, doesn't actually move back and forward, rather it just pivots on a single point.
As standard with business, the seat comes with a topper and mattress when you want to pass out at night.
In terms of dials and knobs, the seat has a 3 point seat controls, bedside light and a tv remote which doubles as its own monitor (for whatever reason you don't want to use the massive screen Infront of you).
Finally by the seat exit you will find the magazine-less literature pocket sporting an air sickness bag and safety card. pro tip, don't put anything small in there as its incredibly hard to fish out.
THE MENU
7/10 Points
Cathay as a carrier does not offer quantity rather opting for a qualitative approach to onboard food and drink.
In terms of beverages, Cathay offers a selection of two reds, two whites, and a choice of champagne and desert wine if that is more your style. As to their standard drinks, they have pretty much every form of spirit and soft drink that you could mix or throw into a cocktail. Furthermore, being an Asian carrier it's no surprise they lean heavily on their tea' with a range of western and Asian variants on offer.
As to their signature drinks, I would recommend Betsy (their own branded beer) or Cathay Delight (one of two signature mocktails).
As to the food, Cathay smoothly blends a mixture of western and Asian choices with a hint of Hong Kong flavour. They prominently highlight this with options ranging from Wonton noodles to a beef burger.
Breakfast on this flight was a simple and balanced, again your choice of Asian or western cuisine presents itself.
Finally, for those want to squeeze as much out as possible and don't intend to sleep then there is an all-day menu. These options can be ordered at any time and is just a selection of what was on offer on the first course. But with hot options this is defiantly a step up from what other carriers offer.
THE MEAL
7/10 Points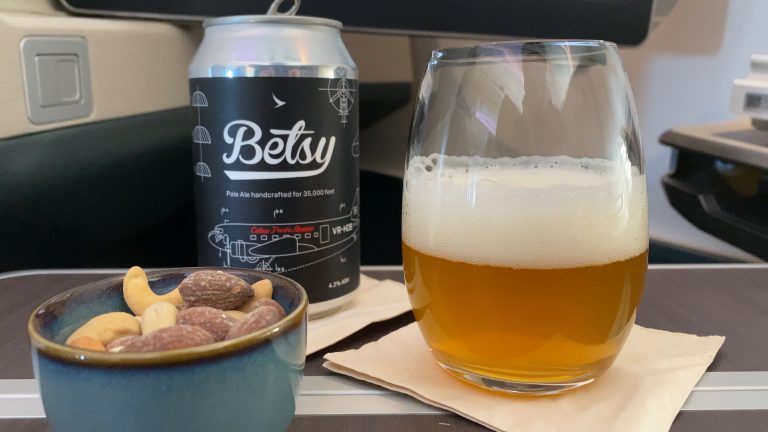 Pre-Meal Drinks
Premeal drinks were served promptly after takeoff and being greedy I selected both Betsy and Cathay delight. Cabin crew were understanding and didn't mind giving me two glasses as I really wanted to try both drinks having heard so much about them.
Cathay delight is a hot ticket item and its not made onboard so once it's gone it's gone. What you should know is that if you do intend to try it, Cathay keeps their menu on rotation and it's important to remember that Cathay delight is only served on even number months, whereas Oriental Breeze, its other signature drink, is served on the odd number months. That said if you hold Oneworld elite status you can actually order Cathay Delight but not Oriental Breeze at Cathay lounges around the world.
First Meal – Lunch Service
Having missed out on breakfast, I wanted something a little bit heavier for lunch and so went for the terrene and beef cheeks. The terrene was well presented and the beef cheeks were full of flavor and extremely filling.
For desert, after resisting temptation, I couldn't help but for some Movenpick ice cream which wasn't the easiest to get at coming straight from the freezer.
Few moments later, defeated by the 3 course meal, cabin crew came around with pralines which I must admit, sat on the table for a while.
All Day Menu
While getting into my second movie, I decided to sample the all-day menu – for science
I asked to Bloody Mary and bowl of noodles to complete my late night snackage.
Without a shadow of a doubt this has to be one of the best Bloody Mary's I've had in the air – the tomato juice was exceptionally pronounced. For the noodles that took about 20 minutes in a half empty cabin – which technically isn't unreasonable as it's all was made to order – but this wasn't as packed with flavor as I had thought, but the wontons were a nice addition to the cup noodles you get in economy.
Now Due to a misunderstanding, I thought on the menu there was caramel popcorn flavoured ice cream. I soon found out that I was wrong and the crew not knowing exactly what I had exactly ordered came around with caramel popcorn and caramel ice cream. Not to turn food away, I fully committed and got a shot of Baileys to wash it all down.
What I am trying to say is that if you have a sweet tooth this is defiantly a combination you want to try.
Second meal – Breakfast Service
The next morning, cabin crew noticed I was awake and asked if I wanted my breakfast served a bit earlier – which was quite a nice touch.
But sadly the Asian option I got was underwhelming and lacked any real flavor. White pepper or a bit of soy on the side would have done wonders to this dish and a bit more seasoning to the turnip cake would have lifted the flavour profile massively.
My biggest question though was why butter was served when the dish did not come with any bread.
THE AMENITY KIT
5/10 Points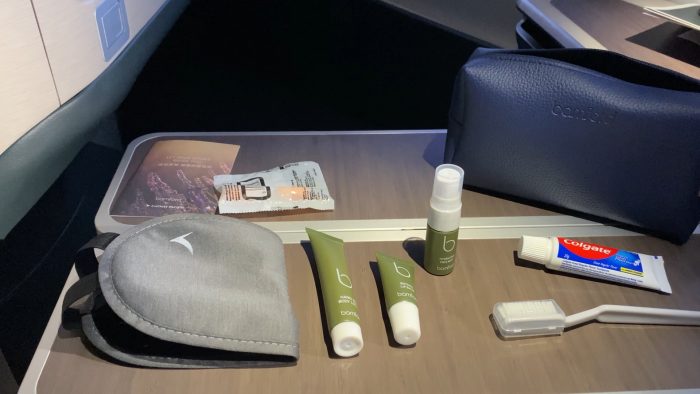 In the bag, there is a small marketing document about Bamford (for those who don't know, they are an English skincare and "lifestyle brand").
That aside you have your 3M foam earplugs.
Next are the eye masks which are actually quite functional, they are soft on both the inside and out, feature a bit of extra material for your nose to stop light shooting up the underside, and there is also a Velcro strip on the back should wish for a tighter or looser fit.
Then there is a tube of Hand and body lotion, lip balm and face mist which is supposed to calm you down before you sleep.
Then finally there is a toothbrush, a tiny tube Colgate toothpaste and some mouth wash.
Overall a functional, but not memorable, amenity kit.
IN FLIGHT ENTERTAINMENT
7/10 Points
On Screen Entertainment
Before doing so, it's good to position this with the understanding that just a year ago Cathay promoted that it was introducing 4x as much entertainment for people to watch – which on paper is a good thing. But having had an extended dive through the movies, it doesn't translate directly to Hollywood blockbusters and recent releases as you would think. It would seem Cathay is ordering back catalogues of films – like the 007 franchise – to bulk up the numbers.
Furthermore, it looks like Cathay leans towards drama's and more than anything else. This means If you are looking for easy watching or action-packed thrillers then your choices may be a bit more limited in this regard.
Additionally, on their movies at least, their categories seem to be arbitrary groupings rather than a structured archive. Like take Asian or Western cinema which makes sense, but you then have categories like chasing dreams and animal crackers as categories which tells me nothing.
Although to Cathays benefit their selection of world cinema is quite extensive, catering to multiple languages, they are positioning themselves well as a multicultural carrier
That said live TV is a plus and there was a good sampling of music to try on board. The onboard magazine section wasn't anything to write home about but there is also a functional 3D map which can help you find where in the world Carmen Santiago is.
Games wise you've got the standard classic selection of onboard games and there is a dedicated kid's section if you need this.
Finally, Cathay has opted to go with the front and tail cam which is a nice touch
But moving on, if you wanted to use the touch screen, it is somewhat responsive only trailing behind by a few milliseconds – but still noticeable.
Headphones
But the visuals is just one side of things, you can't really review an In-flight entertainment system without reviewing the headphones.
For this I threw on a bit of Jonas Blue and listened a couple if track using my Audiotechica MH50's for reference.
These headphones feature soft pads but I wouldn't recommend them for prolonged use. The reason for this is that the headphones don't so much cup the ear rather they clamp onto them creating ear fatigue quite quickly.
In terms of audio drivers, they produce a more muted sound compared to the MH50's and you can tell there is something missing in the mids – however base and treble are handled without issue.
THE BATHROOM
4/10 Points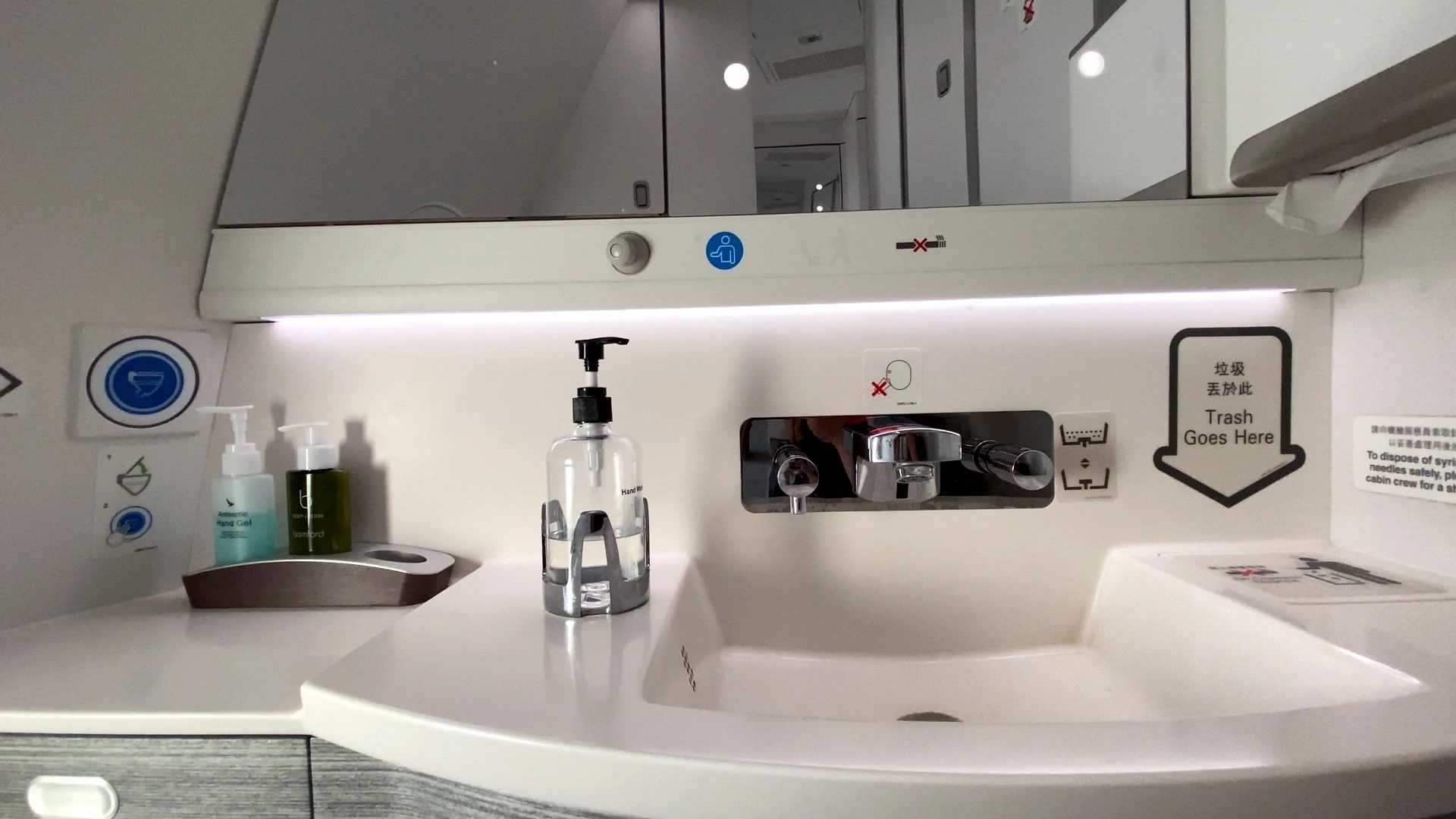 The bathroom on this A350-1000 was a point of disappointment for me.
Firstly, its not the biggest premium cabin bathroom around, but it does afford a bit of freedom to move around compared to an economy cabin toilet.
Furthermore, Its not the most glamorous either, but by all accounts it is completely function.
That said, when you look into it you can see that these bathrooms do show signs of age and this was a plane delivered just before Covid. Note the wear you can see is not confined to this cubicle. While Cathay has already confirmed they are replacing the seats on their A350's, it's a shame that the quality controls were missed in the bathroom as well.
CONCLUSION
As to my experience on Cathay Pacific's A350-1000 in Business Class:
The Pro's
As you have likely surmised, I am extremely satisfied with the food and drink onboard, Cathay carries a wide range of gastronomic options which are both refined and filling. Even though breakfast was a letdown, Dinner and the all-day menu made up for it in spades
Additionally the bedding was comfortable, staff are friendly and attentive and Wi-Fi is available at affordable prices.
The Con's
For me the only thing that detracted from the premium experience was how the bathrooms had aged over a short period of time, while it is a systemic problem on the A350's Cathay does have a plan in place to fix these already, so it shouldn't be a problem much longer as more planes get retrofitted.
That said the seats, and by extension the TV monitor, are just standard and do not stand out in anyway.
Finally for me the biggest let down was the in flight entertainment. While it boasts a broad selection of films and tv shows catering to a wide audience, in my view it falls in the trap of doing too many things but nothing especially well. But on this point your mileage may vary depending on the genres you are interested in but for me it was unfortunate I couldn't find a film that I really wanted to watch.