As you walk down the jet bridge and onto the plane, taking a left at the door as you board and drift into your seat, you're welcomed by an unexceptional choice of water, orange juice or champagne. While somewhat dull and dreary, some Oneworld airlines have stepped up and taken a lead towards creating innovate signature cocktails that remain in the minds of travellers long after they have left the plane.
Below is a list of Oneworld airlines which have taken upon themselves to redefine their drink selections by offering unique signature drinks, one drink at a time.
AIRLINES
BRITISH AIRWAYS
Bucks Fizz & Kir Royal
Ingredients: Champagne with either Orange Juice (for Bucks Fizz) or Kir (for Kir Royal).
Garnish: None
In Business and First class, you can sample the British Airways signature drinks of either Bucks Fizz or Kir Royal. Its usually served as a welcome drink or post-departure aperitif.
These drinks are pretty simple to make but do add a nice touch to the flight.
Photo Credits: ThePointsGuy
CATHAY PACIFIC


Cathay Delight & Oriental Breeze

Cathay Delight Ingredients: 60ml Kiwi Juice, 35ml Fresh Milk, 5ml Coconut Milk
Oriental Breeze Ingredients: sour plum tea, cranberry juice, lemon juice, rose tea and honey

Garnish: Baby Mint

When travelling in Business and First class, you can sample the Cathay Pacific's two signature Cocktails Cathay Delight and Oriental Breeze however not on the same flight. This is because Cathay Delight is only served on even number months and Oriental Breeze on odd-numbered ones.

Cathay has invested quite a bit of time in its beverage options. Not only does the airline have signature cocktails under its belt but also a signature beer called Betsy – named after its first plane.

If you do manage to find yourself in a Cathay Pacific Lounge, you will find Cathay Delight on the menu so well worth a treat if you're there.
JAPAN AIRLINES
Sky Time Kiwi (Version 2.0)
Ingredients: As a premixed drink, simply turn the carton over and ingredients are quite commonplace. While iterations of the drink have different ingredients, the newest edition is made with 3% Kiwi Juice and is fortified with vitamin C and Royal Jelly.
Garnish: None
Unlike many signature drinks which are relegated to the realms of business and first-class, Japan airlines signature drink is Sky Time which was available to all cabins and was the 3rd most consumed drink on JAL flights after beer and wine.
The original drink was served between 1992 and 2004. While invented to be a unique selling point for the airline, it was originally made to promote hydration methods during longer flights. As such, it was originally (and still is) a 1-litre premix drink fortified with vitamin C and royal jelly.
From 1992 to 2004 the original Kiwi flavour was served to customers and from 2004 onwards a citrus Yuzu flavour was commonplace until 2013 when it was replaced with a sparkling version of a similar taste (Shikwasa or Okinawa lemon). This didn't do so well and a year later was rebooted and a reformulated back to its original flavour.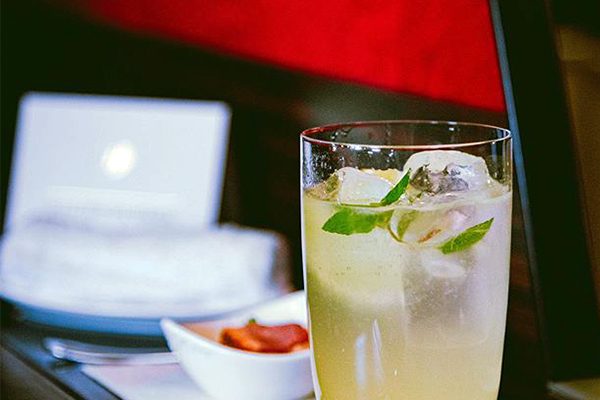 MALAYSIAN AIRLINES
Wau Emas
Ingredients: pineapple juice, soda water, pandan syrup and a touch of lime.
Garnish: Baby Mint
In Business and First class, you can sample the airlines signature cocktail Wau Emas. Its usually served as a non-alcoholic welcome drink (While Malaysian Airlines is a Muslim airline, the airline is not a dry-carrier).
The drink is balanced well for the Asian climate with the tart pineapple juice cutting through the floral sweetness of the pandan syrup; the carbonated soda water lifts the drink adding the refreshing element to the drink.
FINNAIR
Blue Sky
Ingredients: one part Lapponia Blueberry Liqueur to eight parts Joseph Perrier Cuvée Royale Brut.
Garnish: None
Finnair's signature drink is the Blue Sky, created as part of the airlines' A350 launch as a way to promote its "Nordic heritage" and to bring in a "new era" for the airline, although it's now served on all long-haul business class flights.
The drink is familiar in many ways to a blueberry mimosa in that the champagne lifts the flavour of the blueberry liqueur in the same way in a mimosa.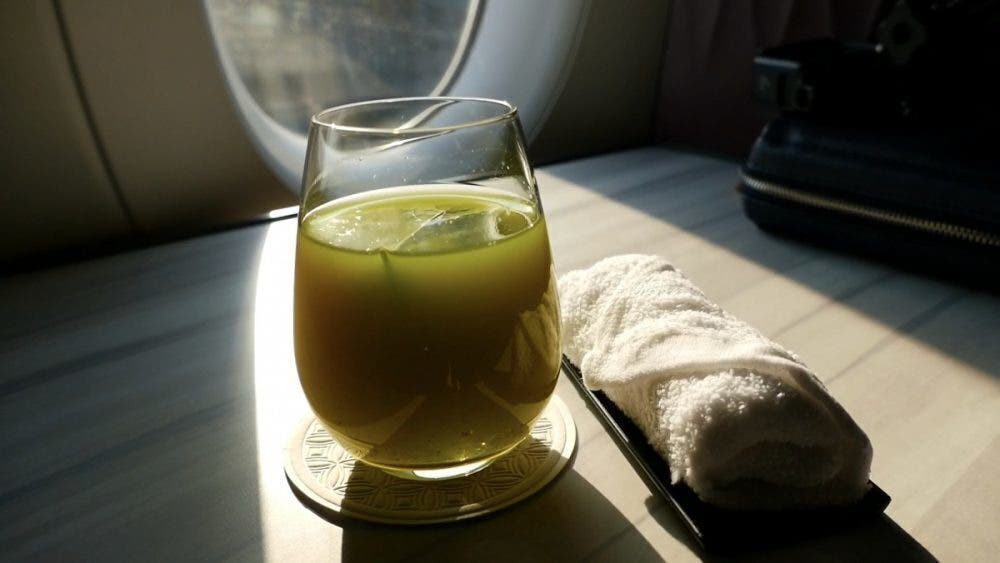 QATAR AIRWAYS
Lemon Mint
Ingredients: while no recipe of the drink has ever been published – the drink itself is popular in Arabic culture and mainly consists of lemon, sugar, water chopped mint and water.
Garnish: Baby Mint
In Business and First class, you can sample the Qatar Airways signature Cocktail Lemon Mint. Its usually served as a non-alcoholic welcome drink (While Qatar Airways is a Muslim airline, the airline is not a dry-carrier).
The drink is common across Arabic countries (so not to hard to find a recipie) and is served cold to counter the sweltering heat of the region.
While refreshing and definitely worth a try, those who are not accustomed to seriously minty or tart lemon flavours may want to give this a miss.
Photo Credits: SimplyFlying