As you walk down the jet bridge and onto the plane, taking a left at the door as you board and drift into your seat, you're welcomed by an unexceptional choice of water, orange juice or champagne. While somewhat dull and dreary, some Star Alliance airlines have stepped up and taken a lead towards creating innovative signature cocktails that remain in the minds of travellers long after they have left the plane.
Below is a list of Star Alliance airlines that have taken it upon themselves to redefine their drink selections by offering unique signature drinks, one drink at a time. Of course, not all drinks are created equally it is interesting to see the signature drinks lean heavily more on the Asian carriers.
You may also be interested in Oneworld carriers' signature drinks or carriers with their own beer selections.
All Nippon Airways
Just like JAL's Sky Time Grape & Kiwi, ANA's Original Aromatic Kabosu (Citrus), is a refreshing drink designed to keep passengers hydrated at high altitudes.
The Drink can be described as almost grapefruity with a hint of honey.
The cool thing about ANA is that these drinks' (partly because they are non-alcoholic) are not relegated to the realms of premium cabins – meaning you can sample the drink even in economy.
If you really liked the drink and want to buy it when you touch down, you can in fact purchase it online from ANA's website – so long as you have it delivered to a Japanese address.
EVA Air
Eva Air has had multiple signature drinks over the years
the first two signature drinks – The Evergreen Special (Evergreen being the name of its Frequent Flyer Programme) and The Aurora – were tinted green in the name of the carrier's colours.
The Evergreen Special: Melon liqueur, vodka and Sprite (lemonade)
The Aurora: Gin, Cointreau, green mint liqueur, tonic water
Aside from the nifty neon green colour, it doesn't have seemed to have lived up to the hype. Trip advisors to Trip Reports say that both drinks are often made with incorrect ratios – often boosting the green ingredients at the cost of taste. The most common complaint was that the drink was too sweet.
In 2020, the carrier issues a blog post stating that two new non-alcoholic and non-green drinks were being released into Royal Laurel, Premium Laurel, and Business Class cabins.
Amber Dream is made with cranberry juice, ginger ale, and apple juice.
Sonata in the Air consists of cranberry juice, Sprite, and pineapple juice.
Singapore Airlines
That said some drinks are synonymous with the country it's from.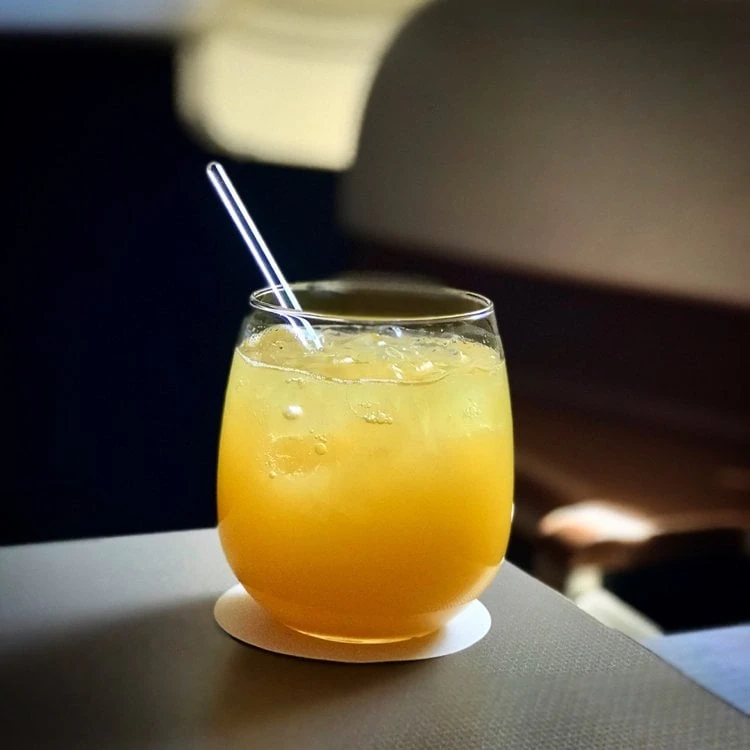 The Singapore Sling, an iconic during of the nation, originally had its roots in the Raffles Hotel. The Airline has also adapted its drink to the SilverKris Sling as well.
The carrier has actually published a recipe online on its Facebook page for the Singapore Sling and SilverKris Sling.
If you follow Flyertalk – people now believe that the drink is now a premix where it used to be made a-la-minute inflight. but that said, Trip Advisor still ranks the drink highly no matter.
Thai Airways
If you are flying in Royal Silk (business) class, then you will be able to they Violet Bliss – the carrier's purple signature mocktail made from a blend of chilled lime juice and pressed Thai butterfly-pea blossoms.
Just like Singapore Airways, this drink is well received. Some say this drink is a must-have onboard, paired well with the exterior temperature the drink is refreshing, but like all things, it is an acquired taste with some calling it 'interesting'.
Turkish Airlines
Turkish Airlines has several welcome drinks on offer:
Homemade lemonade with fresh mint
Fresh Orange Juice
Fresh Raspberry Juice
As an honourable mention – Turkish Airlines does offer a celebration cake to its members who fly close to their birthday or wedding anniversary.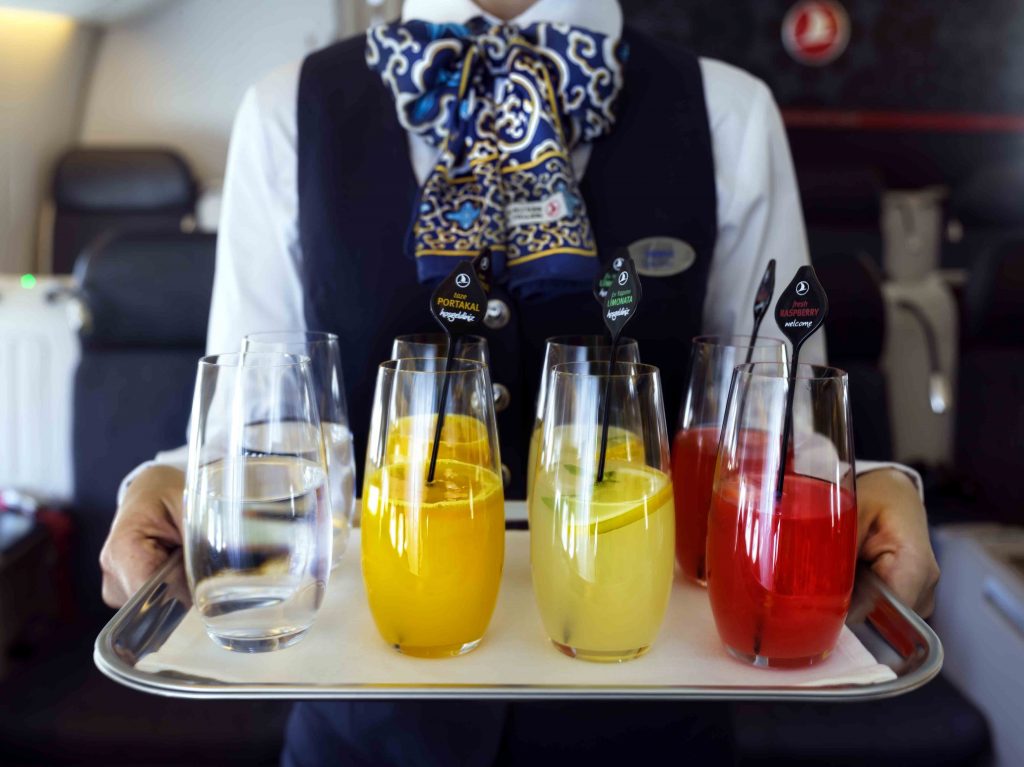 Notable Mentions
Air Canada
Air Canada has something of a Signature drink but it's impossible to nail down exactly what it is.
Two Different Twitter posts (one from its official account and another from an AC sales manager would suggest the drink features bourbon, lemon juice, thyme, ginger ale and maple syrup (Canada's natural nectar).
however, The Points Guy's review of the 787 suggests the signature drink to be a mix of Crown Royal Canadian whiskey, gin and cranberry juice
Air New Zealand
In 2019, New Zealand's flag carrier decided to introduce do a special run of two non-alcoholic cocktails into its Business Premier class between Auckland and San Francisco to celebrate "Dry July"
Not surprisingly it was only available for the month.
Passengers travelling in Air New Zealand's Business Premier class on flights NZ7 (San Francisco–Auckland) and NZ8 (Auckland–San Francisco) could choose from the Muriwai Mule with Asian Spice and the Tahi Rua Tonic with London Dry.
Lufthansa
Lufthansa Cocktail is technically no longer affiliated with the Lufthansa Group.
Originally Lufthansa (the airline) started servicing bottled cocktails on flights during the 1930's.
In 2015 the rights for the brand were acquired by Small Big Brands Company. The new Lufthansa Cocktails are contemporary reinterpretations of a Manhattan, Negroni, Old Fashioned, Dry Martini and Pear Gimlet.
The bottles can be purchased online with a quick google or via Amazon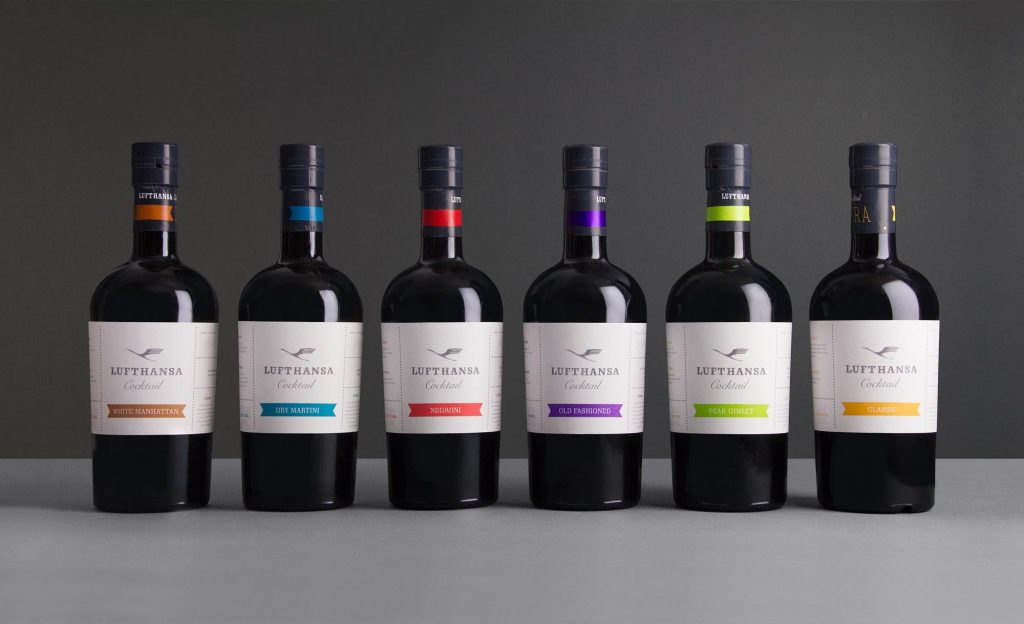 United Airlines
In 2017 united launched what it called its "cocktail collaborations" set of drinks.
The New York Times stated, "United Airlines… introduced more than 20 cocktails in its new United Polaris lounges, reserved for United Polaris business and first-class fliers as well as international business and first-class fliers".
It follows on from its Sunrise Sunset cocktail offered back in 2010. The drink is a sweet and tangy cocktail, developed by United flight attendant Tita Martin, which is a mix of cranberry-apple juice, a splash of orange juice, and a squeeze of lime and vodka.
That said, domestically United does offer regionalised offerings such as the Trader Vic's Mai Tai, between the continental United States and Hawaii route, and the Knob Creek and Old Fashioned by On The Rocks Cocktails, on most mainline United flights within North America.