When it comes to in-flight catering, airlines are pivoting from merely showcasing world-class cuisines to elevating the onboard drinking experience. Forget the mass-produced Budweisers and Carlsbergs; airlines like British Airways, Cathay Pacific, Scandinavian Airlines, Korean Air, and Icelandair are now doubling down on speciality beers. They're not just pouring pints; they're crafting an atmospheric experience, collaborating with renowned breweries to produce beers uniquely designed for high-altitude enjoyment. And it's not just about adding another luxe layer to your travel; there's science and strategy in these suds.
Speciality beers aren't just fancy add-ons; they serve a unique purpose in the unique environment of an aeroplane cabin. Due to in-cabin pressure and dry air, certain flavour notes like bitterness can overpower the beer's true profile. Moreover, airlines have to account for the higher carbonation levels in cans, as the lower pressure can lead to beers foaming excessively. These tailor-made brews are designed to combat these challenges, ensuring a consistent, delightful drinking experience that's unaffected by altitude. And since these speciality beers are exclusively available onboard, airlines have not only levelled up their hospitality game but also created a compelling reason for travellers to keep coming back for more.
Scandinavian Airlines and Mikkeller: Crafting Beer at Cruising Altitude
Back in 2014, Scandinavian Airlines (SAS) made a pioneering move in the realm of in-flight beverages by joining forces with Danish brewing legend Mikkeller. Originating from the airline's "New Nordic" program, which initially focused on showcasing Norwegian and Danish cuisines, SAS branched out into crafting onboard craft beers. Available in a variety of cans to passengers of all classes, the partnership also produces exclusive 750 ml varieties, setting the business-class experience a notch above. The inaugural offering was the Sky-High WIT trilogy, rolled out to coincide with the launch of SAS's Houston route in August 2014.
Since then, the partnership has been nothing short of a brewmaster's dream flight. Mikkeller has crafted more than 13 unique beers for SAS, each paying homage to the airline's diverse routes and culinary inspirations. Take, for example, the "Sweet and Sour" Belgian ale, fermented in mango juice and inspired by Cantonese street food—introduced to celebrate the airline's Copenhagen to Hong Kong route. The range continually evolves, offering passengers not just a drink, but an immersive sensory journey that pairs perfectly with the destinations they're flying to. With every sip, SAS and Mikkeller redefine what it means to enjoy a beer in the sky.
Betsy Beer: Cathay Pacific's Sky-High Tribute to Artisanal Brewing
In 2017, Cathay Pacific made quite the splash in the world of airborne refreshments by launching Betsy, an artisanal beer created in partnership with the Hong Kong Beer Co. Named after the airline's inaugural 1940s Douglas DC-3 aircraft, Betsy is no mere lager in a fancy can. It's an unfiltered wheat beer, brewed with a medley of unique ingredients like dragon eye fruit from Hong Kong markets, locally-sourced honey, and classic English Fuggle hops. Initially exclusive to first and business-class passengers flying from Hong Kong to Heathrow, Gatwick, and Manchester, Betsy sought to answer a fascinating question: Could a hoppy ale actually taste better at 30,000 feet, where senses are typically numbed?
The answer? A resounding yes. The initial release saw such overwhelming demand that Cathay Pacific decided to relaunch Betsy, this time partnering with Gwailo Beer Company. While cans are now available across all cabins, the airline maintained an air of exclusivity by serving bottles only in first and business class. The innovative blend is calibrated to not just survive but thrive in the high-altitude, low-humidity environment, offering a robust, flavorful drinking experience that defies the sensory challenges of flying. With Betsy, Cathay Pacific has successfully broadened the horizons of in-flight beverage options, making the sky the limit for what passengers can enjoy.

British Airways and BrewDog Elevate Inflight Drinking with Speedbird 100
Navigating the skies with a quality brew in hand has always been the dream, and British Airways turned this into a reality with the launch of "Speedbird 100." Crafted in collaboration with the mavericks at Scottish brewery BrewDog, this IPA marks a celebratory nod to both the airline's centenary and its iconic callsign, "Speedbird." The beer packs more than just a clever name; it's an engineering marvel designed to tantalize your taste buds even at cruising altitude. With its golden amber hue and a palate replete with candied citrus, floral undertones, and resinous notes, Speedbird 100 is a soaring tribute to the British Airways legacy.
But the magic of Speedbird 100 isn't just skin deep—or in this case, label-deep. The brew is scientifically engineered to defy the sensory limitations passengers typically face at high altitudes. Often at 30,000 feet, the senses of taste and smell are muted, but Speedbird 100's recipe is specially calibrated to retain its full-flavoured impact. This isn't just an IPA; it's a lesson in ingenuity, adapting to an environment where taste usually takes a nosedive. So the next time you're airborne with British Airways, elevate your in-flight experience with a can of Speedbird 100—where the only thing compromised is your willingness to settle for ordinary.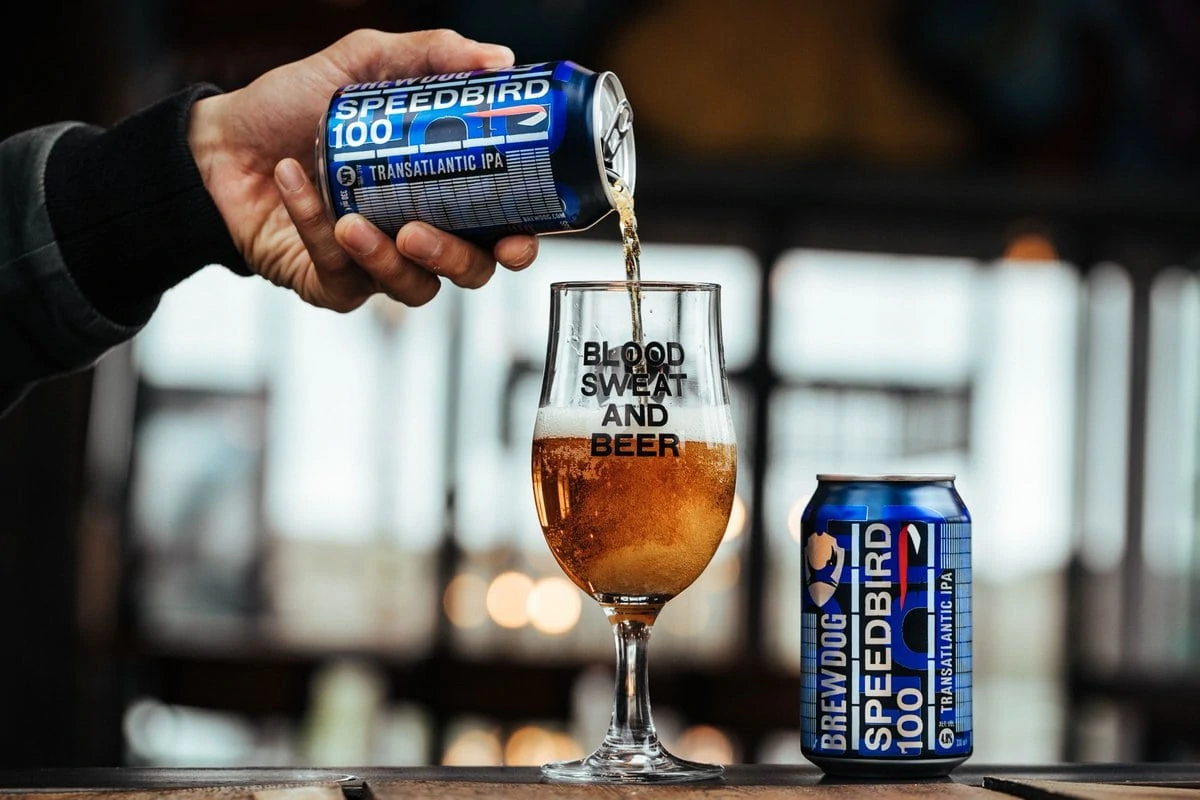 Icelandair Pours a New Experience with Snæbjört Craft Beer
When it comes to speciality in-flight beers, Icelandair was a late bloomer but has clearly been taking notes. They initially launched "737," a unique brew crafted with Pacific Northwest hops and European grains. The beer, with its 7.37% ABV—naturally a nod to the 737 Max—was an instant hit. It balanced world routes with local influence and even came with a can of complementary SKY water. However, all good things evolved, and so did Icelandair's beer offerings. Make way for Snæbjört, which translates to "the glow of Icelandic snow." This new pale ale replaces the 737 Max IPA and brings with it a fresh, seasonal twist.
Snæbjört isn't just a beer; it's an in-flight escapade that captures Iceland's quintessence. Brewed exclusively at Ireland's state-of-the-art Boyne Brewhouse, the ale employs American hops like Azacca, Mosaik, and El Dorado, rounded off with American ale yeast. This hoppy potion delivers an exotic fruit medley of pineapple, mango, and passion fruit aromas. True to Icelandair's attention to detail, even the 5% ABV pays homage—this time to Iceland's average annual temperature. Snæbjört will grace only the onboard experience and the recently inaugurated Icelandair lounge at Keflavik International Airport. Get ready to sip on Iceland's winter glow at 30,000 feet.
Elevate Your In-Flight Experience with Korean Air's Craft Lager
Sip, Relax, Repeat. That's the mantra you'll adopt when you try KAL's Lager, Korean Air's latest foray into elevating the in-flight experience. A brainchild of the collaboration with Playground Brewery, this isn't your run-of-the-mill airline brew. The craft lager bursts with tropical fruit notes—a careful orchestration by the airline to evoke that wanderlust spirit. Packaged in a slick can adorn with a jet sailing through cerulean skies, it's clear that Korean Air is not just offering a drink; they're selling an experience.
Beginning July 27 2023, travellers can kick back with this exclusive beverage at Korean Air lounges in both Incheon and Gimpo International Airports. And the party doesn't stop there; come September, this in-flight luxury will be just a tray table away.
What sets KAL's Lager apart is not just its crisp, refreshing taste. Korean Air and Playground Brewery strategically designed the beer to encapsulate the joy of travel. Each sip takes you on a mini-vacation, arousing your senses with the specially curated tropical flavours.