If you're a frequent traveller, you know how frustrating airport security can be. The long lines, the wait times, the stress of potentially missing your flight – it can all be a headache. That's where CLEAR comes in. While it's not yet common in Europe, CLEAR is a pre-screening program that can help speed up the security process at select airports, including Berlin Brandenburg Airport.
---
---
What is CLEAR Security?
CLEAR is a trusted identity platform that uses biometric technology to speed up the security screening process at airports. The company was founded in 2010 and is currently available in more than 30 airports and sports venues in the United States with standard CLEAR membership costs $189 annually.
CLEAR members can use dedicated lanes to bypass the standard security screening process, which typically involves presenting a boarding pass and government-issued ID, removing shoes, belts, jackets, and liquids from bags, and passing through a metal detector or full-body scanner. Instead, CLEAR members use a dedicated lane with a kiosk that verifies their identity using biometrics such as fingerprints or iris scans. After the identity is verified, a CLEAR representative escorts the member to the physical security screening, which is still required, but can usually be completed much more quickly.
CLEAR also offers other benefits to its members, such as the ability to use dedicated TSA PreCheck lanes at airports that offer the service, and the ability to link their accounts to airline loyalty programs for faster check-in and boarding.
The introduction of CLEAR at Berlin Brandenburg Airport marks the first time the service has been available in Europe. However, CLEAR has been expanding rapidly in recent years, and it may not be long before the service is available at more airports across the continent.
Who Can Use CLEAR Security?
As a US service, unsurprisingly it is only open to available to US citizens and permanent residents. This means that non-US citizens will not be able to use the service at Berlin Brandenburg Airport. However, for eligible US citizens, CLEAR Security provides an added layer of convenience and speed to the security process.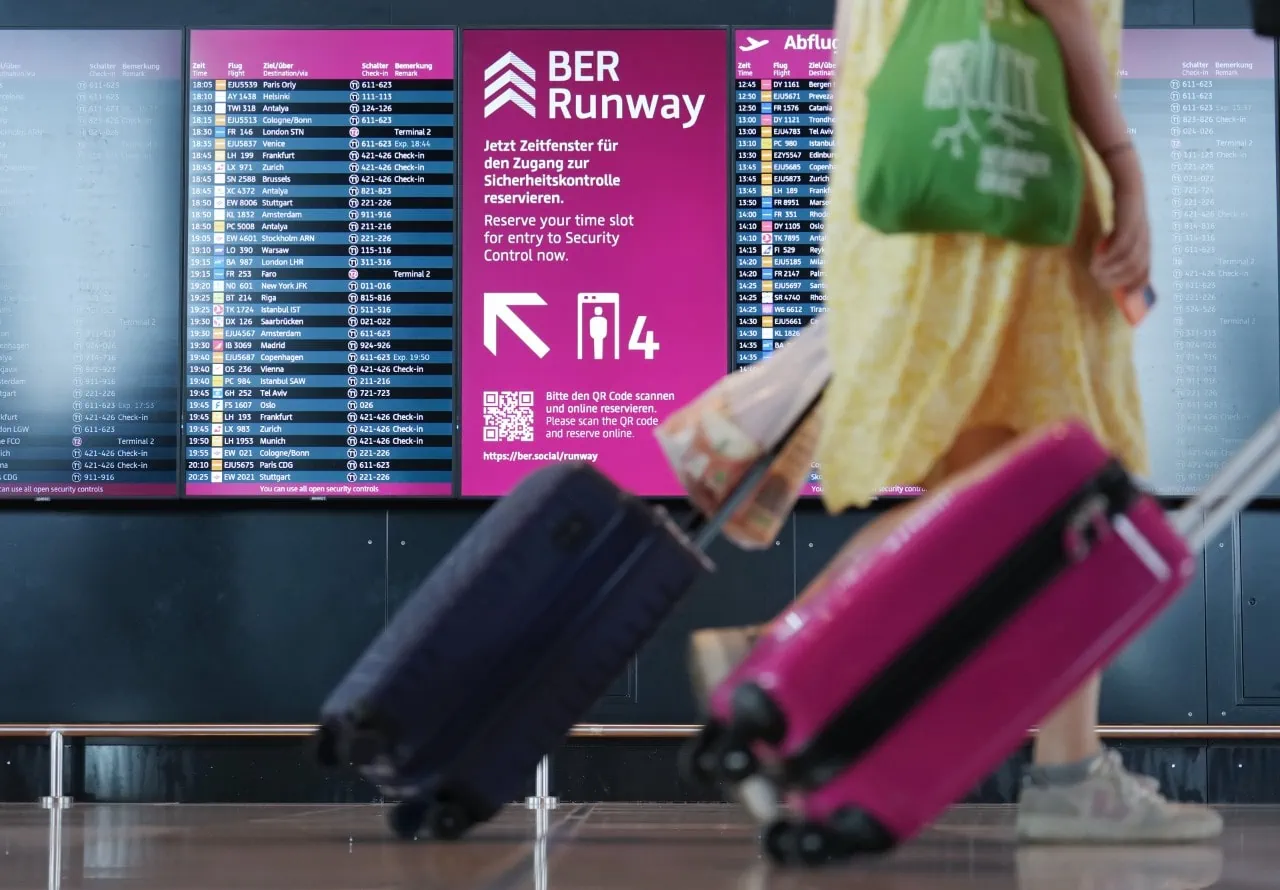 How to Use CLEAR Security at Berlin Brandenburg Airport
Once you have enrolled with CLEAR and confirmed your eligibility, you can use the service at participating airports in the United States, including Berlin Brandenburg Airport.
To use CLEAR at Berlin Brandenburg Airport, you'll need to follow these steps:
Reserve a time slot: You can reserve a time slot for security control via the Berlin Brandenburg Airport website or through the CLEAR app. You can also reserve a time slot in person at the airport, but it's recommended that you do it in advance to avoid waiting in line.
Arrive early: It's recommended that you arrive at least 90 minutes before your scheduled departure time to allow enough time for security screening.
Check-in: Before heading to the CLEAR security lane, check in with your airline and obtain your boarding pass.
Go to CLEAR security lane: Once you arrive at the security checkpoint, head to the CLEAR lane and present your CLEAR ID and boarding pass to the CLEAR representative.
Biometric screening: At the CLEAR lane, you'll need to provide biometric information, including a fingerprint or iris scan, to verify your identity.
Security screening: After your biometric information is confirmed, you'll proceed to the security screening process. You may be required to remove your shoes, belt, and outerwear, and place your carry-on items and personal belongings in bins for X-ray screening.
It's important to note that CLEAR does not replace the TSA or the airport's security measures. It simply expedites the security screening process for eligible travellers.
Other Similar Services
While CLEAR is not yet widely available in Europe, there are other similar services you can use to speed up the airport security process. For example, Berlin Brandenburg Airport also offers a "Runway" service that allows you to book a time slot for security control ahead of time. This service is available to all passengers departing from Terminal 1.
While CLEAR security is a unique service, there are other similar services available at airports around the world.
One example is Virgin Australia's Premium Lounge Entry, which offers expedited security screening and access to the airline's exclusive lounge for eligible passengers. This service is available at Brisbane Airport in Australia.
Another example is Fast Track at London Heathrow and Gatwick Airport, which allows eligible passengers to skip the regular security lines and use a dedicated lane for a faster screening process. This service is available for a fee or for eligible passengers of certain airlines or loyalty programs.
While these services may not offer the same level of biometric screening as CLEAR, they provide a similar benefit of a faster and more convenient security screening process. It is important to check with your airline or the airport to determine if you are eligible for these services and how to access them.
Conclusion
Overall, CLEAR is a great option for frequent travellers looking to save time and reduce stress at the airport. While it's not yet widely available in Europe, it's worth considering if you frequently fly through participating airports. And if you're departing from Berlin Brandenburg Airport, be sure to check out the Runway service as well. With a little planning ahead, you can make your airport experience a little more pleasant and stress-free.