Alaska Airlines lounge access provides travellers with a comfortable space to relax, work, and enjoy refreshments before their flights. These lounges, found at key airports across the United States, offer a range of amenities, including complimentary Wi-Fi, snacks, beverages, and comfortable seating areas. In this article, we'll explore the various ways to access Alaska Airlines lounges, including both paid and non-paid options, and the specific requirements for each method
---
---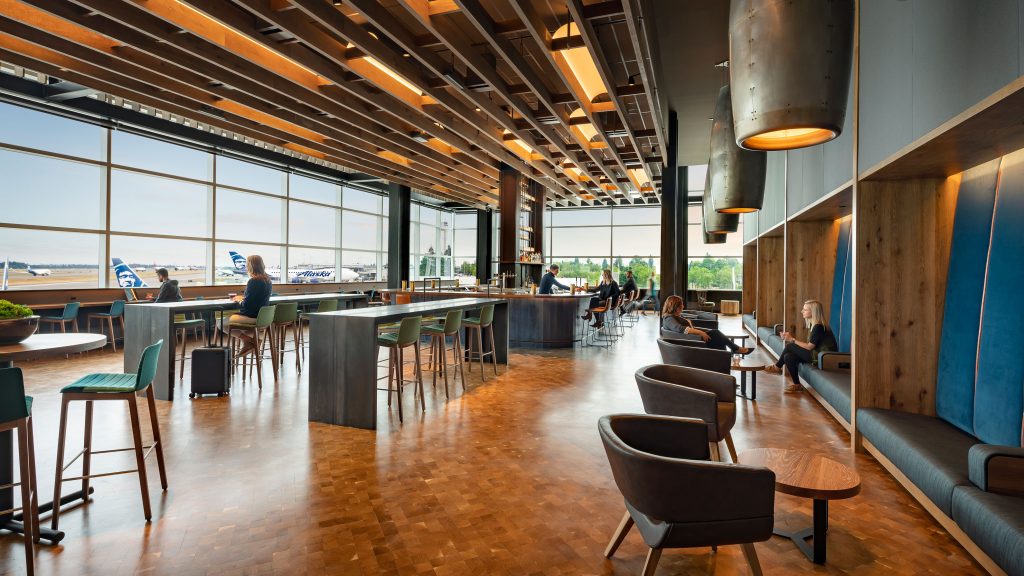 Paid Lounge Access Options
First Class and Premium Cabin Tickets
Alaskan Paid First Class Tickets
Passengers flying on paid first-class tickets with Alaska Airlines can access the Alaska Lounges on their day of travel. However, there are a few caveats:
Lounge access will only be offered to those on itineraries that have segments of 2,100+ miles.
The complimentary lounge access policy applies to passengers who pay with cash or miles (in fare classes C, D, E, J, and I), but it excludes passengers who have upgraded (whether the upgrade is with miles, purchased, or complimentary based on elite status).
It's important to note that this access is limited to the ticketed passenger and does not extend to guests.
Oneworld Long-haul First or Business Ticket
If you hold a Oneworld long-haul first or business-class ticket and you're travelling the same day on a Oneworld premium cabin ticket, you can access Alaska Lounges, either at your gateway airport or at a connecting airport. For example, if you're flying Qatar Airways business class from Seattle to Doha or British Airways business class from New York to London, you could use Alaska Lounges.
Lounge Memberships
Alaska Lounge Membership
One of the most straightforward ways to access the Alaska Airlines lounges is through an Alaska Lounge membership.
Alaska Airlines offers two types of lounge memberships for passengers, providing access to their lounges where travellers can relax and enjoy a variety of amenities.
The difference between an Alaska Lounge and Alaska Lounge+ membership is that a standard Alaska Lounge membership includes entry to 9 Alaska Airlines Lounges while an Alaska Lounge+ membership expands your access to Alaska-operated Lounges and more than 90 partner lounges
Membership Pricing
| | Elites (MVP, MVP Gold, Gold 75k, Gold 100k) | Non-elites |
| --- | --- | --- |
| Alaska Lounge (9 Locations) | $400 | $500 |
| Alaska Lounge+ (9 Alaska Lounge locations and 90+ Partner lounges) | $550 | $650 |
American Airlines Admirals Club Membership
Alaska and American have a reciprocal lounge access agreement, so alternatively, you could purchase an American Airlines Admirals Club membership. This allows you to access Alaska Lounges when flying either Alaska or American same day. With an Admirals Club membership, you can bring two guests or immediate family members (partners and children under 21) with you.
Other Paid Access Options
Day Passes
If you don't have a lounge membership but still want to enjoy the benefits of an Alaska Lounge, you can purchase a day pass. A day pass costs $60 and provides access to any Alaska Lounge for a single day. Day passes can be purchased at the lounge entrance or through the Alaska Airlines app.
Credit Card Access
Holders of the Alaska Airlines Visa Signature credit card can also access Alaska Lounges. The card offers a 50% discount on day pass purchases, reducing the price to $25 per visit. This benefit is limited to the cardholder and does not extend to guests.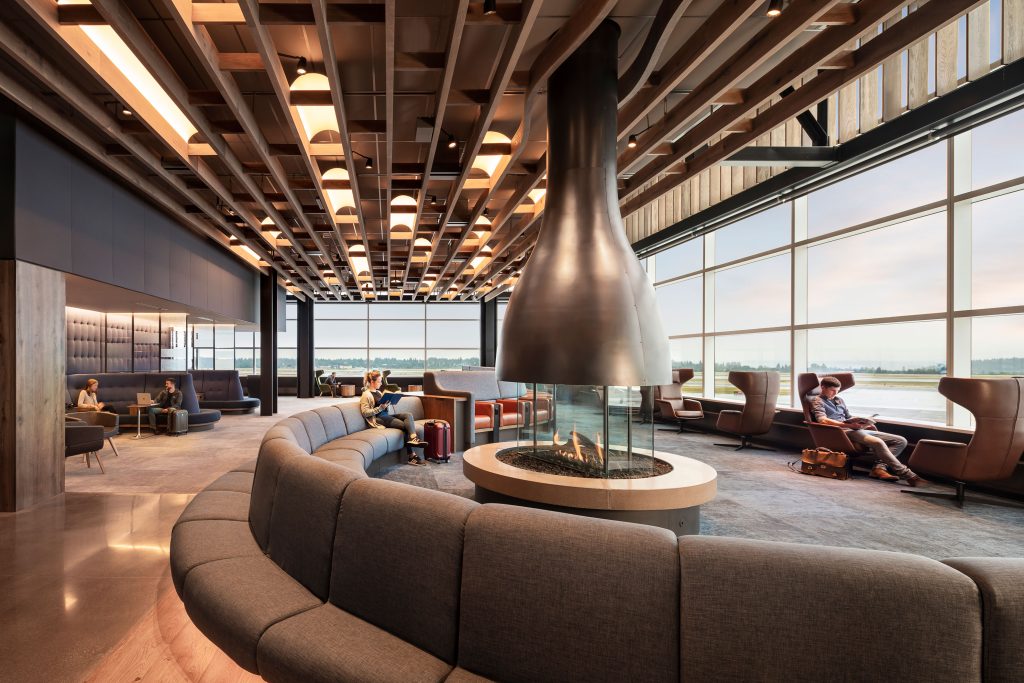 Non-Paid Lounge Access Options
Alaska Airlines Club 49 Membership
Club 49 members can access the Lounge when travelling on a paid First Class or a First Class award ticket* on flights operated by Alaska Airlines, to, through, or from the state of Alaska, regardless of the flight distance, only on their day of the flight. Club 49 is a special program for Alaska residents, offering benefits like discounted fares and additional baggage allowances.
Oneworld Status and Partner Airlines Access
Oneworld Sapphire or Emerald Status
With Alaska Airlines now being in the Oneworld alliance, there's a whole new way to access Alaska Lounges based on Oneworld status:
Those with Oneworld Sapphire or Emerald status in any program other than Alaska Mileage Plan or American AAdvantage can access Alaska Lounges when flying any Oneworld flight on the same day, even if it's domestic.
Those with Oneworld Sapphire or Emerald status in the Alaska Mileage Plan or American AAdvantage program can access Alaska Lounges when flying any Oneworld flight on the same day that includes travel outside of North America.
In other words, a Oneworld Emerald member through British Airways Executive Club could access Alaska Lounges when flying exclusively within the United States, while a Oneworld Emerald member through Alaska Mileage Plan couldn't.
Eligible oneworld Sapphire and Emerald members can bring one guest into Alaska Lounges.
Select Partner Elite Members Access
Select partner elite members can access Alaska Lounges when flying with Alaska Airlines on the same day. However, this comes with some catches, and it's pretty niche outside of Oneworld. For example:
It's essential to check your specific ticket and airline partnership rules to confirm eligibility.
US Military Personnel
Alaska Airlines offers complimentary access to US Military personnel traveling in uniform and ticketed to fly on an Alaska flight departing within 3 hours. All other US Active Duty military personnel with a valid ID may purchase a day pass at the discounted rate of $30 when flying on an Alaska flight departing within 3 hours.
By understanding the various access options available to you, you can make the most of your Alaska Airlines lounge experience and enjoy a relaxing and comfortable space before your flight.