LOT Polish Airlines is on the cusp of a major transformation. In a partnership with Recaro, the airline is set to overhaul its Boeing 787-8 cabin seats. But with the first revamped aircraft not expected until 2026, the question arises: Will these changes be revolutionary or merely a game of catch-up?
What's New: Wi-Fi, Competitive Seats, and the Long Wait
Wi-Fi is finally landing on LOT's 787s, thanks to a partnership with Viasat. This is a long-overdue addition that brings the airline in line with many of its competitors. But it's not just about connectivity; LOT is also introducing Recaro CL6720 seats in business class. These seats have already made a splash on Air China and Iberia, signalling that LOT is aiming for a competitive edge. However, the timeline for these upgrades raises concerns.
With the first revamped 787-8 not expected until 2026, there's a risk that these upgrades could become obsolete. Moreover, the airline is only committing to reconfiguring eight of its 787-8s, leaving the fate of its seven 787-9s up in the air.
This long rollout and selective upgrade strategy could potentially dilute the impact of these new features by the time they're introduced – especially given how Japan Airlines and Virgin Atlantic have recently made waves over their launches.
Business Class: A Comprehensive Upgrade
LOT's existing business class, with its 2-2-2 configuration, is increasingly looking dated as direct aisle access becomes the industry standard. The new 1-2-1 layout aims to modernize this, offering direct aisle access for all passengers.
What's Hot:
Direct aisle access
17.3″ 4K TVs
Bluetooth audio pairing
AC power outlets, USB-A, and wireless charging
Critical Note: While the 4K TVs are a flashy addition, the real question is whether LOT can deliver true 4K content or if this is just marketing wizardry.
Premium Economy: A Comfortable Middle Ground
LOT's premium economy is getting a facelift with Recaro's PL3530 seats. These seats come with ergonomic cushioning, adjustable recline, and a control panel. The 13.3″ 4K personal TVs with Bluetooth audio pairing are a welcome addition. Furthermore, the seats will feature AC power outlets and USB-C charging, ensuring passengers stay connected and powered up.
What's Hot:
Ergonomic cushioning
Adjustable recline
13.3″ 4K TVs
Bluetooth audio pairing
AC power outlets
USB-C charging
Economy Class: A Thoughtful Approach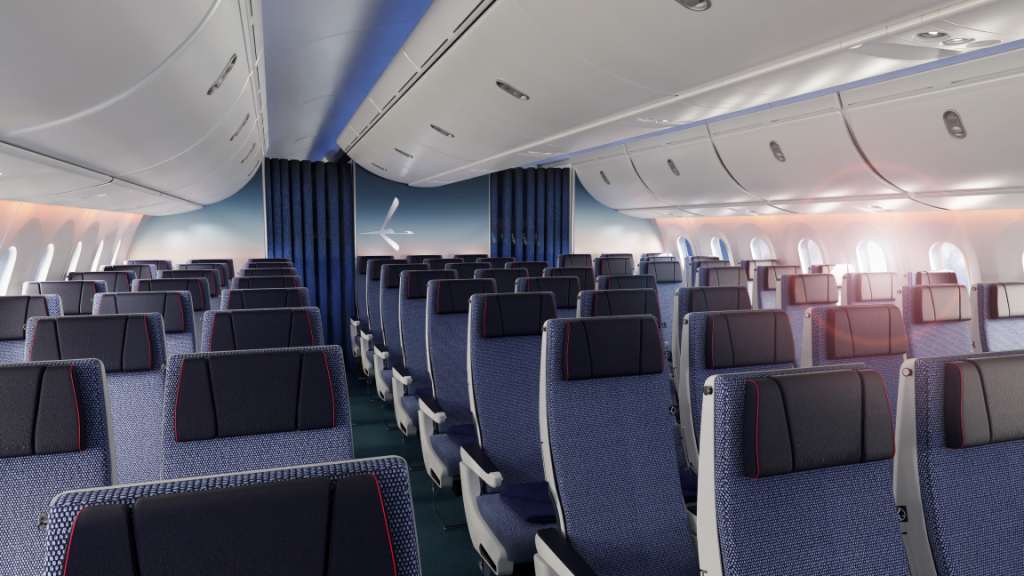 Recaro's CL3810 seats will feature in LOT's economy class, offering a six-way adjustable headrest, lumbar support, and up to six inches of recline. These seats will also boast 13.3″ 4K personal TVs with Bluetooth audio pairing. While USB-C charging is a plus, the absence of AC power outlets is a glaring omission.
What's Hot:
Six-way adjustable headrest
Lumbar support
Six inches of recline
13.3″ 4K TVs with Bluetooth audio pairing
USB-C charging
Conclusion
LOT Polish Airlines has ambitious plans, but the timeline and some feature gaps raise questions. The shift to a 1-2-1 configuration in business class is a significant upgrade, and the inclusion of features like wireless charging shows that LOT is paying attention to the details.
Bottom Line:
Business class is the standout
Wi-Fi is a long-overdue addition
The rollout timeline casts a shadow on future relevance
The long wait until 2026 leaves LOT with a challenge: ensuring these upgrades not only meet today's standards but also remain relevant in the fast-paced world of aviation.