The purchasing of a ticket these days is not a simple as one might think. Gone are the days of just booking a ticket in one of four seating groups: economy, premium economy, business and first class. With the advent of variable ticket pricing, understanding has become a little bit more complicated.
Within each seating group is a what is called a fare class (often also referred to as a fare bucket) with airlines operating twenty of more ticketing classes across the four groups.
Furthermore, within each fare class is an alphanumeric fare basis codes which are the individual constructions of the ticket when factoring in airline fare rules.
British Airways Travel Classes

British Airways operates a typical 2 cabin seating arrangement when travelling in Europe and a 3 or 4 cabin configuration when travelling to places further afield – usually the seating arrangements are dictated by the 2,000 mile rule
Travelling in Europe
Travellers in Europe can pick between two travel classes – Economy and (European) Business. With British airways, their European product is designated Euro Traveller and Club Europe respectively for Economy and Business.
Euro Traveller
---

Euro Traveller features leather seats, M&S on-board and on some flights Wi-Fi.
Club Europe
---
Club Europe features the same benefits as Euro Traveller but with access to departures lounges and complimentary food and drink service on-board.
Travelling Outside Europe
Travellers to the rest of the world can pick between 3 or 4 travel classes on a flight – the difference being that some flights do not offer a First Class product. With British airways, their International product is designated World Traveller, World Traveller Plus, Club World and First respectively for Economy, Premium Economy, Business and First Class.
World Traveller
---

Economy offers a standard product and is primarily aimed at offering a consistent product in multiple fare classes to meet the varying needs of the international traveller.
World Traveller Plus
---
World Traveller plus is a variant on the standard Economy Class with a longer pitch (more legroom) and a wider seat, it is ideal as a mid way between Business and Economy Class
Club World
---

While one of the oldest Business Classes in the air (being the first ever product to introduce flat beds in Business Class) it holds its own with exceptional service.
First
---

First is British Airways most luxurious product on offer. It the benefits of the product extend from not only when you are in the air but also on the ground before and after your flight.
What is a Fare Class (Selling Class)
A fare class (also known as a selling class) is effectively a subgroup of the Travel Class. A fare class is designated a letter and the common split is between a low fare and a flexible fare.
However, to complicate matters further, each airline runs its own lettering system so knowing one airlines fare class structure may not benefit you with another airline.
Airlines will release seats on a plane at different fare prices – a fare range will typically decrease in price but increase in the number of restrictions placed on it. In doing so, an airline will band a number of similar ticket prices together to create a fare class. In practical terms, fare classes are more commonly used by airline reservation systems or travel agents to sell seats on a plane with different requirements such as cancellation terms and rebooting flexibility.
Fare classes come with different rules such as:
hand baggage allowances;
permitted routings;
number of stop overs;
change and cancellation rules; and
minimum stay requirements (usually used to denote business and leisure travellers).
What this means is that if you take an economy ticket, it can give a quick indication as to how many tier points and Avios a ticket will earn you even though everyone will be sitting in the same seat.
The British Airways Fare Class
Earning Rates on Fare Class
British Airways divides its tickets in nine different ways, often offering 'lowest' and 'flexible' tickets in each cabin class – Economy has an extra class called 'low' slightly less tier points than a fully flexible ticket.
Each of these categories comes with at least one designation letter, though some come with many more. Here's the full list, including how many Avios you will earn if your ticket falls into that category:
Economy
Economy lowest – Q, O, G – 25% Avios of miles flown
Economy low – K, L, M, N, S, V – 50% Avios
Economy flexible – Y, B, H – 100% Avios
Premium Economy
Premium Economy lowest – E, T – 100% Avios
Premium Economy flexible – W – 150% Avios
Business Class
Business lowest – R, I – 150% Avios
Business flexible – J, C, D – 250% Avios
First Class
First lowest – A – 250% Avios
First flexible – F – 300% Avios
Fare Class Letters Explained?
While some fare classes have meanings assigned to their letters, some are arbitrary and help segment a travellers flexibility, here are some with meanings behind them
BA Fare Class G – Fare Class G is reserved for "Group" bookings whether that is simply a group booking at a reduced rate, or, it could mean travel agents who have taken a set number of seats on a flight to BA internal staff members who booked reduce fares and are placed in the lowest fare class.
BA Fare Class P – Fare Class P is reserved for Premium Economy redemption's
BA Fare Class U – Fare Class U can mean two things, either an Avios redemption in Business Class or a paid "Upgrade" to business class
BA Fare Class X – Fare Class X is reserved for Economy redemption's
BA Fare Class Z – Fare class Z is reserved for First Class Avios redemption's
How to Find the British Airways Fare class

British Airways make it easy to see your fare class whether during the booking process or finding out after you have booked.
Before you book
On The BA Website
Once you have selected your flights and cabin class, you will see a small "flight details" link below the flight time and operating airline. This will pull out the flight information as well as the selling classes in the popup.
---
On ITA Matrix
Alternatively it is possible to search for a fare code through ITA Matrix by entering the flight details.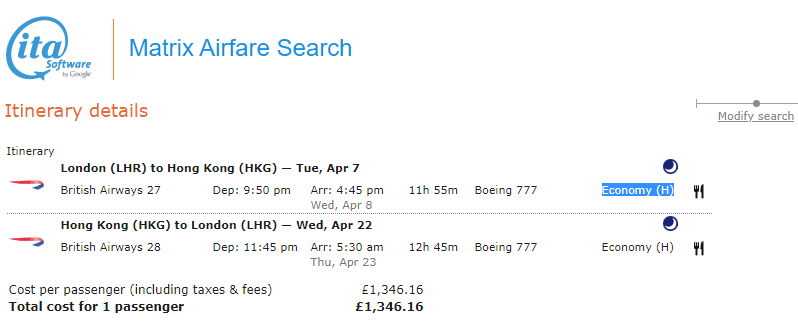 After you have booked
Alternatively, you can see your fare class in 'Manage My Booking'. Under the flight details drop down, there is a link to 'More Flight Information', which triggers a pop-up with the aircraft type, flight duration and other flight details and your 'selling class', which is you fare class.