In today's increasingly connected world, staying online has become an integral part of our lives, even when we're 30,000 feet up in the air. That's why many airlines are now offering in-flight Wi-Fi services, allowing passengers to stay connected during their flights. Qantas, is no exception, offering customers the convenience of in-flight Wi-Fi on selected domestic and international flights.
---
---
Which Planes Have Wi-Fi on Qantas?
Qantas provides complimentary Wi-Fi on select flights, based on the class of service and route. Qantas Entertainment app offers free Wi-Fi to all passengers on domestic flights in Australia. However, it should be noted that Wi-Fi is subject to aircraft type and route and cannot be guaranteed.
Regrettably, Qantas does not currently offer Wi-Fi on its international flights. However, this may change with the launch of Project Sunrise. However, as it stands, numerous airlines now offer Wi-Fi on international routes, and Qantas has yet to implement this service. This puts Qantas at a disadvantage to its competitors, as many passengers now prefer to remain connected during extended flights.
To determine whether your flight has Wi-Fi, please look for the following indicators:
Wi-Fi signal icon on the seatback screen of the aircraft.
In-flight announcement regarding the availability of Wi-Fi.
Checking the Qantas website or app for the aircraft type will indicate whether Wi-Fi is available.
Things to Know About Qantas Wi-Fi
Here are the key facts you should know about Qantas Wi-Fi:
Passengers on domestic flights have access to free Wi-Fi irrespective of the cabin class they are travelling in.
The airline advertises Wi-Fi speeds of up to 12Mbps.
speeds offered are fast enough to stream movies onboard
Wi-Fi is not available during specific flight phases, such as takeoff and landing.
Connecting to onboard is simple – just go to wifi.qantas.com
Wi-Fi is provided by ViaSat, and it is the same provider that American Airlines and Cathay Pacific use.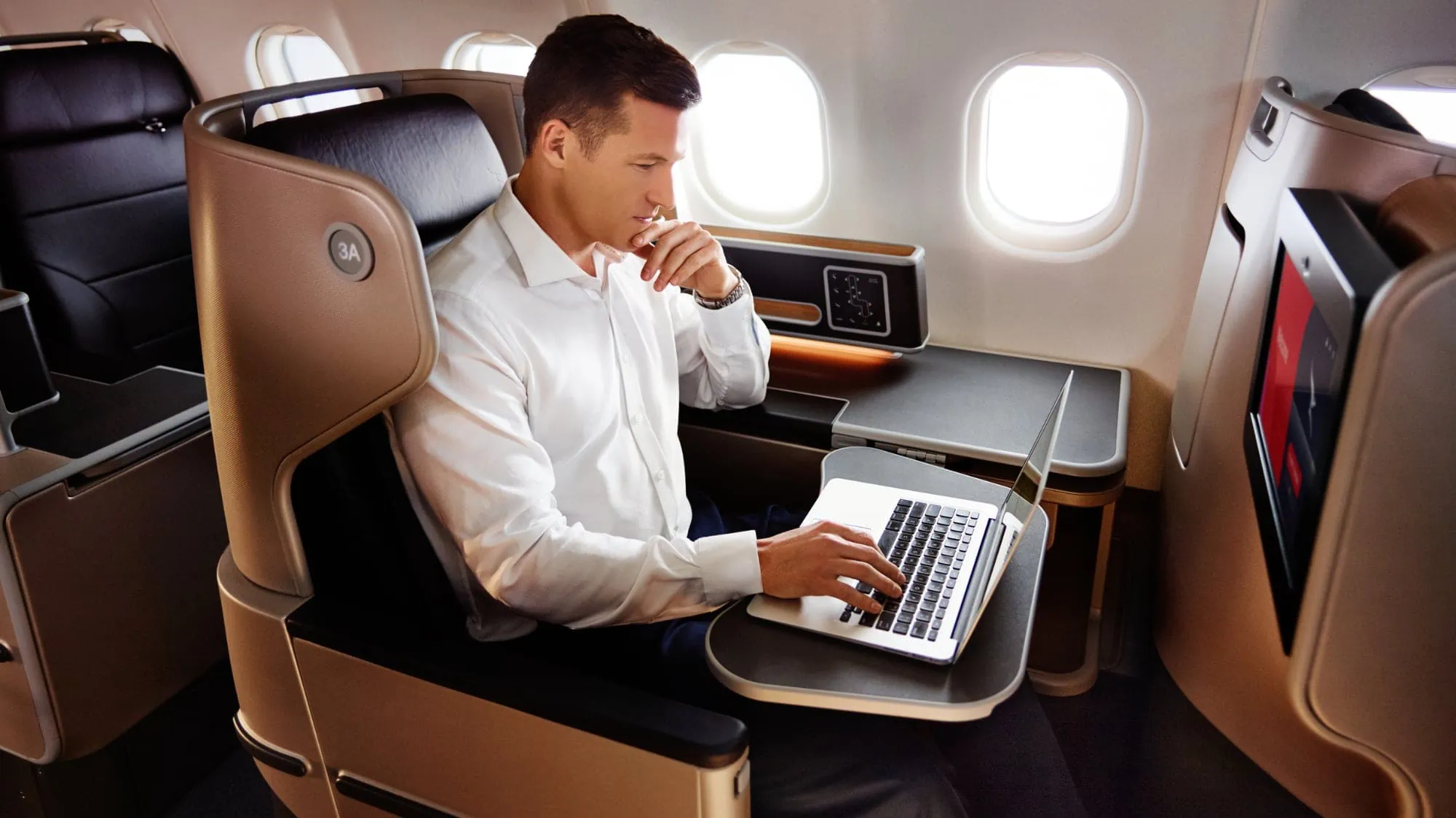 How Does Qantas Wi-Fi Compare To Other Airlines?
Qantas offers fast and reliable free Wi-Fi services to its domestic passengers, setting a high standard in the aviation industry. However, it's worth noting that other airlines are also stepping up to offer free Wi-Fi services to their customers. For example, neighbour Air New Zealand offers free Wi-Fi domestically as well (but charges internationally). KLM offers free text messaging on all its routes both domestically and abroad. And frontrunner JetBlue offers free streaming Wi-Fi on all its flights.
That said, the quality of the Wi-Fi on Qantas has been praised by many customers with reports of fast and reliable connections even when flying at high altitudes. While other airlines offer in-flight Wi-Fi, Qantas' service is considered to be superior in terms of speed and reliability – considering it's also free.
However, Qantas does not offer Wi-Fi services on international flights, which is a major disadvantage when compared to other airlines that do offer this service. Many of Qantas' competitors offer Wi-Fi services on international flights, making it easier for travellers to stay connected and get work done while flying overseas to Australia. Some airlines even offer free Wi-Fi to their customers on international flights, which is a huge selling point for those who want to stay connected while on long-haul flights.
Conclusion
In conclusion, Qantas is a top-tier airline that provides fast and reliable Wi-Fi services to its passengers. The airline has made great strides in providing free Wi-Fi to its domestic customers, making it one of the few airlines that offer this service. While the lack of international Wi-Fi may be a disappointment to some passengers, this is something the airline needs to find a solution to. In the meantime, Qantas' strong reputation and commitment to providing quality Wi-Fi services domestically make it a popular choice for travellers in Australia and beyond.