Back in 2017, Cathay Pacific put out a press release stating their intentions to outfit high-speed Wi-Fi onto its entire Boeing 777 and Airbus A330 fleets starting from mid-2018. Considering it had installed Wi-Fi capabilities on its new A350 fleet from day dot when it started taking delivery of them, the task meant it had to retrofit their existing fleet to support Wi-Fi capabilities.
However this is no small task, the backbone of Cathay's long haul fleet continues to be the 777 since the retirement of their commercial 747's representing some 50 or so aircraft. Then mix in some pro-democracy protests, Covid-19 and the demise of Cathay Dragon has, you could say, put a dent in the plans slightly. The press release stated "We envisage that by 2020, all of our wide-body aircraft will have inflight connectivity capabilities" and being at the tail end of the year it clearly isn't the case.
While Cathay Pacific was definitely not the first airline to introduce Wi-Fi on their fleet of aircraft – JetBlue is even known for offering free Wi-Fi to all passengers onboard – integrated technology was generally one of the areas which Cathay historically lagged in. Couple decades back, the carrier had made the conscious decision to focus heavily on customer service rather and their hard product rather than technological advancements; and while quality is arguably one of their biggest selling points, onboard connectivity is slowly creeping up the proverbial must-haves for passengers.
According to Inmarsat's annual Inflight Connectivity Survey, 61 per cent of travellers polled believe in-flight connectivity is more important than in-flight entertainment and 53% of people polled were willing to sacrifice their inflight alcoholic drink in exchange for access to Wi-Fi
What is the Cathay Pacific Wi-Fi Roadmap?
Since their initial launch of an Inflight Connectivity Solution, the roadmap has changed somewhat.
Back in 2010, Cathay partnered with Panasonic to provide broadband connectivity on all passenger aircraft the group operated. Bear in mind this is 2010 and with max speeds of up to 50 Mbps total across the aircraft, you weren't looking at fast speeds.
Bring this forward a couple of years, and with the arrival of Cathay's A350's, Panasonic updated the tech to include their newer eXConnect Ku-band system. However, Cathay opted to introduce Gogo 2Ku satellite-based Wi-Fi solution on their main long-haul fleet instead.
While this has been mainly good for passengers, Cathay's introduction of the 2Ku solution has created an adverse effect by introducing an inconsistent end-user experience. As of October 2020, Cathay Pacific was now the latest airline to recognise that maintaining multiple access portals is less than ideal. The company subsequently announced a deal with Deutsche Telekom to develop and deploy an updated portal solution fleet-wide.
How Much Does Wi-Fi cost?
Be it on the Panasonic newer eXConnect Ku-band system or the Gogo 2Ku system, you are bound to get similar performance and reliability as they are both powered by the same underlying technology.
However, this does come at a cost unless you are privileged enough to travel in first-class that is. Wi-Fi starts at $10 (£7.60) for an hour, $13 (£9.90) for up to six hours and $20 (£15.23) for the length of the flight. This offers fantastic value on some of Cathay's longer routes, like its New York to Hong Kong flights, which clocks in at a massive 16 hours.
From time-to-time Cathay does push one-hour free vouchers on their Wi-Fi landing page, although there's typically a limited number of vouchers, so they get snapped up fairly quickly. If you see a free WiFi offer on your flight, claim it right away as you don't have to redeem the voucher right away.
Furthermore, you can use the data across multiple devices, however you can only be signed into one device at a time.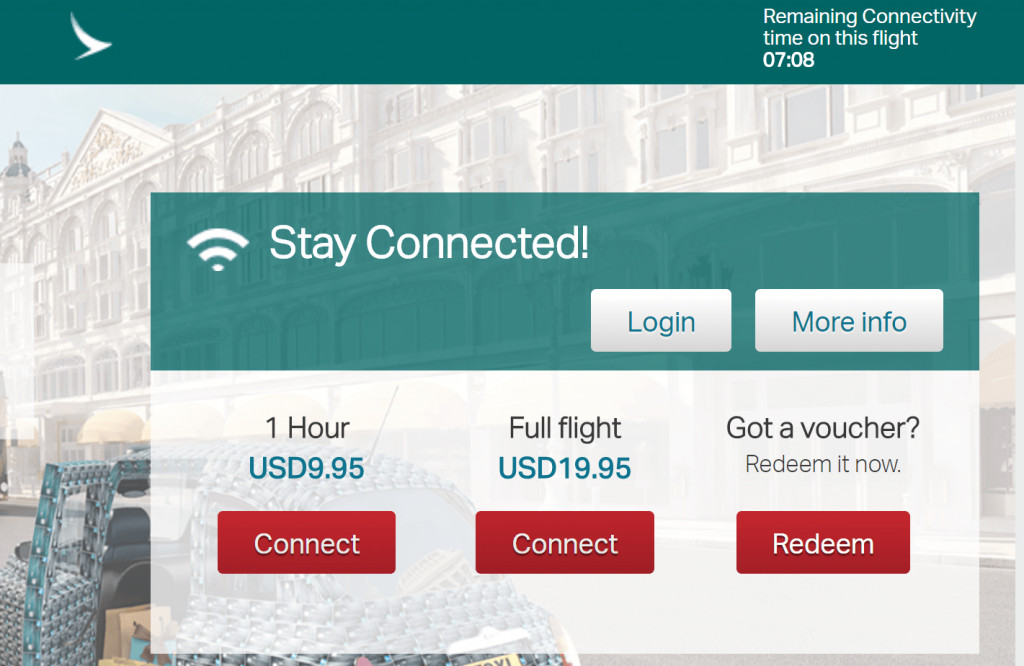 How Fast is the Internet?
Speed-wise, on the Cathay Pacific Wi-Fi network you are looking at 3Mbps on the A350's while A330's and B777's are expected to get 10Mbps due to the newer faster satellite system onboard.
The good thing is that Cathay has adopted the model of charging by time rather than by the megabyte which is what its Asian rival Singapore Airlines does. Without an effective data-cap, you are pretty much free to stream data-intensive applications like Netflix for instance – if you find the in-flight entertainment dull that is.
How to tell if your flight has Wifi
While all A350 900 and 1000 variants have integrated Wi-Fi from day one, the retrofit of B777 and A350's is a bit more complex.
To date, Cathay is still in the progress of retrofitting their A330's and B777's – this resource maintained by CX Flyertalk is invaluable, giving the lowdown on which planes have Wi-Fi fitted. To date, approximately 77% of the fleet has had Wi-Fi installed but it's a somewhat mixed bag.
As of now:
This makes 75% of all B777's and 84% of all A330's have completed the transition to having Wi-Fi onboard – your odds of getting a plane with Wi-Fi post-pandemic seems pretty good by this point.
In terms of routes, these aircraft are mainly used on flights between Hong Kong and the USA. Specifically, they tend to go to Los Angeles (LAX), New York (JFK), San Francisco (SFO) and Chicago (ORD). However, equipment gets swapped around a lot, so do check the seat map before making your booking to give yourself the best chance.
Connectivity Issues?
As with all systems there are times when the system doesn't work, unfortunately its a bit more aggravating 30,000 ft in the air.
If connectivity is working but you cant connect onto the Wi-Fi network the crew's only recourse is to direct you onto the live chat help function at wifi.cathaypacific.com. The live agent can help validate and grant access to Wi-Fi using a code or on worse case scenario asking you to re-purchase and issuing a refund inflight.
However there are outage zones due to lack of coverage or government regulations including India, Northern Polar Region and South Indian Ocean.
In Summary
Cathay is slowly developing a strong product, that has a few more months left to be fully operational. With that said, Even if you're not lucky enough to be travelling in the pointy end of the 777, it's probably worth the $20 for uncapped, full flight WiFi.