If you find an error or need to change or correct your name after booking a Delta ticket, don't worry. This guide will walk you through Delta's name change and correction policies, the process, and any associated fees.
Booking flights requires attention to detail, especially when it comes to ensuring your name on the ticket matches your identification documents. Unsurprisingly little is actually known about Delta's name change and correction policy and next to nothing has actually been published about it.
Delta's Name Change and Correction Policy
Delta Air Lines understands that errors can occur and allows passengers to make minor name corrections without additional fees. However, significant name changes, such as switching to another passenger, are not allowed. Delta's name change and correction policy allows for:
Minor spelling corrections
Name adjustments due to marriage, divorce, or legal name change
Correcting the order of first and last names
All Delta Air Lines reservations require a valid first, middle, and last name as provided by the passenger. Initials, in lieu of a first, middle, or last name, are not permitted. See Delta's TSA Secure Flight page for more information. Additionally, you can refer to our TSA PreCheck page for more information on expedited security screening which may be useful.
Remember to make any name changes or corrections before your travel date, as changes are not allowed once travel has commenced. All fares are subject to the restrictions that apply to the particular fare, as mentioned in Delta's ticket rules and restrictions.
If you travel frequently with Delta, it's a good idea to save your name in your account to avoid any errors in the future.
Invalid Name Changes:
Name changes are not permitted on reservations unless entered for the purpose of correcting a misspelling of the passenger's name.
Contact customer services for assistance with misspellings to avoid cancellation of space. if you are a Delta Medallion elite status member contact numbers can be found on the following status tier can be found following these links for Diamond, Platinum, Gold, and Silver Medallion members respectively.
According to Delta's travel agent support, the following name corrections are allowed without a waiver code:
Correction to the first or middle name
Correction to the last name
Addition to the last name without changing the name
First and last names are inverted on the ticket
Since these changes can be made without a waiver code, Delta customer services should not have an issue making a name correction for you.
If you're curious, a waiver code is a unique code provided by airlines to authorized agents, allowing them to override ticketing rules or restrictions for specific changes, such as name corrections or date changes, without incurring additional fees or penalties.
24-Hour Risk-Free Cancellation
As part of Delta's Customer Commitment for customers who book directly on delta.com or the Fly Delta app, Risk-Free Cancellation means that after you've purchased a qualifying eTicket, you have up to 24 hours after booking to cancel it for any reason and receive a full refund with no fees. This 24-hour window provides an opportunity to correct any name errors without penalty.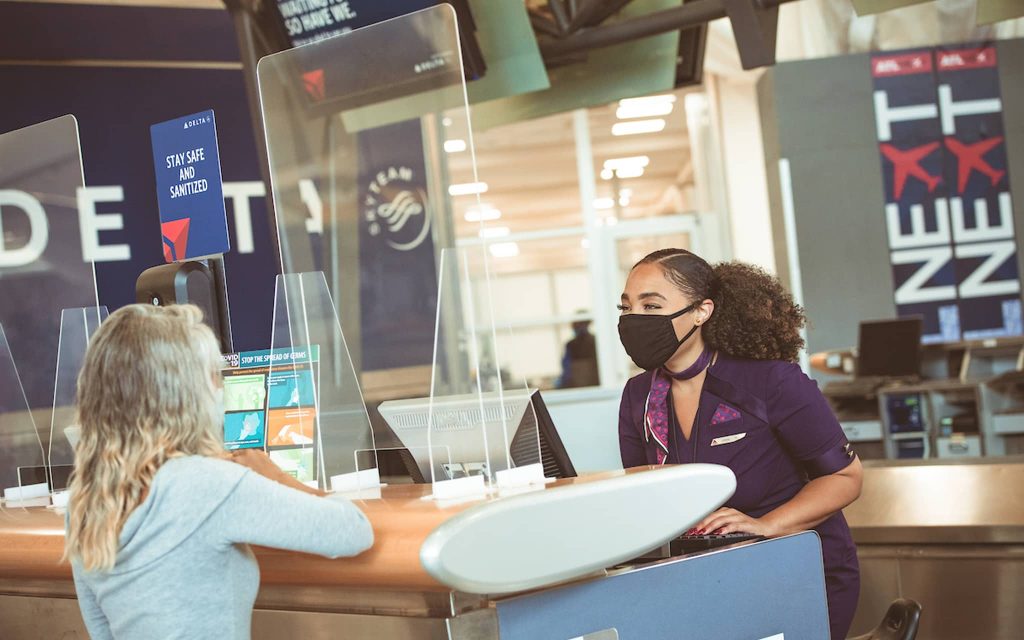 How to Change or Correct Your Name on a Delta Ticket
To change or correct your name on a Delta ticket, follow these steps:
Contact Delta Air Lines customer service as soon as you notice the error.
Provide the customer service representative with your reservation number and explain the name issue.
The representative will guide you through the process and inform you of any applicable fees.
Delta Medallion members can use the following links for contact information: Diamond, Platinum, Gold, and Silver.
Delta Name Change and Correction Fees
Minor name corrections, such as fixing spelling errors, are generally free of charge. However, significant name changes, including swapping passengers or adjusting names due to marriage or divorce, may incur additional fees depending on the fare type and specific ticket restrictions. Be sure to review the ticket rules and restrictions before proceeding with any changes.
Conclusion
Mistakes can happen, but understanding Delta Air Lines' name change and correction policies can help you navigate the process smoothly. Remember to double-check your ticket information before and after booking to avoid any issues, and contact Delta customer service for assistance as needed. With these guidelines in mind, you can ensure a stress-free flying experience with Delta.