Delta Comfort+ is a premium economy class product offered by Delta Airlines that provides passengers with a more comfortable and convenient travel experience compared to standard economy class. With additional legroom, premium snacks and beverages, priority boarding, and more, Delta Comfort+ is a popular choice for those seeking an upgrade without the price tag of first-class or premium cabins.
---
---
What is Delta Comfort+?
Delta Comfort+ is a premium economy class product offered by Delta Air Lines, designed to provide passengers with an enhanced travel experience compared to standard economy class. This option is available on all Delta and Delta Connection two-cabin aircraft system-wide, covering both domestic and international flights. Delta Comfort+ fares are booked in "W" Class and the seating is considered "Delta Preferred" seating, which falls between Delta Economy Class and Business Class.
By choosing Delta Comfort+, passengers enjoy a range of benefits that make their journey more comfortable and convenient.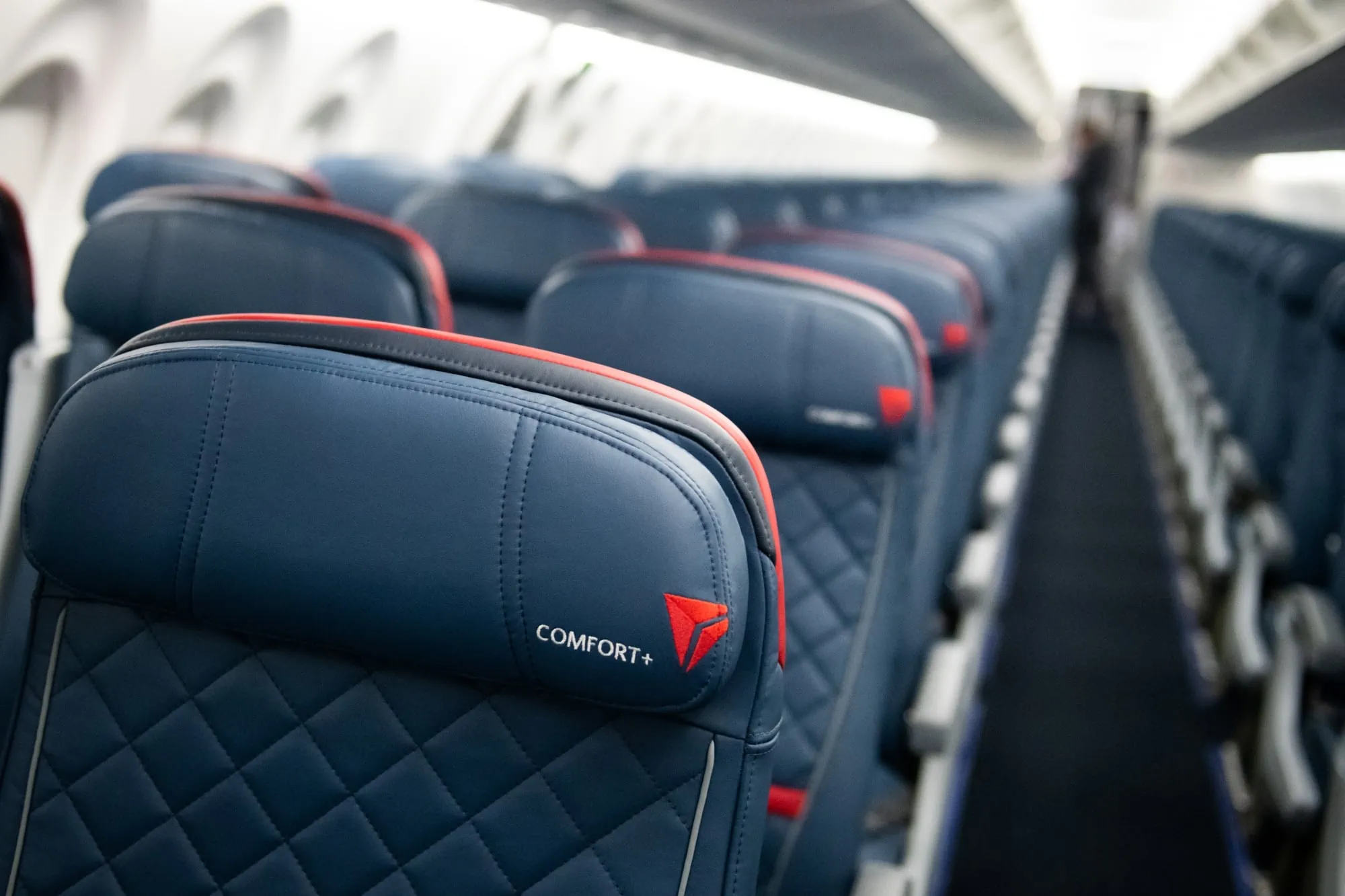 What's Included in Delta Comfort+
Delta Comfort+ provides passengers with an enhanced flying experience, offering various amenities and benefits. Here are the key features included in Delta Comfort+:
More legroom and extra recline: Delta Comfort+ passengers can enjoy additional space and comfort with up to 3 more inches of legroom and, on certain flights, extra recline.
Premium snacks and beverages: Complimentary premium snacks are available on flights over 900 miles and select routes. Starbucks®, beer, wine, and spirits are also offered on flights over 250 miles for passengers aged 21 and above.
Seat location: Delta Comfort+ seats are located closer to the front of the aircraft, allowing passengers to be among the first to disembark.
Sky Priority boarding and dedicated overhead bin space: Delta Comfort+ passengers can board the plane earlier and have access to dedicated overhead bin space for their carry-on luggage.
Wi-Fi: Delta Comfort+ passengers have access to Wi-Fi when it is available on the aircraft.
Complimentary pillows, blankets, and sleep kits: Pillows and blankets are available on request for all flights, while sleep kits are provided on certain transcontinental flights and long-haul international flights.
Complimentary premium entertainment: Delta Studio offers a range of entertainment options, including in-flight streaming, seat-back screens, and overhead screens. Entertainment availability may vary by aircraft and route.
What's Not Included in Delta Comfort+
No free checked baggage: Delta Comfort Plus does not include a free checked bag on domestic flights. Passengers will need to budget for this cost, upgrade their flight to a higher class, or purchase a checked bag online.
Cancellation and change policy: Comfort Plus upgrades mainly focus on seating and do not provide more flexible cancellations than standard seats.
No lounge access: Delta Comfort Plus does not include any lounge access at the airport, including for Delta Sky Club locations. Access can be obtained through memberships with Delta Sky Club, Delta SkyMiles Reserve American Express Card, Delta SkyMiles Platinum American Express Card, or other qualifying memberships.
Priority boarding ≠ premium boarding: Delta Comfort Plus is the third boarding group called, which can be well after the first passengers enter the plane.
No enhanced service: Delta Comfort Plus passengers will experience Delta's standard "signature service" and not the higher level of service experienced in first class.
While you are paying more for a slightly better Main Cabin seat, the benefits may not always justify the additional cost. Upgrades are often available in the Main Cabin, which can result in spending less money than purchasing a Comfort Plus ticket. Additionally, if you're aiming for a luxurious flight experience, it might be worth considering options beyond Delta Comfort Plus, as this class does not provide the same level of service as First Class or other premium offerings.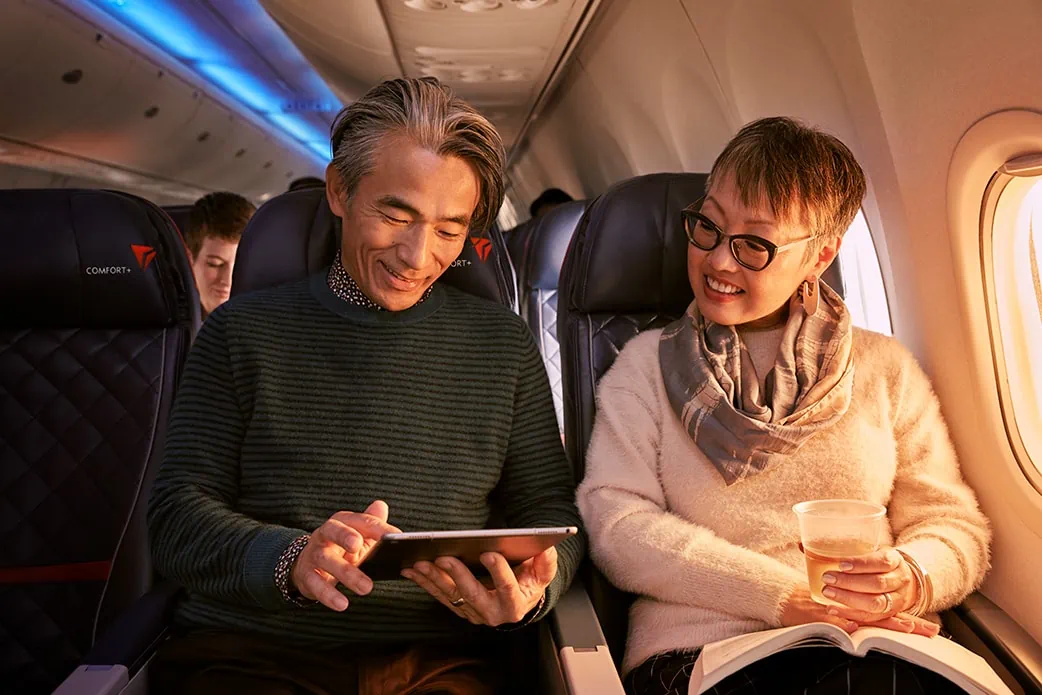 Comparing Delta Comfort+ with Other Classes
Delta Comfort+ offers a unique combination of features that make it stand out from other seating classes.
The choice between Main Cabin Economy, Delta Comfort+ or Delta Premium Select ultimately depends on how much you value these extra perks and whether they are willing to pay a premium for an upgraded experience.
Delta Comfort+ vs. Economy Class
When comparing Delta Comfort+ to Economy Class, they share some similarities in service and amenities, however, the biggest perk with Comfort Plus is the additional space. Passengers in Comfort+ benefit from increased legroom and, on select longer flights, extra recline, which can make a significant difference in overall comfort, especially during long journeys. This additional space is particularly advantageous for taller passengers, making long flights infinitely more comfortable for the vertically gifted.
In terms of in-flight services, Comfort+ passengers enjoy a wider selection of complimentary snacks and beverages. Additionally, Comfort+ customers have access to complimentary premium entertainment through Delta Studio, while Economy Class passengers may face limited entertainment options depending on the aircraft and route.
Delta Comfort+ vs. Delta Premium Select
Delta Comfort+ and Premium Economy (Premium Select) are both upgraded seating options, but they cater to different travel needs and preferences. Comfort+ is still considered an economy product, positioned at the front of the main cabin, while Premium Select is a separate cabin altogether, offering a higher level of service and luxury.
Premium Select is available only on select long-haul international flights and provides more legroom, pitch, and leg rests compared to Comfort+ seats. The food and beverage offerings in Premium Select are set regardless of the route's distance, while Comfort+ offerings vary based on the distance flown. In-flight entertainment screens are larger for Premium Select passengers, who also receive noise-cancelling headphones.
Both Comfort+ and Premium Select provide complimentary pillows, blankets, and sleep kits on certain transcontinental and long-haul international flights. Additionally, as a step up from Comfort+, Premium Select affects elite status earning rates more favourably.
How to Book Delta Comfort+ Seats
Booking Delta Comfort+ seats is simple and can be done using the following methods:
During the booking process
The easiest and most convenient way to secure Delta Comfort+ seats is to select it as your preferred fare class when searching for flights on the Delta website or app. After entering your flight details and selecting your preferred cabin class, you can choose Delta Comfort+ as your seating option. The search results will display available Delta Comfort+ seats and their corresponding prices. You can then select the best option for your needs and budget.
Naturally, there is an additional charge for Delta Comfort+ seating, unless you are a Delta Medallion member who is eligible for standby upgrades.
Upgrading an existing reservation
If you've already booked your flight and later decide to upgrade to Delta Comfort+, you can easily do so through the "My Trips" section on the Delta website or app. Locate your reservation and click on the "Upgrade Seat" option to view available Delta Comfort+ seats and their prices. You can then select the seat that best fits your needs and budget.
Standby upgrades
Delta Medallion members may be eligible for complimentary upgrades to Delta Comfort+ on a standby basis. If your account preferences are set accordingly, your request for an upgrade will be automatically made at the time of booking. Standby upgrades are subject to availability and will be confirmed on the day of departure.
Delta Platinum and Diamond level members can select Comfort Plus seating for free after purchasing their tickets.
Delta Gold members may select these seats within 72 hours before takeoff, while
Delta Silver members can select the remaining Comfort Plus seats within 24 hours of takeoff.
Conclusion
In conclusion, Delta Comfort+ offers a range of benefits and amenities that make it a great option for passengers looking to enhance their in-flight experience. By booking Delta Comfort+ seats, passengers can enjoy more comfort and convenience, and make their journey more relaxing and enjoyable. Whether it's during the booking process or upgrading an existing reservation, Delta Comfort+ is an easy and straightforward option for those seeking an upgraded economy-class experience.