The Pier, First is one of two lounges which Cathay Pacific's offers a dedicated first class product. Refurbished in 2015 along side the airlines re-brand, it has a capacity for 231 with the new space expressing the the heartfelt warmth, considered simplicity, and contemporary Asian values that the airline wishes to portray.
Hong Kong
Location of Lounge
Emerald
Oneworld Status Required
The Pier (First Class):
About the Lounge
The Pier (First Class):
Facilities
The Retreat
The Retreat (or the day suites) are pods which provide unparalleled views of the apron.
The 8 day suites are located to one side and down a long hallway. Inside there the rectangular room is a lounger with accompanying dimmable lights and sockets to charge your devices.
The Dining Room
The dining room is one of the better rooms and a must go if you want something a bit heavier than what is on offer in the pantry. While offerings have included traditional dishes such as clay pot rice, to finer dishes such as ravioli; to staples such as a classic American cheeseburger.
However a common theme of complaint (albeit if you are frequent traveller to first class lounges – a VERY first world problem) is that the quality of food went downhill since they changed to Sodexo catering.
The Pantry
The Pantry is a small cubby area which offers small bites including macron,bite size cakes, breads and fruit.
Aside from the afternoon tea delights, there is a fridge which is stocked full of fruit juices, soda's and beers. The self serve coffee machine is also a plus but nothing special.
The Bar
The centrepiece of The Bar (as opposed to the bar in the dining room) is the U-shaped bar in the middle as you walk in.
Drinks on offer include several cocktails, mocktails, spirits wines and soft-drinks. While the drink selection is the same as in The Dining Room, any drink is pretty much available on request.
Seating is varied enough to allow for individuals to small groups to have a space for themselves, whether that is on the tables to the left or loungers to the right.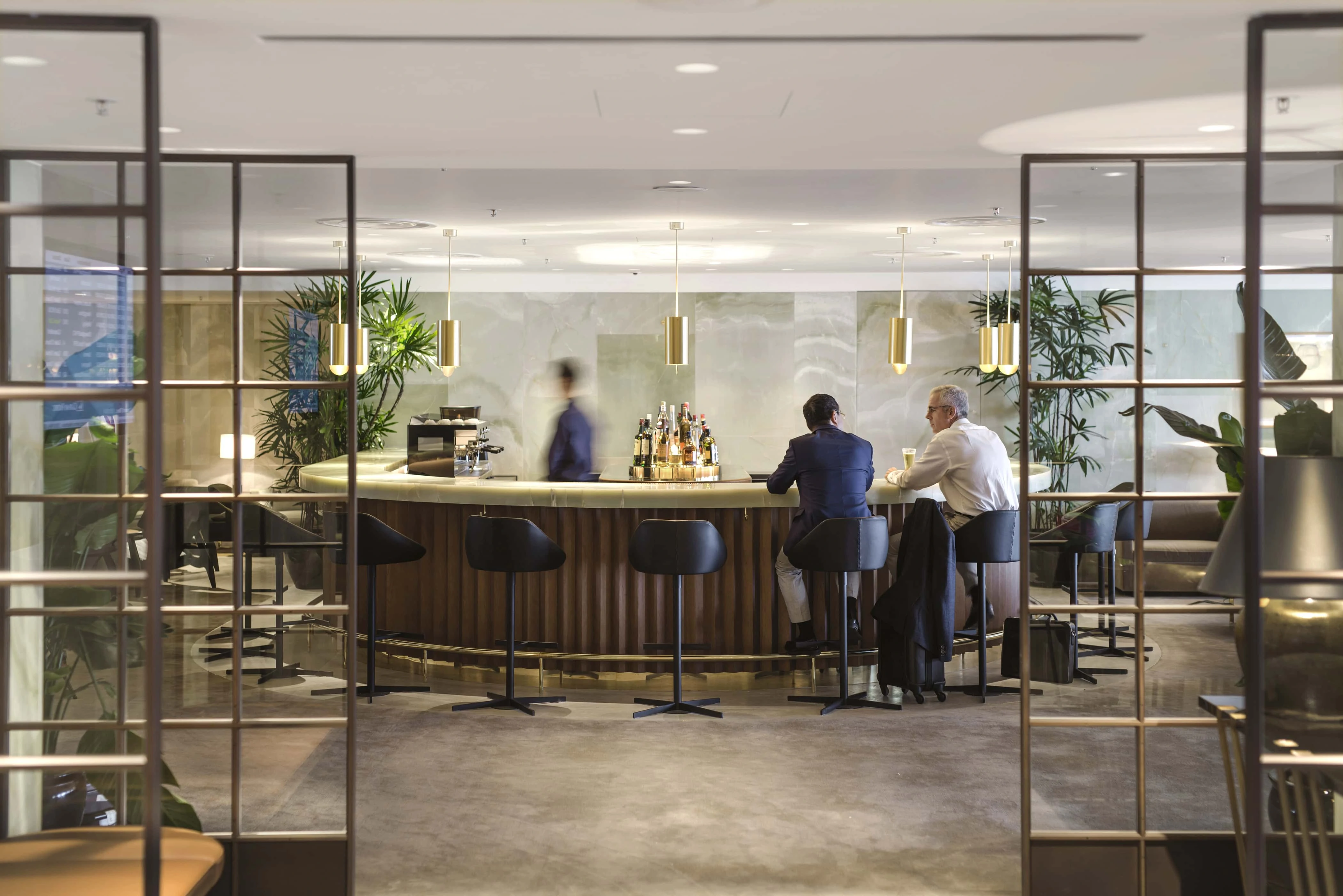 The Bureau
The Bureau offers a chance for those busy travellers to get some work done (not sure how much there is left considering every exec is now strapped with phones and laptops.
The bank for 6 rooms come equipped with Imacs and phones which are handy if you need to do some work quickly and are worried you will run out of battery from leaving the lounge to when you board your plane.
Want to know More