American Airlines & AAdvantage
American Airlines along with its subsidiary American Eagle are the world's largest airline operating out of 10 hubs and serving nearly 350 destinations.
Its loyalty program was the first airline loyalty programme in the world when it debuted in 1981
American Airlines Frequent Flyer Basics
FFP
aadvantage
American Airlines Frequent Flyer Program is aptly called the AAdvantage Program.

In every Oneworld Frequent Flyer program, there are two currencies which members collect simultaneously – Status Points (SP) which determines your elite status level and cannot be spent and Reward Currency (RC) which can be exchanged for airline benefits and rewards.
SP
EQM // EQS // EQD
To Move up the ranks with American Airlines, the airline use 3 metrics to calculate elite status.

EQD = Elite Qualifying Dollars
EQM = Elite Qualifying Miles
EQS = Elite Qualifying Segments

Your elite status is based off a combination of total EQD's PLUS either total EQM's or total EQS's on eligible-fare tickets in a given year.

A Membership Year with American Airlines is calculated from 1st February to 31st January the following year.
RC
Flight miles
Flight Miles, or simply miles, is the name of the Reward Currency used by American Airlines.

A points-based reward scheme used by the airline were you can exchange accrued Award Miles for reward seat redemptions, flight upgrades and other travel-based experiences.
Oneworld Sapphire
American Airlines AAdvantage Platinum is equivalent to Oneworld Sapphire status and you will receive similar benefits when flying with other Oneworld Alliance members.
At least 12 Months
For American Airlines members, you will have the status for a minimum of 12 months.

If you qualify for a higher tier in your current membership period, you will be given the higher tier for your current year plus the year you have qualified for.
No Soft Landing
For AAdvantage members, gone are the days of soft landings, where an airline would drop you down a status if you didn't re-qualify the following year.

However, in 2014 according to a FlyerTalk article, the airline dropped their generous perk of soft landings – likely due to the other two legacy carriers foregoing this perk around the same time.
There is no other use for Status Points other than setting your elite status; they cannot be spent.
How to Collect Tier Miles
When you travel with American Airlines, a Oneworld partner airline, its subsidiaries, or in some specific cases non-Oneworld member airlines you earn Tier Miles with which you can use to achieve higher levels of elite status and unlock different rewards as you do.
The AAdvantage Blue membership is the most basic and is available to everyone as it does not come with any benefits except the ability to earn Status Points and Reward Currencies. Gold, Platinum, Platinum Pro and Executive Platinum status are earned and come with a varying degree of benefits.
Moving up the ladder within American Airlines AAdvantage is completely dependent on the number of Elite Qualifying Miles, Dollars and Sectors (Status Points) accrued within a given year, and unlike Flight Miles, expire after a set time – in this case, Status Points expire at the end of your membership year.
Status Points can only be earnt by actually flying, not by signing up to credit card deals. There is no other use for Tier Miles other than setting your elite status; they cannot be spent. The general rule is that they are usually based on the distance of the flight and the fare class you are travelling in.
American Airlines AAdvantage Program works a little differently than to other Oneworld members. Some differences include:
Miles Based Calculations
American Airlines AAdvantage program is a mileage-based and Revenue-based reward program, unlike its counterparts British Airways and Cathay Pacific which are zone-based reward programs.

but unlike Japan Airlines which is also a mileage-based program, the miles accrued are based on the distance between the Airports rather than the Cities that Japan Airlines uses.
Miles on Renewal
Unlike Royal Jordanian or Royal Air Maroc, members require the same number of qualifying status points to re-qualify in the following year.
No Mid-Tier Bonus
Unlike its alliance counterpart Cathay Pacific, American Airlines does not offer mid-tier status to its members.
Lifetime Status
Following the AAdvantage devaluation in 2016, it is not possible to earn top-tier elite status for life. AAdvantage members can unlock lifetime status upon reaching the below milestones.

1 million miles = lifetime AAdvantage Gold status
2 million miles = lifetime AAdvantage Platinum status
Routes to Earn American Airlines Platinum Status
With Miles
The main way to reach AAdvantage Platinum is to fly with American Airlines, a Oneworld partner airline, its subsidiaries, or in some specific cases a non-Oneworld member airline and accrue miles.

To achieve American Airline AAdvantage Platinum status with miles, you need:

1. 50,000 Elite Qualifying Miles; and
2. A minimum of US$6,000 Elite Qualifying Dollars (spend)
With Sectors
Another way to reach AAdvantage Platinum is to fly a lot. American Airlines offers a route to Platinum for those who travel exceptionally frequently with the airline.

To achieve American Airline AAdvantage Platinum status with sectors, you need:

1. 60 Elite Qualifying Sectors; and
2. A minimum of US$6,000 Elite Qualifying Dollars (spend)
With Money
For those who want a fast track to elite status and are willing to pay for it, American Airlines Airpass (formerly AApass) can be a good option.

However it does cost and for American Airlines Platinum status, it will cost you US$20,000 per year.
Life Time Status
For the most frequent of travellers, once you a mass 2 million miles across your membership lifetime, you will be able to keep Platinum status forever.

It is not possible to earn lifetime status in a short period of time. To put this into perspective, you will need to achieve Executive Platinum status for 20 years before you will reach lifetime Platinum status.
Benefits of American Airlines AAdvantage Platinum
Outline of the Benefits of having AAdvantage Platinum membership.
Complementary Auto Requested Upgrades
Upgrades are valid on American marketed and operated flights, within and between the U.S. and between the U.S. and Canada, Mexico, the Bahamas, the Caribbean, Bermuda and Central America.

Upgrades are valid from the Main Cabin to the next class of service. Upgrades aren't allowed on Basic Economy fares.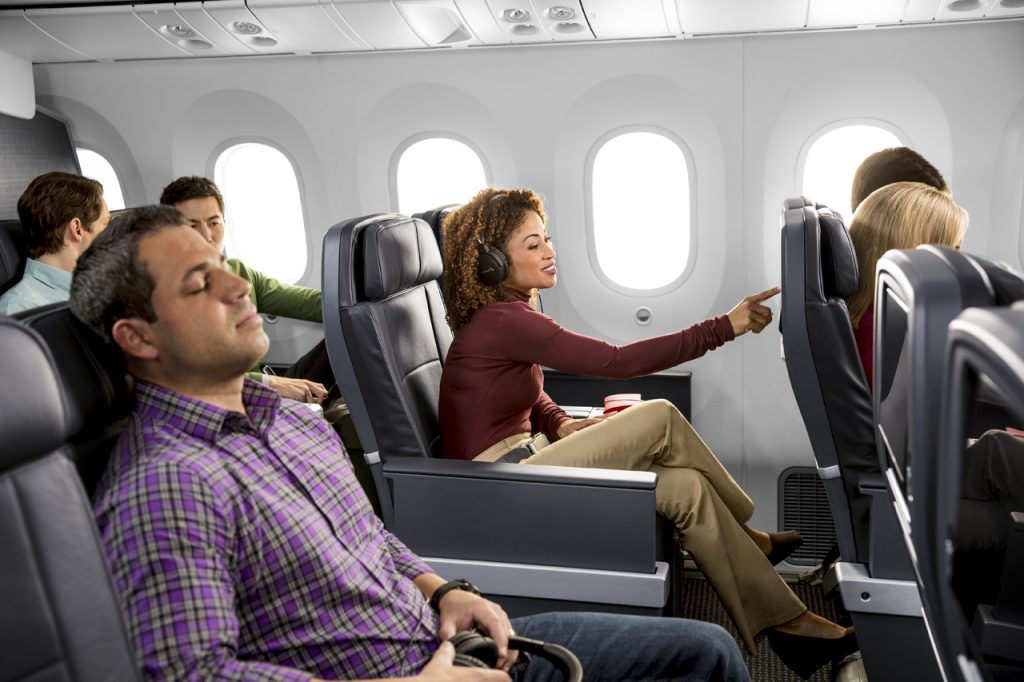 Extra Bonus Miles
When flying on Oneworld Marked flights
When travelling on eligible Oneworld flights you will receive 60% bonus Flights Miles.

When you travel on select Oneworld airlines (such as British Airways) you can also be entitled to cabin bonuses which act as a multiplier when calculating Flight miles.
Complimentary same-day Standby.
When travelling on American Airlines to select destinations
There's no charge for all elite members to standby for a different flight on the same day of travel when flying to/from:
– United States and the U.S. Virgin Islands
– Puerto Rico
– Canada
– Caribbean (select destinations)

Priority Check In
irrespective of class of service
Members have access to use Business Class check-in desks when flying internationally or domestically on either American Airlines or other Oneworld carriers.
Business Class Lounge Access
AAdvantage Platinum members get Business class lounge access for themselves and either one companion across the Oneworld network.

When travelling within North America, American Airlines operates a scheme similar to Qantas whereby if you are travelling on a domestic only flight, you are not allowed to access the lounges unless you have Admirals Club membership. However, a quirk is that this rule does not apply to members holding Oneworld elite status with airlines other than American Airlines.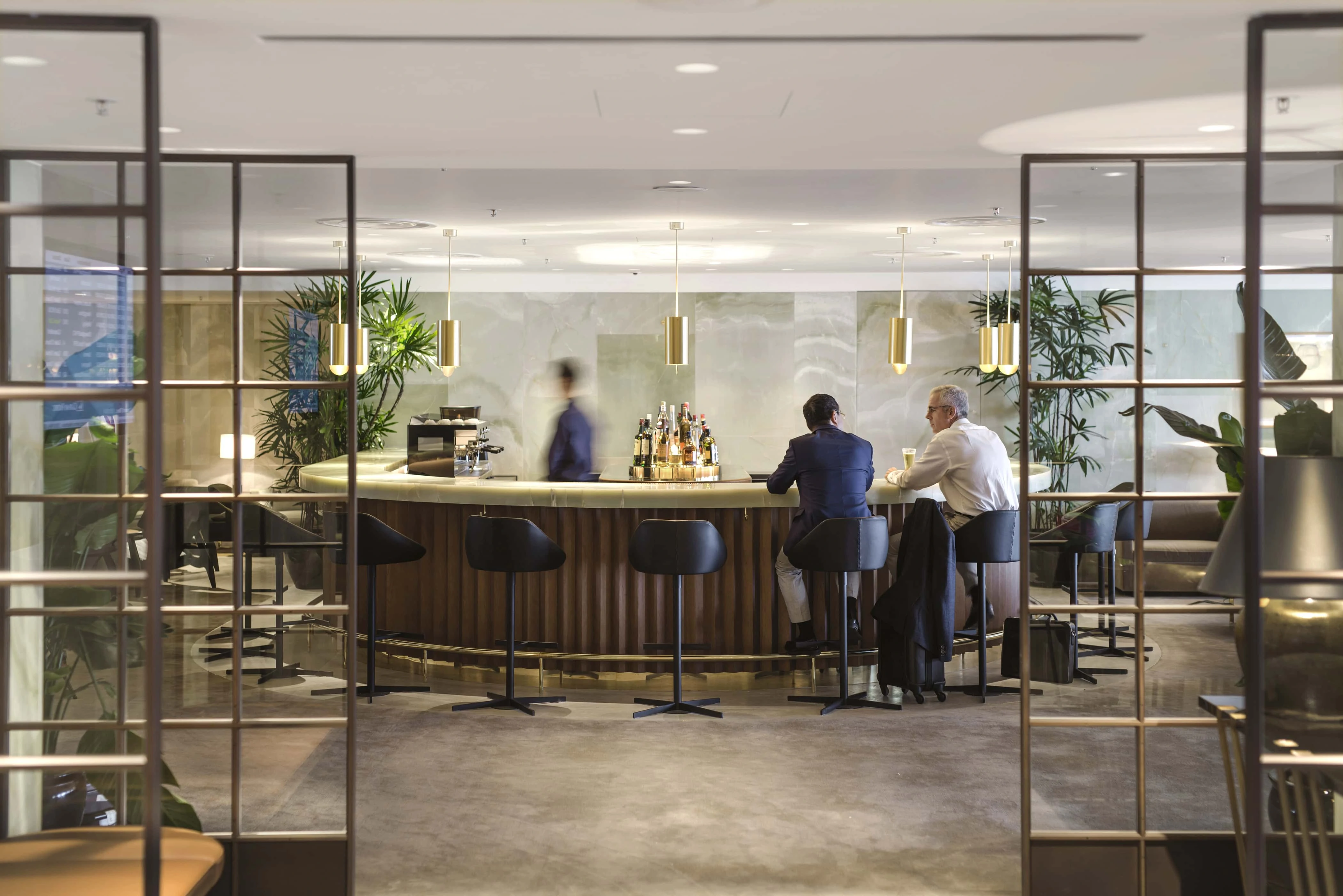 Priority Boarding
When on American Airlines or Oneworld Member airline
With Platinum status, you are also able to board before the general boarding group.

Generally speaking:
Group 2 – Executive Platinum and Oneworld Emerald
Group 3 – Platinum Pro, Platinum and Oneworld Sapphire
Group 4 – Gold and Oneworld Ruby
Extra Luggage Allowance
Variable rules depending on Airline and travel location.
Luggage policies can be found on the American Airlines website.

Platinum & Oneworld Sapphire members travelling on American airlines members can get up to 2 checked bags when travelling on a 2 class configured flight.

When on a Oneworld marked and operated flight your status as an Emerald member entitles you to 15kg (if the airline uses the weight system) or 1 extra checked bag (if the airline uses the piece system). However, the fact you are able to bring 2 checked bags as a oneworld Sapphire is more generous than other members.
Fast Track Through Security
When possible
Executive Platinum, Platinum Pro and Platinum members may check in at any First Class lane regardless of the class of service in which you are traveling on American Airlines.

When flying on a Oneworld carrier your status may afford you fast track through security at select airports.
Calculating the Number of Tier Miles Earned
American Airlines calculates the Elite Qualifying Miles based on the distance (in miles) from the departure and arrival destination and assigning a percentage multiplier based on the class of travel.
However, the class multiplier changes slightly when travelling on Oneworld Alliance members.
As such, the number of Elite Qualifying Miles earned is dependant on 3 factors, the Route, the carrier you have flown with, and the class of travel.
Cabin
Fare Class
EQM's
(per mile flown)
Full Fare First / Business
F , J
3
Discount First / Business
A , D , I , R
2
Premium Economy
W , P
1.5
Economy
Y , H , K , M , L , B , G , S , N , Q , O
1
Basic Economy
B
0.5
Based on 2019 information
Basic Economy has its own set of rules, which, even with elite status, there are some limitations.
AAdvantage Frequent Flyer Cards