Rocketmiles is an Online Travel Agent through-and-through with the key focus on rewarding you airline miles for hotel stays. Their approach is similar to that of Kaligo and PointsHound and is in contrast to Hotel loyalty programs, where you earn in their program (assuming they have one) or the likes of Agoda, Booking.com or Hotels.com for that matter as they have their own rewards program.
The main people benefiting from Rocketmiles are corporates – even stating on their website "Receipts of purchase are attached as a PDF to your confirmation email and are designed for expense reporting. They do not mention rewards".
The one thing to be aware of is that Rocketmiles doesn't have access to all hotels, they usually stick to upmarket properties – again sticking with the corporate theme.
If you are booking a business stays, note that Rocketmiles does not produce VAT receipts.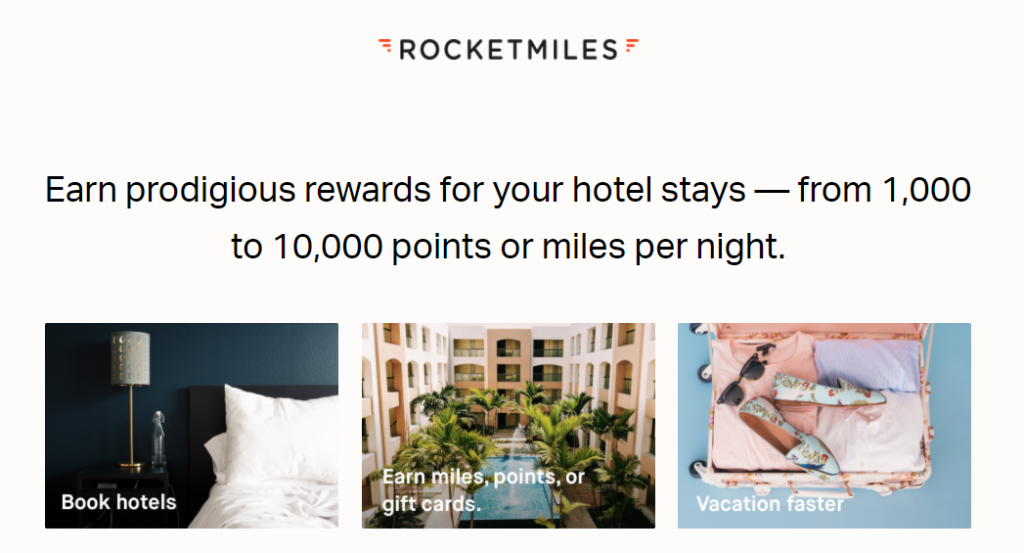 Rocketmiles can credit to:
While the above is not an exhaustive list, there is also routes to credit to airlines who don't subscribe to Rocketmiles – such as going through Heathrow rewards – allowing you access to Lufthansa Miles and More or Singapore Airlines Krysflyer for instance.
How Many Rocketmiles will I earn?
Rocketmiles earnings aren't tied in to the property or price. As a result, there's no way to estimate how much you'll earn without doing a search on Rocketmiles. The exact type of earnings that you'll earn on a given stay often differs based on the program selected. Rocketmiles claims customers earn an average of 3,000 rewards points per night and 7,000 per trip.
The short answer for why the redemptions are different is because of the weight airlines put on 1 mile. For example, here's the same search for the same dates in Hong Kong calculated on two Zone-Based loyalty programs. On the top, you have British Airways and on the bottom, you have Qatar Airways. Qatar Airways weights their miles as more valuable when it comes to their redemption chart.
Prices can also fluctuate within the same reward scheme – a likely cause of commission structures paid by the hotel.
Unsurprisingly, the more you spend with rocketmiles the more miles you can earn.
Earning From other peoples bookings
One of the added benefits of the corporate theme that Rocketmiles envelop is the idea of rewarding you for making the booking, even though you may not be the person staying in the hotel.
Can I book for other people and earn the rewards for myself?
Absolutely. While booking the room, just enter the actual guest's name who will be checking in as "primary guest." Make sure to add your own loyalty account on the same page.
This is huge, as it lets you earn tons of miles for stays made by your acquaintances, family, friends, etc. It's especially awesome for those who frequently stay in hotels but can't be bothered to care about loyalty programs. You might as well profit off of helping them plan their travels a bit.
Rocketmiles Boost
With the "Boost" and "Ultra-Boost" option, you are effectively buying miles. Neither option is an excellent deal, and certainly not something I would recommend. You can usually buy miles directly from an airline significantly cheaper than this.
These "boost" options appear to be geared toward employees who will expense the entire booking cost to their corporate account and the function acts as a way to artificially manufacture spend.
Elite status points with the Hotels when booked through Rocketmiles?
The one downside of Rocketmiles is that your stays will be treated as 'non-qualifying' by the hotel. In general, this rule remains true with all Online Travel Agents – usually, their agreements with hotels is that they often commit to a number of nights with a hotel or earn a commission from selling nights and therefore able to offer the nights to you or me at a slightly reduced rate. The downside is that the hotel loses revenue and therefore are unwilling to offer perks booked through such sites.
If you're an elite member with a give hotel program or are working toward getting elite status, you'll probably want to book directly with that brand or use Rocketmiles to select a boutique property that isn't affiliated with a program.
Does Rocketmiles provide good value?
It's unlikely that Rocketmiles will be the cheapest on the market. It doesn't claim to be (quite clearly on its website) and doesn't target the market that is looking for the cheapest deals.
Rocketmiles clearly targets the market that is focused on airline miles. Therefore, don't be surprised if prices aren't the cheapest, or in some cases even more expensive than booking direct.
You should be comparing the cost of buying miles directly from the airline as a comparator and if the difference (having shopped around) is worth it.
Rocketmiles is part of the Booking Holdings group – ie. The one that owns booking.com and Agoda – so they pull from the same inventory. Considering Agoda runs a similar program with its Points Max reward strategy – there is defiantly scope to investigate.
Other factors you should be considering is cancellation policy and if there are any other fees if you require to change your booking.
I would only consider it 'good value' if the final price is in a reasonable margin when tallying up the bonus points earned through Rocketmiles and the credit card points you'll earn from the purchase vs. booking direct or other Online-Travel Agents.
In Summary
Rocketmiles provides an option for earning points, but it does come with a cost.
Would I blindingly book all my trips through Rocketmiles – probably not – it doesn't fit the 'good-value' ethos I am for, but there are certain use cases for it. If for example you are booking for someone else, or if an employer is paying then that is another matter – but it seems that Rocketmiles is geared towards that side of things.
Guilt and company policy aside, if the company is paying then why not. If you are forking over the cash then this may not be the best option, but it is an option potentially worth considering if you need a large number of miles to make a reward redemption shortly. I'd certainly recommend at least investigating your options on the site for your next stay.