If you are new to the world of VIP status' then the Qantas Chairman's Lounge may be a bit confusing.
Firstly, the name 'Chairman's Lounge' is a bit deceptive. It isn't really a lounge membership as it's also the name of Qantas' invitation-only tier.
While originally hush-hush, the Qantas Chairman's Lounge is now an open secret. Many have heard the name – and in fact, the airline's website now even acknowledges its existence. However, few will ever be invited to join.
The Chairman's Lounge has been around for give or take 30-to-40 years and it isn't even the most well-known invitation-only tier out there – arguably that title is given to American Airline's AAdvantage ConciergeKey which featured in the 2009 movie "Up In The Air," starring George Clooney.
---
---
For whatever reason, be it the exclusivity of the programme, there's a not-insignificant portion of the frequent flyer community that finds invitation-only status extremely appealing – each with its own allure and secrecy behind them.
In the United States, all three legacy carriers have their own elite status – AAdvantage ConciergeKey, United Global Services and Delta 360°. Internationally, other major players also have their own – Cathay Pacific has Cathay Diamond Plus, Emirates has Emirates iO, British Airways has Executive Club Premier status, and Singapore Airlines has PPS Club Solitaire, to name a few.
How To Get Qantas Chairman's Lounge Membership
The Qantas Chairman's Lounge is the epitome of luxury and exclusivity in the world of travel. But gaining access to this prestigious club isn't about money or frequent flyer points. Instead, it's about influence and connections. The lounge, operational for about 35 years, is described by Qantas Group chief executive Alan Joyce as "probably the most exclusive club in the country".
This lounge is reserved for VIP clients travelling on domestic flights within Australia. Membership is a privilege that lasts for two years, is renewed at Qantas' discretion, and comes with the perk of no fees and the ability to bring a guest.
Who Has Membership to Qantas Chairman's Lounge
You will need a "Black Card" – the physical designation that you are entitled in to the Chairman's Lounge.
Membership to the Chairman's Lounge is an invitation-only affair. One needs to be influential in politics, public service, business, or law. Members are personally approved by figures like Joyce or Qantas chairman Richard Goyder.
The selection criteria, however, remain a well-guarded secret. Recent revelations have shown that Qantas's soft diplomacy extends deep into the corridors of power, encompassing the political, corporate, and legal sectors, as well as the top echelons of the public service. Notable members include Australia's political and corporate elite, with all members of parliament being invited, though not all accept.
There was also a marketing blunder back in 2018 where Qantas accidentally invited 4,000 members by mistake – although that was quickly reversed and Qantas wants you to forget that ever happened.
However, it's not all fun and roses when its status is taken away. This was the case for broadcaster Philip Adams who was said to be miffed when Qantas refused to renew his membership in 2019 especially since it was Mr Adams who coined the phrase 'the spirit of Australia', widely used as Qantas' mantra.
Additionally, Senator Jacqui Lambi was "booted from the Qantas Chairman's Lounge over a vile rant aimed at the airline's CEO" according to News.com.au. while the Syndey Morning Herald added, "On March 25, 2021, Senator Lambie launched an expletive-rich tirade against Qantas staff who denied her admission to the lounge" earned her a six-month ban from all Qantas flights.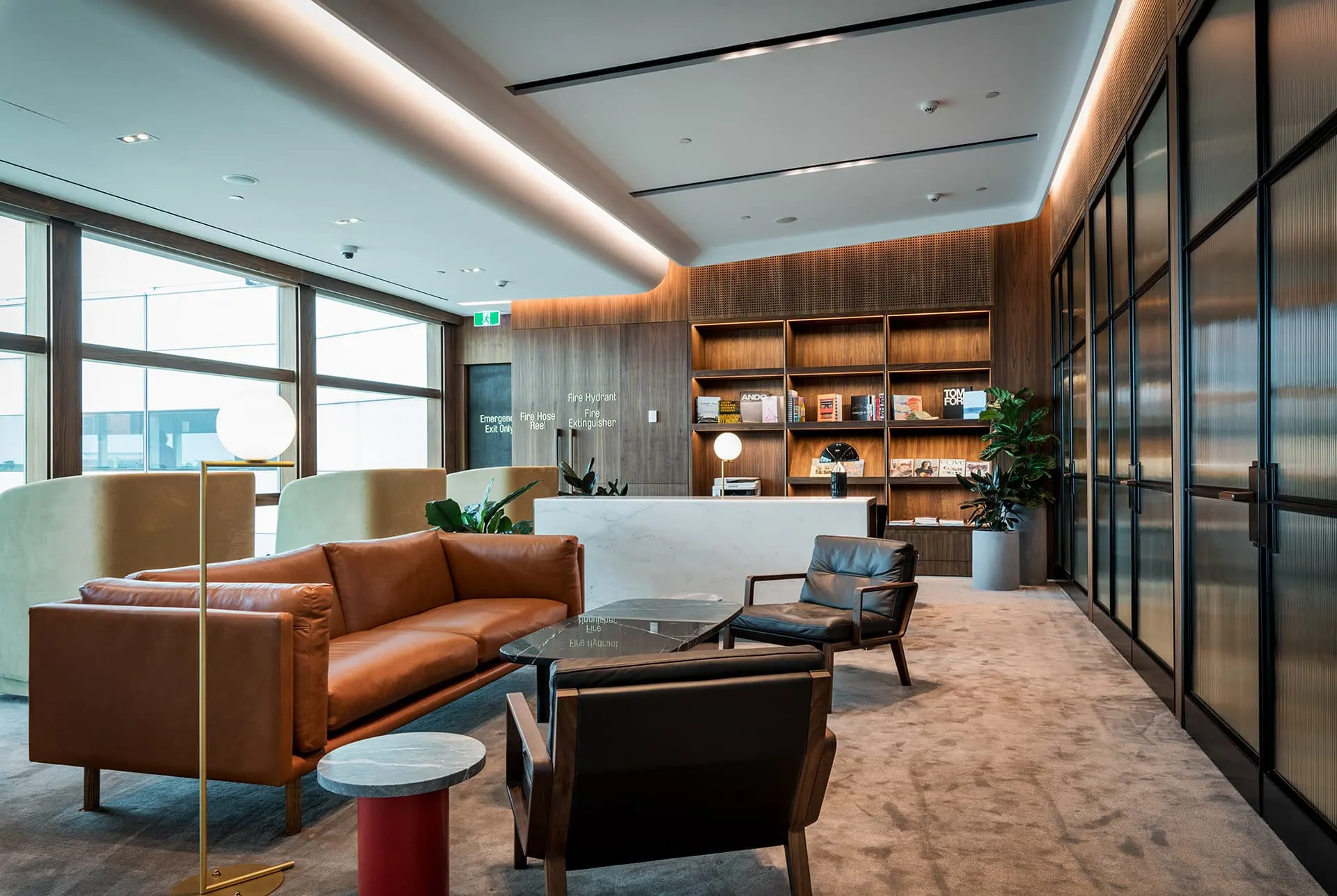 What Does Qantas Chairman's Lounge Access Get You
Much like the world's most exclusive VIP airline clubs, the specifics of the Chairman's Lounge remain shrouded in mystery. However, a few intriguing details have surfaced over the years.
It's known that Qantas doesn't profit from the Chairman's Club. Instead, they view it as an investment, banking on the leverage it provides and the anticipated future expenditure from its elite members.
Members are ushered into this elite circle for a tenure of two years, with Qantas holding the reins on renewals. Adding a layer of global luxury, the Qantas/Emirates alliance ensures that Chairman's Lounge access isn't just limited to Qantas. Members also get a taste of the Emirates iO (Invitation Only) program, a testament to the partnership's strength.
The Chairman's Lounge graces six Australian airports, exclusively catering to domestic travellers. A unique design feature to note: the lounges in Sydney, Perth, and Canberra echo the aesthetics of the Qantas First Lounge. However, they've traded the signature reds for a more striking shade of lime green.
For the inquisitive traveller, here's a sneak peek into the locations of these lounges:
Sydney: Nestled behind a frosted glass door, it's a serene walkway between the Business Lounge and Qantas Club.
Melbourne: Marked by a sleek black door, it stands proudly opposite the main Qantas Club reception.
Brisbane: Strategically placed by Gate 23.
Canberra: Elevated on the main lounge level, it's shielded by a 'private lounge' bollard.
Adelaide: A left turn from the Qantas Club will lead you there.
Perth: Situated upstairs, it's a neighbour to the Qantas Club.
Lounge Benefits
Visiting a Qantas Chairman's Lounge is like stopping by a Qantas First Lounge – but before a domestic flight.
The Chairman's Lounge isn't just about luxury; it's about an unparalleled experience. With six prime locations across Australia, these lounges are sanctuaries of tranquillity amidst the hustle and bustle of airports. Each lounge, whether it's behind a frosted glass door in Sydney or a black door in Melbourne, offers a unique experience. Half of these lounges, specifically in Sydney, Perth, and Canberra, are designed to mirror the Qantas First Lounge, with bold lime green hues replacing the traditional reds.
Inside, members are treated to a plethora of amenities. From spacious work areas to private suites for phone calls and meetings, every detail is meticulously curated. The dining experience is exceptional, with both buffet and à la carte options available. Alcohol, regardless of the time, is always on the menu. The staff-to-member ratio ensures personalized service, surpassing even the most luxurious first-class lounges. There are no boarding calls; instead, a Chairman's Host discreetly informs members when it's time to depart. For many, the allure lies in the serenity these lounges offer, a stark contrast to the chaotic terminals.
Other Perks
Despite the name, the Qantas Chairman's Lounge is about much more than the lounge itself. The Chairman's Lounge offers a holistic experience and takes elements from different parts across the different memberships
Qantas Platinum Status Perks:

Oneworld Emerald recognition.
Access to First Class lounges globally.
Priority check-in, security screening, and boarding.

Platinum One Benefits:

Priority seat selection on Qantas flights.
Preferential treatment for frequent flyer upgrades.

International Travel Luxuries with Qantas:

'First Host' treatment, regardless of the class of service.
Kerbside meet-and-greet, porter assistance, and an escorted walk to the lounge.
A call before visiting the Qantas First Lounge to secure a spa appointment.
Exclusive benefits in Qantas' 'premium' lounges in locations like Singapore and Hong Kong, including real Champagne and priority access to shower suites.
Personalized in-flight service, with cabin crew informed of the member's status.