In Japan, so-called Random Trips have exploded in popularity in recent years. The move is aimed at reviving the demand for travel, which slumped during the COVID-19 crisis.
The concept is pretty simple, and albeit the clue is in the name; passengers are given a pre-determined destination by random lottery or similar means.
The TikTok account for the @worldeconomicforum has documented the Random Trip trend that is taking off in Japan. Many Japanese railway and airline companies are selling heavily discounted tickets that send people to randomly selected destinations chosen by lottery.
Masami Morishita, a professor at Toyo University, said such trips are hoped to spur new tourist demand as they create opportunities to visit locations users may not be knowledgeable of.
In addition to the thrill of leaving travel plans up to chance, railway operators and airlines making using such strategies are providing the incentive of affordability through discounts. While some will say it's the journey that's important, not the destination, however even the most philosophical travelers will have to admit that money is equally as important too if you're hoping to take a journey of greater than walking distance.
Therefore we look at some of the different approaches airlines, as well as train operators, have taken when creating their Random Trip promotions.
---
---
Airline Random Trip Attempts
Arguably the airline industry was the one that started it all off and has grown in scope ever since, airline lotteries and destinations have seen a significant uplift since the Covid-19 pandemic. Japan Airlines may have started the Random Trip craze, but Peach Aviation has clearly pushed it into overdrive and the two carriers seem to be in an ever-increasing battle to win travellers back with such promotions.
Japan Airlines Dokokani Mile
Japan Airlines started offering random trips in 2016 when it launched a service in which mileage points can be traded for flights to random locations.
Sadly though, Dokokani Miles are only available for Japan-based members of JAL's Mileage Bank frequent flyer programme.
You can get a Dokokani Mile ticket for just 6,000 JAL miles, one can get a domestic roundtrip ticket to a random destination out of four options presented prior to booking.
The award option is currently available out of Tokyo Haneda and Osaka Itami airports. As for destinations, all direct flights from the two airports are part of the promotion
The best part of a Dokokani Mile ticket is the flexibility. You can make a booking from one week to one month ahead of the planned departure date with three to five-time frames to choose from (ie Morning, afternoon or evening)
In any event, once the Dokokani Mile redemption is submitted, one of the four destinations will be confirmed within three days of booking.
Peach Aviation Tabikuji
While Japan Airlines may have started the Random Trip craze, Peach aviation (the low-cost subsidiary of All Nippon Airways) surely carried it forward, being inventive with getting travelers to explore and engage with local environments rather than simply traveling to the destination.
It all started in August 2021 as a simple promotion between a coworking space and an airline. The initial idea was to incentivize travel to new, local towns and cities around Japan.
Before long, the excitement of travelling to new, unplanned destinations caused quite a stir on social media, videos tagged #TravelLottery on TikTok reached well over 5.4 million views a couple of months later.
The concept uses a capsule-style vending machine which spits out a 'travel voucher' once ¥5,000 yen has been put into the machine. the travel voucher contains a code that links to one of 12 random cities in Japan and 6000 peach points (equivalent to ¥6,000 yen) to use against your ticket.
Along with each ticket, you'll also receive a special "mission" to complete during your travels. If you complete and share your mission on social media, you could earn even more points!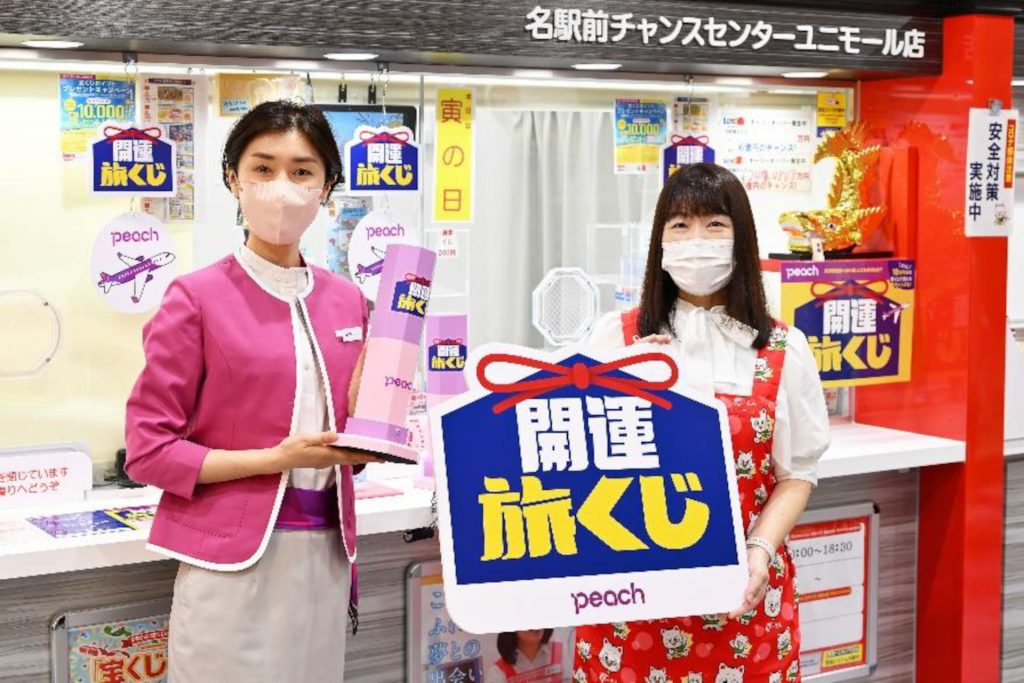 Rail Random Trip Ideas
Japan Rail has been hot on the tails of the airlines of late with both major rail operators trying to have a slice of the proverbial random trip pie.
JR West's Saikoro Kippu
In July 2022, JR West released the Saikoro Kippu, which is an app-based train ticket in which destinations are decided by the roll of virtual dice.
With "Saikoro" being the Japanese word for "dice".
The Saikoro ticket costs ¥5,000 yen round-trip, with eligible starting points being anywhere inside Osaka City.
The ticket allows users to pull from seven destinations on the western side of Japan, some connected by Shinkansen lines, some without, giving passengers a roughly 45% to 83% discount, depending on the destination.
With discounts so varied it is not surprising that the odds are not evenly distributed. For five destinations, Shirahama, Amarube, Higashi Maizuru, Kurashiki, and Awaraonsen, you have an equal chance of 16.7 per cent. Onomichi is a little lower, at 13.9 per cent, and Hakata, the major rail hub of downtown Fukuoka City, is the rarest Saikoro Ticket destination, with a 2.8-per cent chance.
An especially nice aspect of the Saikoro Kippu Ticket is that you can purchase it for up to six people at a time, and everyone in the group is guaranteed to get to the same destination. So not only will you be able to travel with family or friends, but if you're lucky you could be collectively saving over 145,000 yen.
JR East's Dokokani Byun
Similarly, East Japan Railway, or JR East, plans to release the Dokokani Byun, a round-trip package in December 2022.
In this offering, passengers who enter their travel dates and start locations are provided four stations as candidate destinations out of 47 stations on the Tohoku, Hokuriku and other Shinkansen lines.
If the users like the four stations on offer they can apply for the trip, after which, one of the four stations will be randomly selected as the destination.
The discount costs the equivalent of ¥6,000 Yen of JR East's reward points which is a real saving, if, for example, you look at a round-trip ticket from Tokyo to Akita which requires 24,220 JR East points to exchange.