Air France La Première is often ranked as one of the best First Class flights in commercial aviation. While Singapore Airlines has it down for the size of the "seat", Air France has positioned their First Class product around the experience
With private cabins, exquisite food and drink on the ground and in the air, and refined service from start to finish.
---
---
The Air France La Première Experience
As a La Première passenger, your First Class journey begins before you even step foot at the airport. From Paris La Première passengers get a complimentary chauffeur transfer to the airport.
At Charles de Gaulle, there's a dedicated meeting place for La Première passengers. You'll be met by a concierge who will take your luggage and lead you to a private check-in lounge.
Boarding means you will have your own jet bridge for La Première passengers, and onboard, The Air France La Première experience is one of luxury and exclusivity with only 4 seats across one row in a 1-2-1 layout. Like most First Class products, you really can't pick a bad seat. If you're travelling with a companion, you'll want to select Seats 1E and 1F to enjoy a shared experience, while if you're travelling solo, Seats 1A and 1L by the windows would be the best options.
One of the product's signature features is a full-length curtain you can draw around your suite, which allows you to decide how much privacy you would like from partial to fully enclosed, unlike some other suites designs where it's either "doors open" or "doors closed".
The seats aren't exactly cutting-edge, with the design dating back eight years to 2014, but they remain widely regarded as one of the top First Class products in the world, both for the hard product design and the all-important service levels, fine food and beverage selection.
Quite unlike the "gold bling" of the Middle East carriers, think elegant sophistication with the Air France First Class product.
If you've been eyeing down a La Première seat, you should also know that Air France is expected to roll out a new La Première product in late 2023.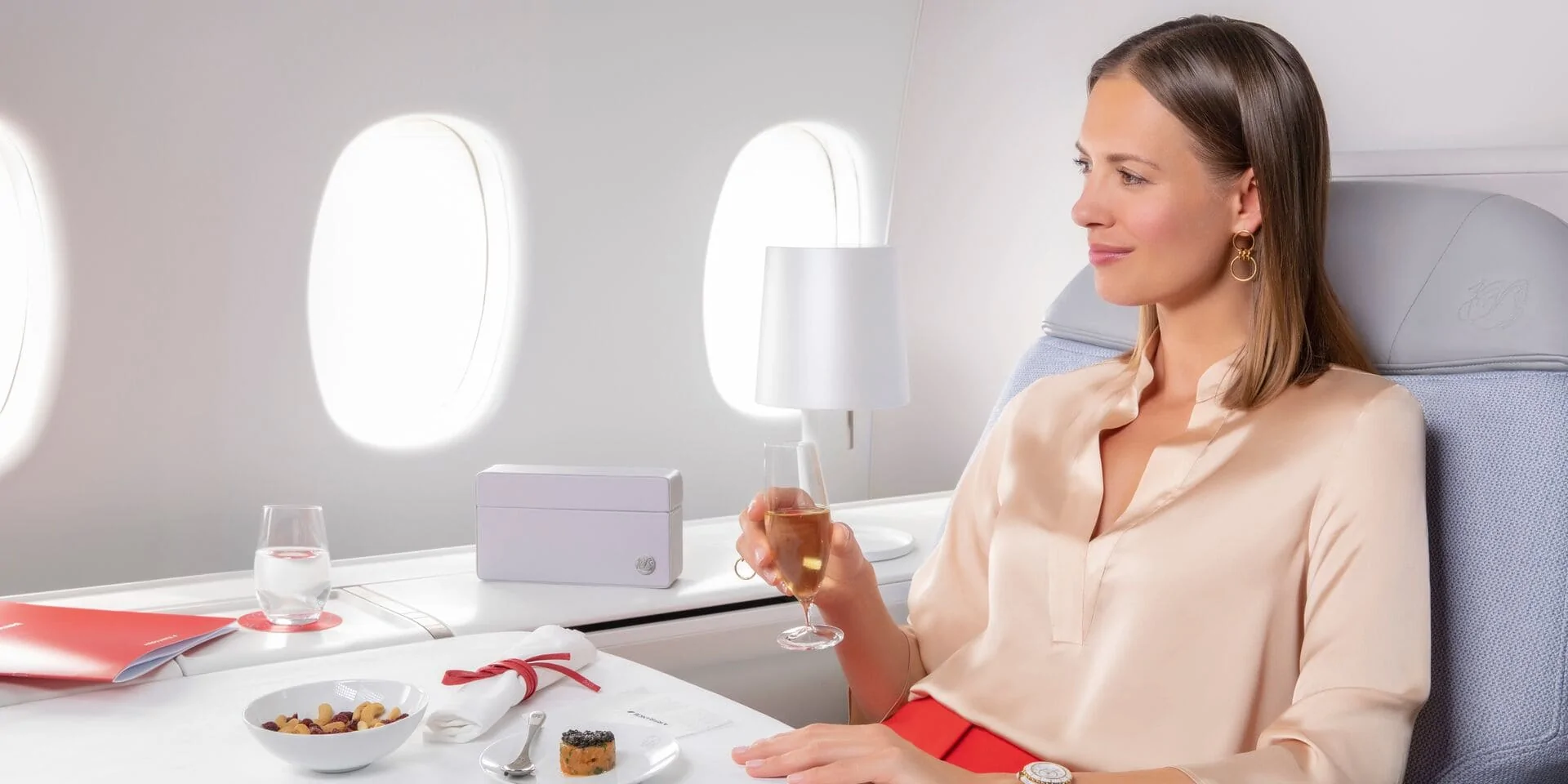 Routes That have La Première
securing a seat in the prestigious La Première cabin at a discount price is notoriously difficult, it's certainly not impossible.
Since Air France retired its Airbus A380s in 2020, the La Première cabin can only now only be found on select Boeing 777-300ER aircraft. Even if you see that there's a Boeing 777 flight on your desired route, you'll want to make sure that it offers the La Première cabin, as not all of Air France's Boeing 777s have it as an option.
However, it's worth noting that Air France is looking to add La Première on their Airbus A350 fleet in late 2023.
Air France La Première can be found on routes between Paris and the following destinations:
North America:
San Francisco (SFO)
Los Angeles (LAX)
New York (JFK)
Houston (IAH)
Washington, D.C. (IAD)
Miami (MIA)
South America:
Middle East:
Asia:
Beijing (PEK)
Shanghai (PVG)
Hong Kong (HKG)
Singapore (SIN)
Tokyo (HND)
How To Fly Air Fance La Première Using Points
Air France creates significant deliberate hurdles for you to book into La Première. Adding to its exclusive marketing spin. Air France's first class is one of the most challenging products to book economically.
If you are booking it, you better really want to fly the product
Booking via Sky Team Members
Air France is a part of the SkyTeam alliance, but they don't release any La Première award space to any partner programs. This means that the only way to book a La Première flight with points is through their own Flying Blue loyalty programme.
Air France Flying Blue
Air France is quite generous with award space in its La Première cabin, typically making two of the four seats available for award booking from the outset.
The reason Air France can offer such good award space in this sought-after cabin is that it's nearly impossible to book with miles.
Air France does not allow redemptions into La Première from partner frequent flyer programmes, including from members of other SkyTeam carriers, restricting redemption to its own Air France-KLM Flying Blue scheme.
To make things more difficult, and what keeps La Première even more exclusive, is that only Flying Blue Gold and Platinum elite members are allowed to book La Première using Flying Blue miles (the carrier removed this benefit for silver members in October 2019). In order to reach Flying Blue Gold Elite status, you'll need to earn 280 XP points.
Flying Blue elites can only redeem at the "flex" level (i.e. not saver), meaning a one-way ticket between the U.S. and Europe will cost at least 220,000 miles. What's more, Air France uses a dynamic pricing model when pricing out flights booked with Flying Blue miles so those figures are just the starting price.
at those prices, Air France La Première is in the direct firing lines of Singapore Airlines' First Class Suite.
While there are certainly cheaper options available for transatlantic First Class flights, this redemption could still be worthwhile for flying La Première as a bucket-list item, given that it's one of the best First Class products out there.
Luckily, Flying Blue miles are relatively easy to earn.
Business Class Upgrade
While it's not a completely reliable method, you can potentially use a combination of cash and miles to get yourself into La Première.
If you're okay with a bit of a gamble, you can potentially upgrade from an Air France business class flight – booked with either cash or points – to La Première. The process is a bit complex, but this could represent the most efficient and affordable way to score yourself a seat in La Première.
The first step is to book a business class award on an Air France flight that has a La Première cabin. The most popular routes for this method are from Paris to Dubai and from Paris to Mexico City.
30 hours before your flight, you'll be able to check-in. During the check-in process, you may see the option to pay for an upgrade to La Première on your flight.
While it appears likely that you'll see the option for a paid upgrade if La Première seats are empty, it isn't necessarily guaranteed. It's also not a cheap option, but for what's probably a once-in-a-lifetime opportunity, that's no doubt worth it for some people.