Swiss has launched a Premium Economy product which will supplement its First, Business and Economy class cabins. The new premium economy experience will offer greater privacy, more comfort, a wider range of inflight cuisine, and an extra baggage allowance.
There are no real surprises in Swiss' premium economy seat: if you've flown premium economy on any other major airline, you'll know what to expect here.
Swiss is the last Lufthansa-owned network carrier to introduce a premium economy cabin. The German mainline introduced the fare category in 2014 and Austrian Airlines followed suit in 2017; even Brussels Airlines has had premium economy seats on its long-haul fleet for some time.
Even Euro wings Discover, the long haul side of the low-cost carrier even has a premium economy cabin (of sorts) before SWISS did.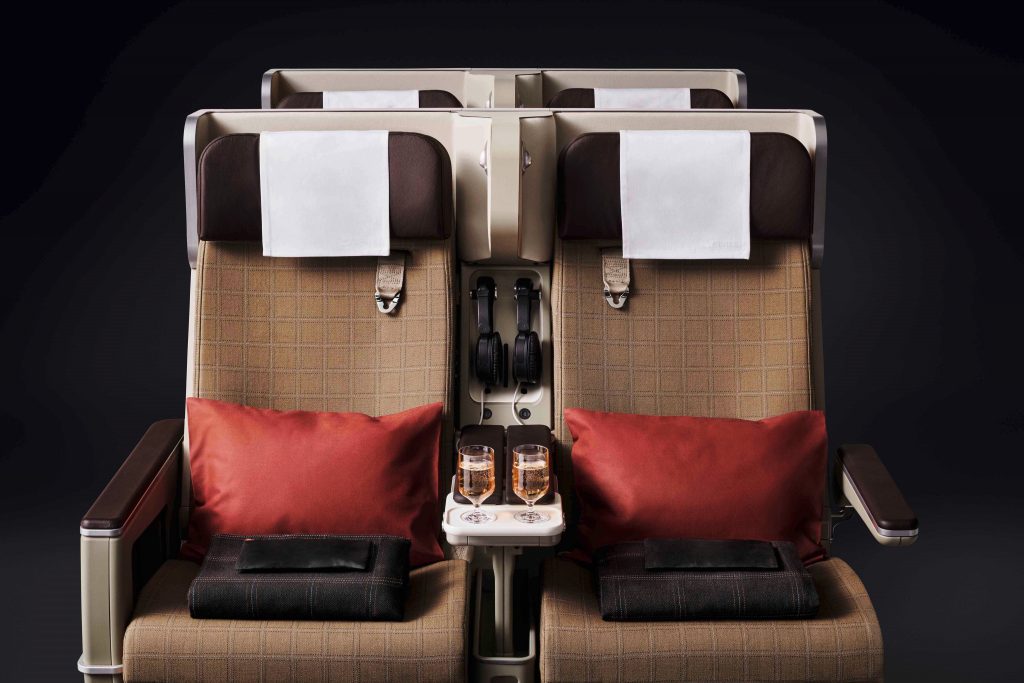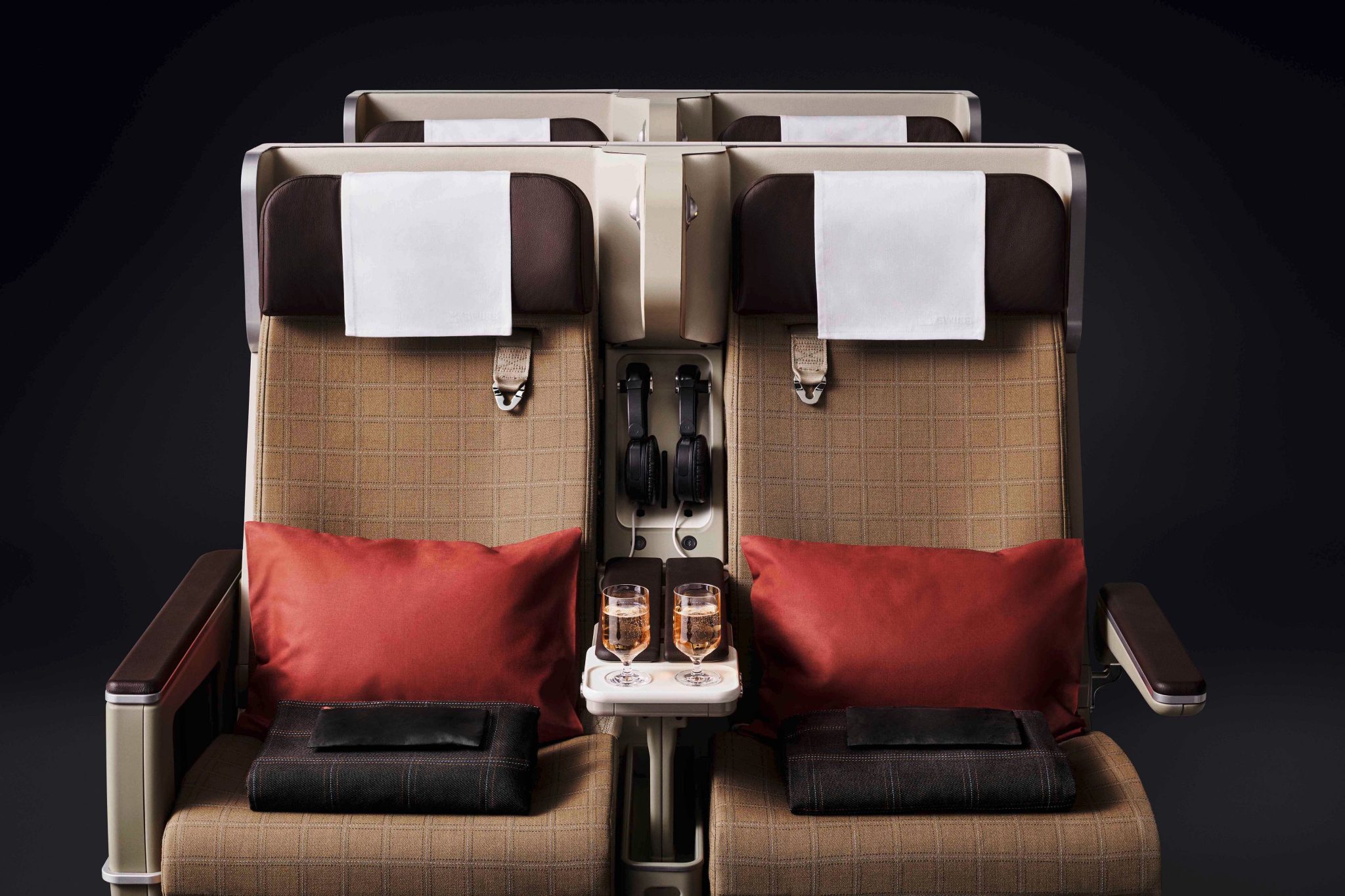 The Seat
The product will initially feature on its long-haul Boeing 777-300ER which each plane will feature 24 premium economy seats, in a 2-4-2 configuration. The seats are manufactured by ZIM, specifically, this is Zim's PC02 or 'ZIMmagic+' seat, and feature a fixed shell so that there's no intrusion when the person in front of you reclines. Zim's first-generation PC01 seat was chosen for Lufthansa's original premium economy offering.
A fixed backshell has proven popular with carriers like Air France, Cathay Pacific and China Southern that offer the cabin as the big upside is that it protects passengers personal space if the person in front reclines. Although the same carriers have been met with complaints from passengers as a result of the awkward recline, where the seats slide towards the seat in front of it, rather than reclining into the unused area behind.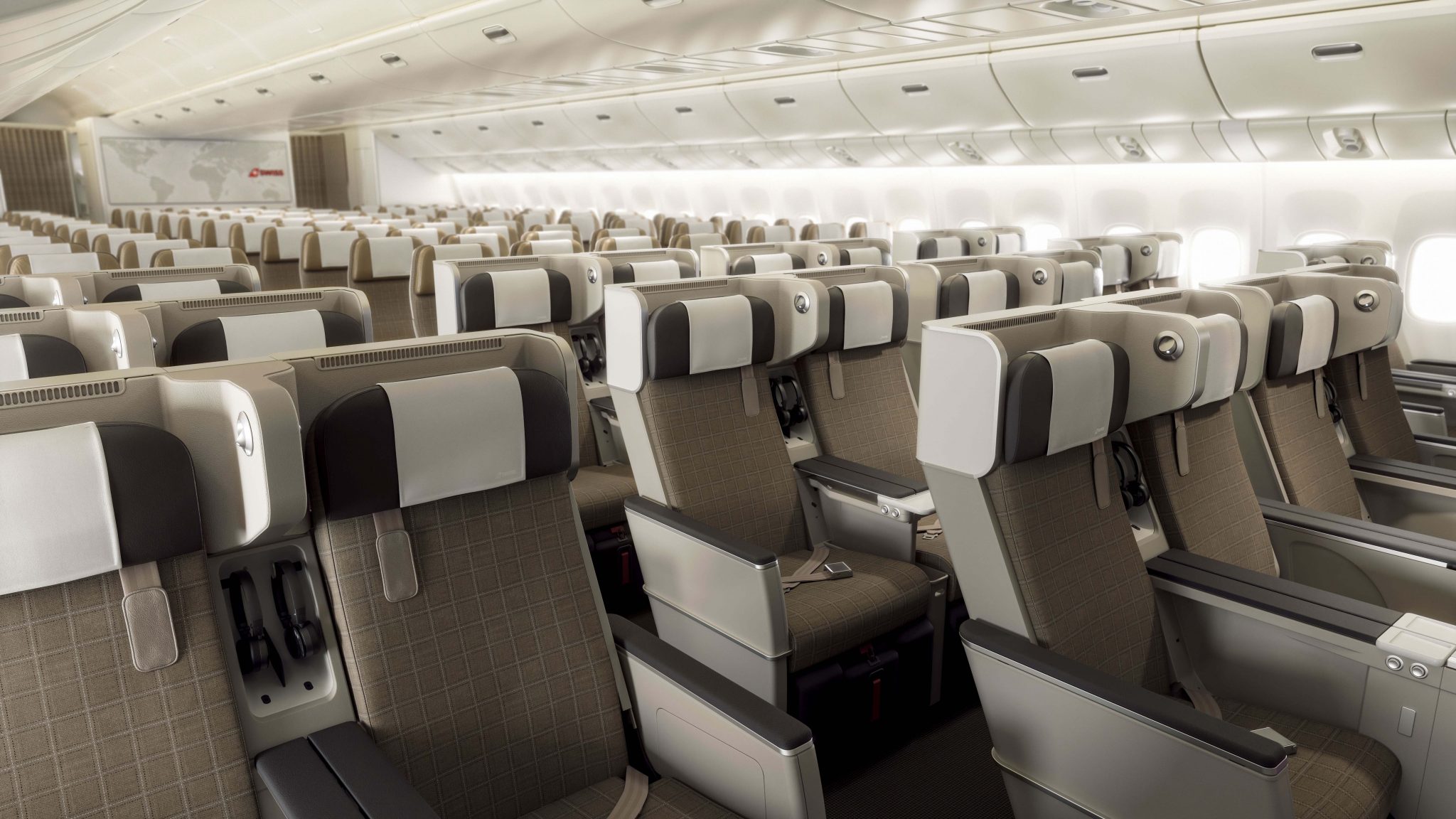 The Specifications
Wide: The new premium economy seat is 46-48cm (~18-19″) wide, while economy seats are 43.4cm (~17″) wide
Pitch: The new premium economy seat has 99cm (~39″) of pitch, while economy seats have 78.7cm (~31″) of pitch
SWISS' Boeing 777s are in a premium-heavy configuration, with a total of 340 seats, including eight first-class seats, 62 business class seats, and 270 economy class seats. It will be interesting to see in the coming months if it eats into the business cabin or economy cabin capacity although by the looks of the marketing photos it will eat into the economy capacity.
What I do find strange is that for such a premium carrier, they have decided (and so has Lufthansa) to forgo the divider between Premium economy and economy and integrate them together. Most other airlines that operate premium economy have fitted their seats as a separate cabin for a different, more premium experience. I have seen this trend with other carriers but usually from mid-range or low-cost carriers but never from a premium brand. It's a not-so-premium experience to see that someone else is getting something that you aren't, even though it is subconscious.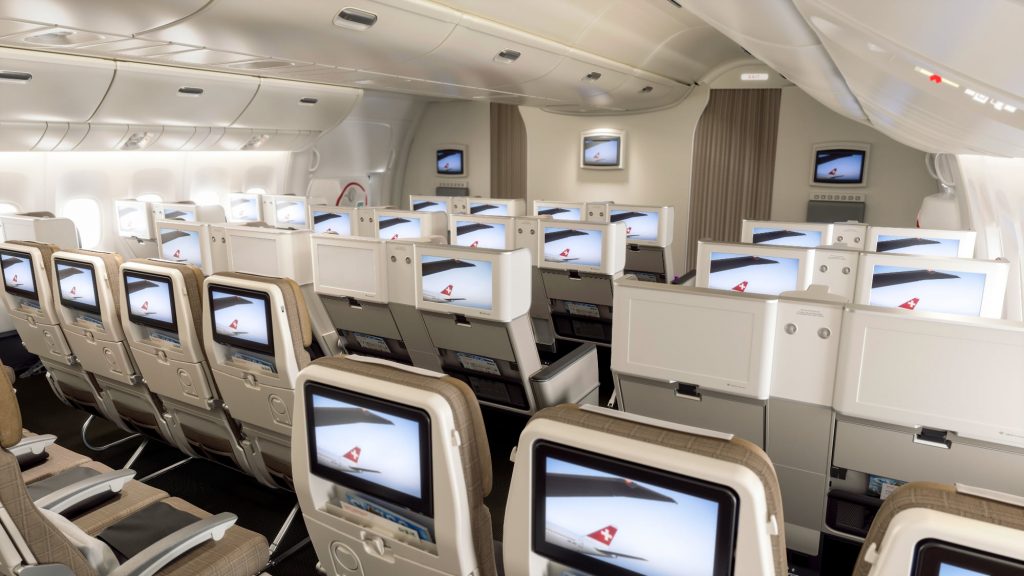 The Service & Amenities
Similar to other carriers who operate a 4 cabin configuration, there is an additional boost to services and SWISS Premium Economy passengers will also receive:
An increased baggage allowance of two bags of up to 23kg each (double of what you receive in economy)
Priority boarding over economy class travellers
Amenity kits manufactured from sustainable materials
Noise-reducing headphones
Discounted access to the SWISS Business Lounges in Zurich and Geneva, as well as the SWISS Arrival Lounge in Zurich
In terms of food, the airline has tailored an inflight cuisine offer for its premium economy travellers, who will be offered an elderberry drink when boarding, and can then choose from three hot meals, all served on china tableware. The main meal selection will include a dish from the 'SWISS Taste of Switzerland' inflight culinary programme, together with a vegetarian option supplied by Hiltl, the world's oldest vegetarian restaurant.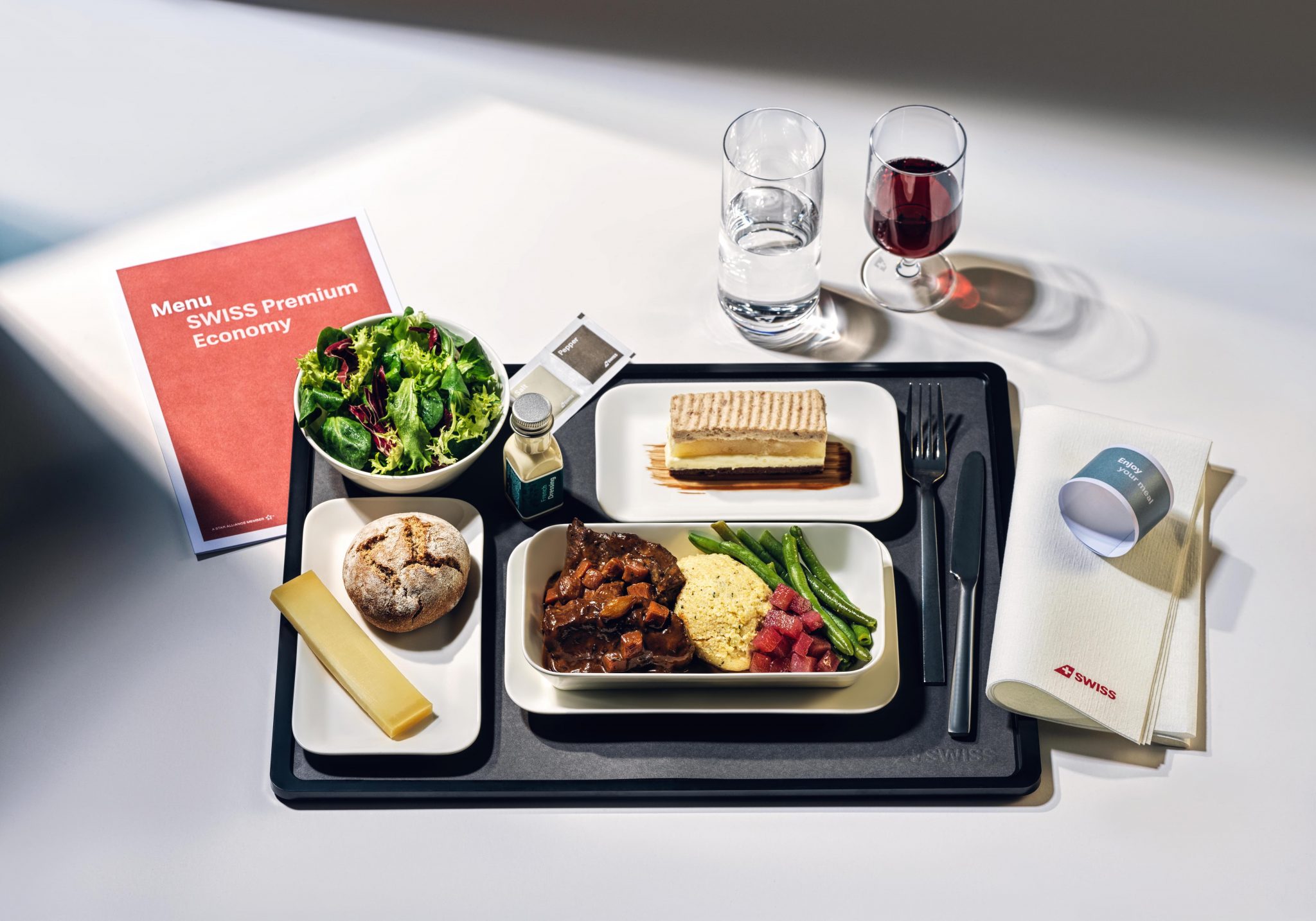 Swiss hasn't mentioned if the premium economy seats will include individual or shared AC power outlet, which we certainly hope is a simple omission. But the seats will have USB-A charging available
Additionally, there are also no dedicated toilets for premium economy passengers, which means they'll be sharing the four washrooms at the rear of the first economy cabin.
It is important to remember that the new seats aren't a business product, and it should be remembered as such. It's stated that premium economy fares will be roughly 250-350 CHF (~$270-380) higher than economy fares in each direction, which seems fair.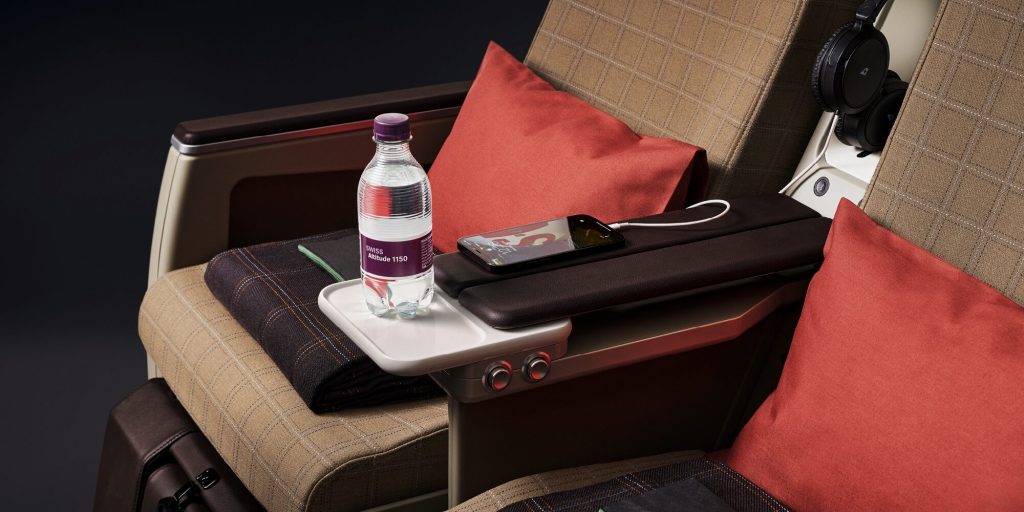 When will it be Available?
The project will start in the fourth quarter of 2021 and should be completed within several months.
The new class is already bookable now for travel as of April 2022 (coinciding with the start of the summer 2022 schedule) on the entire Boeing 777-300ER network. Destinations for this aircraft type include Bangkok, Hong Kong, Los Angeles, Miami, San Francisco, Sao Paulo, and Singapore, though aircraft assignments do vary.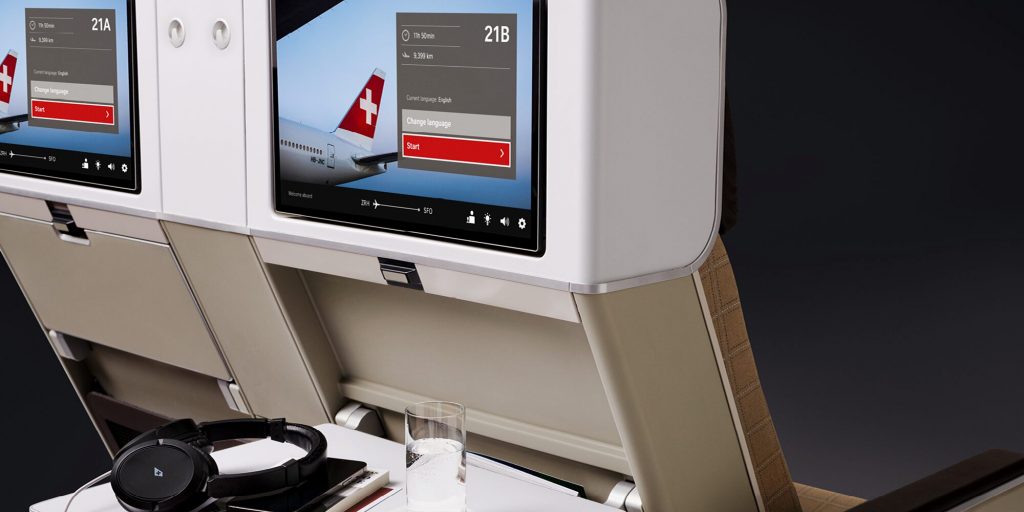 Conclusion
Its surprising it has taken so long, SWISS is usually regarded as the most premium product offered by the Lufthansa group and it was the last to launch a Premium Economy product. They probably took a page out of the Qatar Airways handbook and didn't want to blur the line too much, but it's an ever-growing market and was probably too big to avoid.
It does seem to be an interesting product and hopefully will turn out well, do I like the seat, yes; do I think it is well placed without a divider between economy, not really.