Every year on October 7th, the birthday of KLM, the airline presents the newest KLM house. But what is the miniature house you might ask?
Well… KLM houses are decorative Delft Blue porcelain miniature versions of an actual historical Dutch building. Each mini house is filled with Dutch Bols Gin (where permitted). In many ways, the houses act as a precursor to the loyalty programs we know today.
It harkens back to the golden age of flying where KLM recognises that it's the little personal touches that keep customers loyal. Lufthansa seems to have only gotten the message recently with their Lufthansa first-class rubber duck however broadly speaking such collectors' items are almost unheard of in the industry.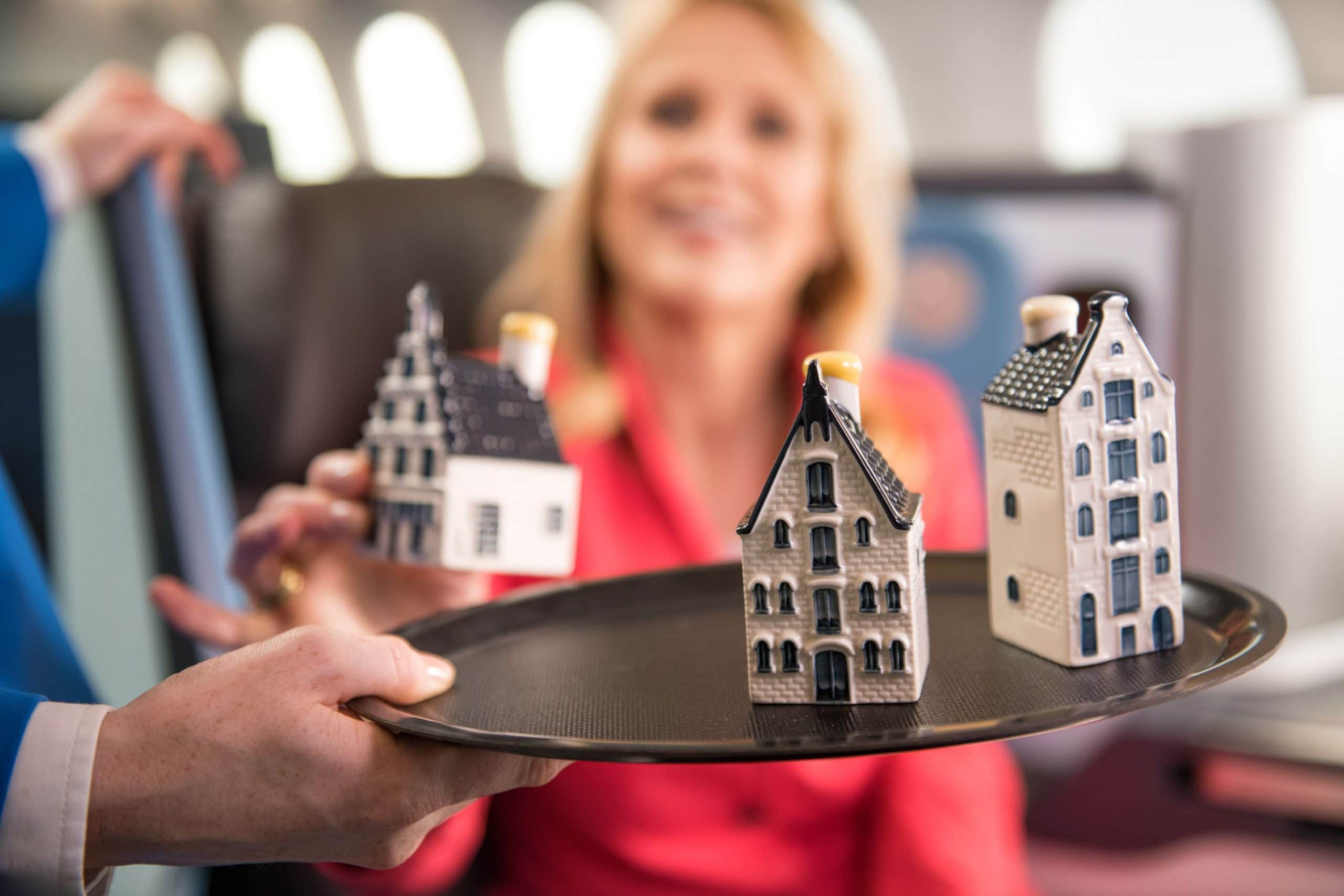 KLM has been presenting guests with miniature Delftware houses since 1952. You don't even need to be a VIP, guest of the airline or frequent flyer collect one. The airline gives them out to any passenger travelling in business class on an intercontinental flight. It doesn't matter if they're a baby or an adult, or even if they are a cash or award ticket holder, everyone gets one.
While airlines frequently give away items onboard, collecting these houses is a serious business; for some, they are more than just a souvenir and can be argued as a status symbol among the Dutch elites. It has gotten so big and so competitive KLM has a dedicated app in which passengers can track which houses they have.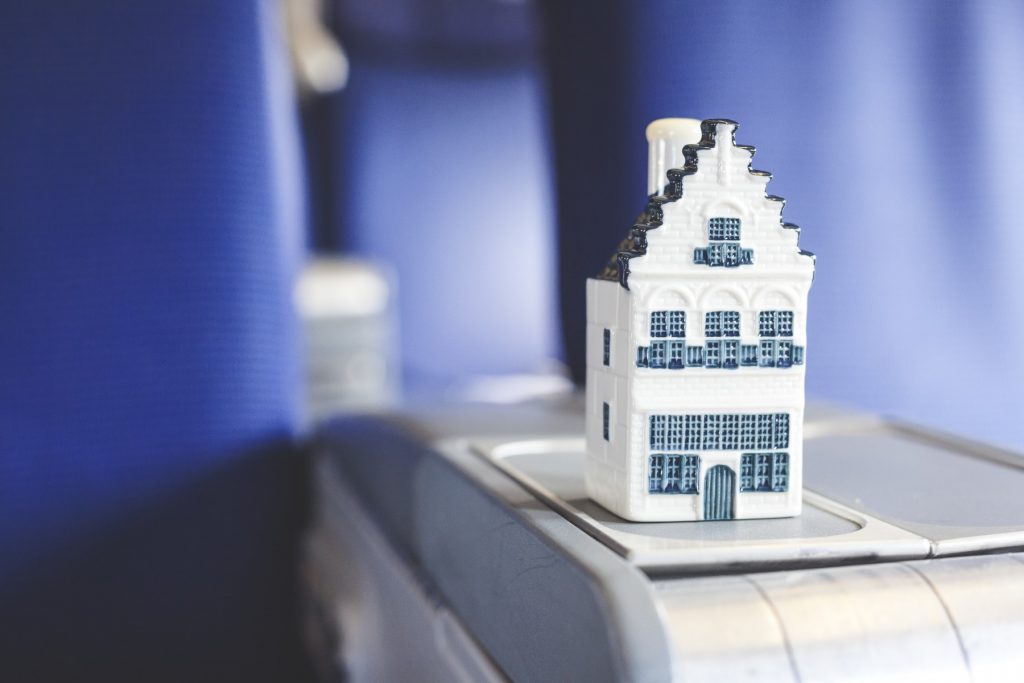 What Is the History of KLM Miniature House?
Since 1952, one house per year has been released by KLM, except for 1994. That year, when KLM celebrated its 75th anniversary, it released 15 houses. This means that every house since then has lined up with the airline's age.
Back in 1952 though, the airline landscape was a little different. Airlines were not allowed to give out gifts to their customers to justify fair competition. In short, any gifts of value were seen as a rebate to the original ticket price and therefore giving an upper hand. To get around this KLM billed the event not as a gift but as "the last drink on the house".
Of course, this upset a few other airlines. KLM went to court and argued that they should be able to serve drinks to their passengers the way they wished. The rules did not specify that alcohol onboard planes had to be served in a glass and KLM had the right to choose the way they served their drinks. Because these houses are filled with Dutch gin they are therefore not gifts but free cocktails that just happened to be served in such souvenir houses.
What is a fun variant is that KLM business class passengers en route to Middle Eastern countries, passengers are given empty houses. In the past, KLM used to give these passengers miniature houses that served as ashtrays. When putting the cigarette in the hole at the back of the house, the smoke would come out of the house's chimney.
Why are the houses so special?
Airline elite status programs work in part by providing tangibly valuable rewards to the most frequent flyers. If you devote more of your business to a single airline, you will get award tickets, free upgrades, lounge access and more free checked bags etc. KLM's porcelain houses are in effect a physical, low-tech precursor to the status designations we see today.
An element of visual acknowledgement goes a long way. Think preboarding by status, designated check-in counters or personal onboard greetings, for instance, these segregated areas show the world how much the airline values you as a traveller. Inversely, the number of KLM miniature houses shows physically how many intercontinental flights you have made, but also how often you fly business class.
The beauty of this gift does not lie in the fact that it's a cute miniature that is filled with booze. What passengers love about the miniature houses is that they are little pieces of Dutch culture that are highly collectable. Delft Blue is world-famous pottery that has been made in the city of Delft in Holland since the 17th century, however, since 1995 KLM Delft Blue miniature houses are being made in Asia.
Today more than 800,000 KLM houses are distributed to passengers each year. More than half of the miniatures are modelled after (canal) houses and landmark buildings in Amsterdam. Most of the houses are located in the Netherlands, except for no. 85, which is located in Willemstad, Curaçao.
There are a few rare houses and some which can only be collected after meeting a set requirement such as The Weighing House, which is only available for honeymooners, or The Frans Hals Museum KLM Blue Delft replica. This miniature was only given to tourists from Japan in 1962. Business Class passengers flying in from Japan to Amsterdam were given a voucher for them to go to the Frans Hals Museum in Haarlem and only upon their visit to the museum were they given the miniature.